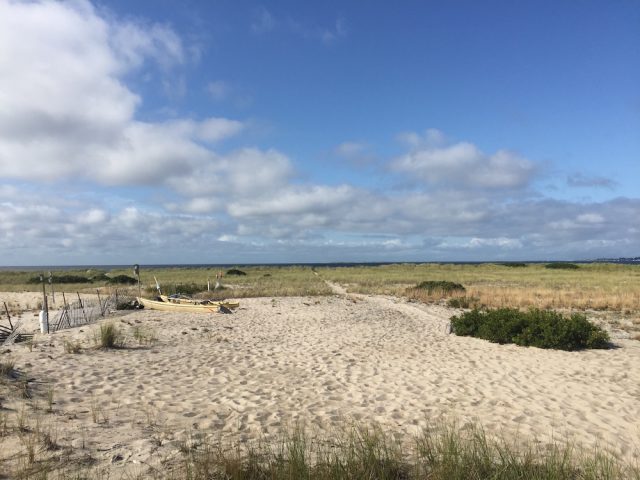 My mind is stuck in the clouds today, staring out the sliding doors overlooking Cape Cod Bay. I watched Virginia buttering a toasted Portuguese muffin this morning, her stature almost as high as the fridge next to which she was standing.
She once crawled along the floors of this kitchen. The same kitchen where I sat at the dining table, addressing our wedding invitations this same week in 2004. October would've been our 15th wedding anniversary, but we only had the chance to celebrate six of them together.
Anyone who really knows the story of us also knows it was a story of uncertainty. This Modern Love piece made my mind drift back to the summer of 1998. We went through so many break ups, but in April of 1998 I was sure it was for real. I always dated amidst the breaks, but to my knowledge he never did.
He always seemed to be certain, even in the moments when he drove me to uncertainty. Michael was 14 years older than me, so perhaps this is where age shows its true benefit in the knowledge of knowing what you want, and the patience involved to wait for it.
On one of our breaks, I dated a friend's cousin visiting from Turin, Italy. I began taking Italian classes at Parliamo Italiano on the Upper East Side. Andrea and I began to write letters back and forth, and would call each other every couple of weeks. This was a time before the internet made communicating internationally an easy, affordable task, so our calls had to be brief and strategically planned with the time difference.
He would write to me in Italian, and I to him in English. Oh, and he was studying to be a neurologist. Michael and I stayed in touch, and talked often. He retained custody of Sam, our cat we'd found together on Cape Cod eight months before we broke up. Michael took every chance possible to crack jokes about an Italian brain doctor being an oxymoron.
Andrea had a friend with a house in Sardegna, and we planned to go there the last two weeks of August. In the back of my mind was the wedding I was supposed to be going to with Michael in San Francisco at that same time. I was glad to have a distraction during the time he'd be gone, on the vacation we were supposed to take together.
Michael had his chance. He'd had two and half years of chances, and the somewhat sudden death of my father at the age of 49 made me reevaluate my life and our relationship.
People think love is enough. I hadn't seen an example of it at that point in my life. Love doesn't make you think clearly. It makes you dream. It weaves a sense of longing in your soul that eventually needs actions to be sustained.
Love is not practical. Not always.
A week before I was supposed to leave, we met for dinner. Actually, he cooked for me so I could come spend some time with Sam. During dinner Michael told me how much he loved me, and asked if I'd reconsider going to Italy. He said he couldn't imagine his life without me.
The next morning I woke up and changed my very expensive ticket to Sardegna for a flight to San Francisco.
Love is not practical, but I also know it is inexplicable. A puzzle piece of which there is only one other match.
And sometimes if we're lucky, when one puzzle piece goes missing, a new puzzle forms from the worn edges of your former self, awaiting a new piece to find its perfect fit. I am still sorely lacking in the patience department, and rather practical when it comes to love. The impatience of my youth replaced by my weariness in trust that a future beyond the moment I'm in will ever exist.
For now, all I can do is look out at the blue skies, feel the wind blow across my shoulders, and be thankful that someone had patience, trust and such steadfast faith in love to build a life together.