mini minty s'mores milkshakes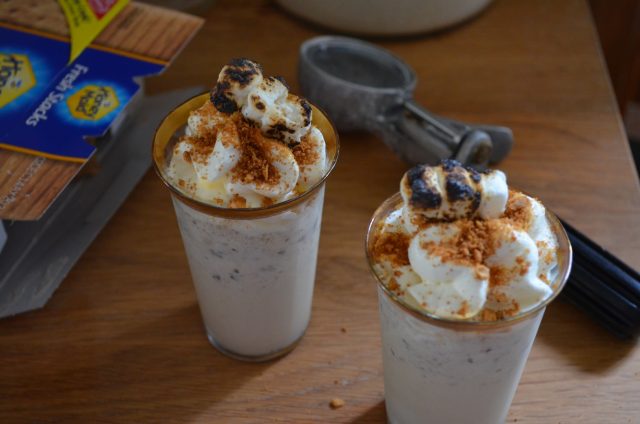 I'm not even going to pretend I have a long love affair with s'mores. It wasn't until last summer that I even developed a taste for them, as Gina can attest. In fact, before she introduced me to swapping white chocolate for milk or dark, and adding fresh raspberries, I often passed on this summertime ritual. My daughters on the hand are the complete opposite. They would gladly eat them for breakfast if I let them, and really it would be any worse, calorically speaking, than my current pie for breakfast habit.
We just bought a fire pit for the backyard so we could enjoy post dinner s'mores. I put it together myself, and am constantly amazed at what you can do with an Allen wrench (or should that be lowercase—Amy, chime in here, please)? So, it was a no-brainer when Honey Maid asked if I'd like to share a favorite s'mores recipe for National S'mores Day (I know, what don't they have a day for on the calendar). Graham crackers are one of those cookies I don't make from scratch, and while I've tried many brands, I always come back to the tried and true ones the girls and I love. That said, I'm open to giving homemade ones a shot again if someone has a good recipe to share. I've tried a few, and they're all way more fussy than I think a cookie is worth. I realize that is hard to believe from the girl who makes her own yogurt, bread, jams, etc., but it is true nonetheless.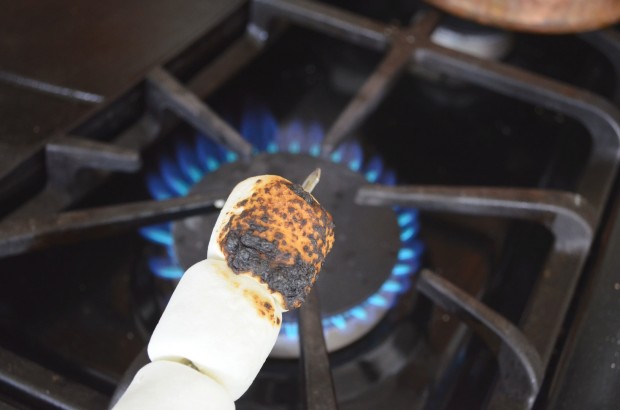 Where were we? Oh, yes. S'more. My original idea was to make s'mores ice cream, but then I remembered all the ice cream that was already bulging from my freezer. We just discovered Jane's Ice Cream Salty Caramel Pretzel, and I have a weakness for Adirondack Creamery. The latter actually makes a mint chocolate chip ice cream I like love. That's when I realized a s'mores infused milkshake would be an easy shortcut to satisfy a s'mores ice cream craving.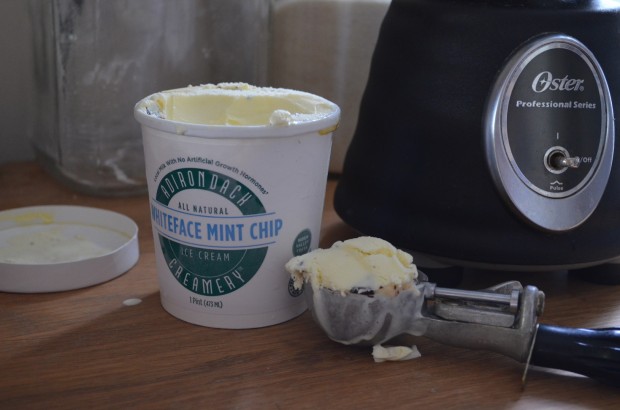 Since it was the middle of a sunny day, lighting the fire pit seemed pretty silly. Another lightbulb moment—I could toast marshmallows on the gas stove top. We may never stop eating toasted marshmallows now. I threw some into the blender with the mint chocolate chip ice cream, and a splash of milk. Brown butter toasted graham crackers crumbs, and toasted mini marshmallows topped off my creation. Oh, and whipped cream. Virginia proclaimed me the best mommy ever (today she told me I was the worst for not letting her watch TV, so I've got my work cut out for me again), and Isabella said it was my most genius recipe ever. She's yet to take away my status as reigning Queen of recipes.
***Honey Maid provided compensation for this post, but as always, the stories and recipes are all my own.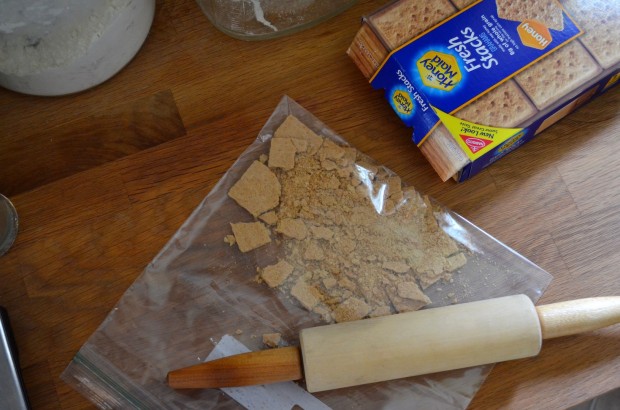 Mini Minty S'mores Milkshakes
serves 4
PLEASE READ BEFORE SHARING MY RECIPES: I really appreciate that you like my recipe enough to want to share it with your readers. I work hard at developing them, and the only way to way to truly show your thanks is to LINK to the recipe. If you feel the absolute need to reprint the recipe, then you must rewrite the directions in your own words, and give credit as "recipe by In Jennie's Kitchen" with a link back to this page. If you make sufficient changes to the recipe, then you may list it as "adapted from In Jennie's Kitchen", again with a link back to this page. Thank you!
5 scoops mint chocolate chip ice cream
6 regular sized marshmallows, toasted
1/2 cup (125 ml) milk
Whipped cream, to garnish
2 tablespoons brown butter graham cracker crumbs (see below)
12 toasted mini marshmallows, to garnish
Add the ice cream, toasted marshmallows (larger ones only), and milk to a blender. Blend until smooth, about 30 seconds. Divide into four glasses (4 to 6 ounces in size). Garnish with whipped cream, graham cracker crumbs, and the toasted mini marshmallows.
Brown Butter Graham Cracker Crumbs
Add 8 graham crackers to a ziptop bag, and seal the bag closed tightly. Use a rolling pin, the back of a skillet, or an empty wine bottle to crush the crackers into fine crumbs (it's okay to have a few larger bits).
Melt 1 tablespoon of butter in a small skillet over medium heat. Let the butter cook until it releases a nutty scent, and browned bits form. Add the graham crackers, and stir them well with a spoon to coat the crumbs. Reduce heat to medium-low. Cook, stirring frequently, until the crumbs are golden and fragrant, 1 to 2 minutes. Set aside to cool. You won't need the whole batch for the milkshakes. Store unused crumbs in an airtight container or jar for up to one week.