Lebkuchengewürz (German gingerbread spice blend)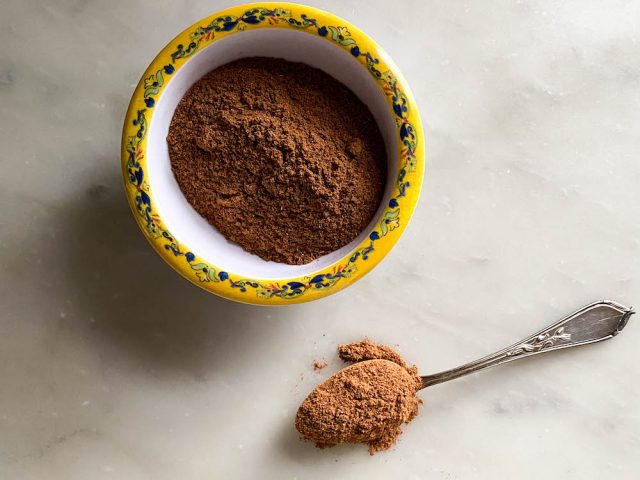 Is it too soon to start talking about gingerbread? I realize gingerbread is synonymous with Christmas but one need not be Christian to love this combination of warm, wintery spices. As someone who no longer celebrates Christmas, you can rest assured, gingerbread cake, cookies (even scones and hot cocoa!) have a forever home in my kitchen and winter baking habits.
American recipes tend to use the trinity of ginger, cinnamon and cloves. Until four years ago they were my go-to spice blend for all things gingerbread. Then I bought Classic German Baking and my gingerbread routine was permanently altered. Lebkuchengewürz is the classic spice blend for German gingerbread (lebkuchen).
Packets of lebkuchengewürz are ubiquitous in Germany during the Christmas holidays, so I've been told. I've come across packets while traveling in the UK and even Paris, as well. They're not so popular in the U.S., except for stores that specialize in carrying German products, which oddly enough a store about 30 minutes from houses does.
What spices are in Lebkuchengewürz?
The usual suspects of cinnamon, ground ginger and cloves are in Lebkuchengewürz. The remaining spices run the gamut from recipes I've research. Cardamom, allspice, aniseed (I use fennel seeds more often) and mace (the outside web-like covering of nutmeg seeds) are usually always included, too, with many recipes also including star anise, nutmeg and coriander.
My guess is every German family has their own special recipe for Lebkuchengewürz, much the way Italian families have their own recipe for making tomato sauce. Here's my base recipe. Feel free to adjust as you bake, adding more or less of the spices, or including some from the list above that I've decided not to use in my Lebkuchengewürz spice blend. Full disclosure, I don't add mace to my blend because it's not a spice I use very often, and still love the blend of spices I've settled on. You do you, and if you want to add mace, go for it.
Should you use ground spices or whole for lebkuchengewürz?
There are certain spices I really feel are worth the effort to grind fresh—aniseeds and fennel seeds are non-negotiable, but that's my personal preference. I also use a lot of fennel seeds so always have them in the pantry. I feel less strong about the remaining spices, and tend to use ground versions of them. If you want freshly ground, then absolutely feel free to do so.
When should you use lebkuchengewürz?
Obviously, you can use lebkuchengewürz in recipes that call for it. You can also use lebkuchengewürz in gingerbread recipes that call for the trio of ginger, cinnamon and cloves. I just substitute an equal amount of all three spices with my lebkuchengewürz spice blend.
Gingerbread Recipes Gingerbread Scones | No-Bake Gingerbread Cream Pie | Mom's Gingerbread | Gingerbread Hot Cocoa | Chocolate Streusel Gingerbread Coffee Cake | Gingerbread Poundcake with Eggnog Glaze | Gingerbread Rice Crispy Treats
Lebkuchengewürz (German gingerbread spice blend)
Ingredients
1

teaspoon

aniseeds or fennel seeds

a few cardamom pods

6

tablespoons

ground cinnamon

2

teaspoons

cloves

1

teaspoon

ground allspice

1

teaspoon

ground ginger
Instructions
Add aniseeds and cardamom to a mortar and crush until a fine powder.

Add ground aniseeds and cardamom to a small jar, along with the remaining spices. Whisk until blended. Store in a cool, dry place for up to 1 year.