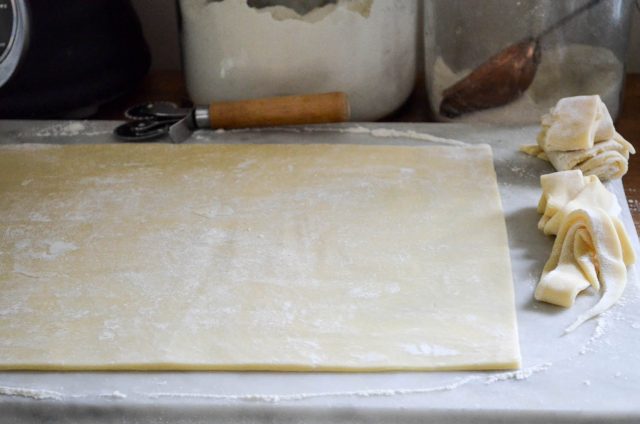 Two words that make adults fall to their knees: pop tarts. Throw in a homemade version, and well, you might be able to get a grown man (or woman) t0 give into any demand you put forth. Yes, pop tarts aren't just for kids. Let your imagination run wild for the fillings, once you master this recipe for the dough.
Unlike other recipes that call for puff pastry or pie dough, this easy-to-make recipe is the real deal. It makes a crisp, cookie-like pastry, that most closely resembles store-bought pop tarts without all the unnecessary ingredients. Here's my master recipe for Homemade Pop Tart Dough. Expect to see a lot more fun pop tart recipes in the months (and years) to come, starting with this recipe for Homemade Peach Pop Tarts.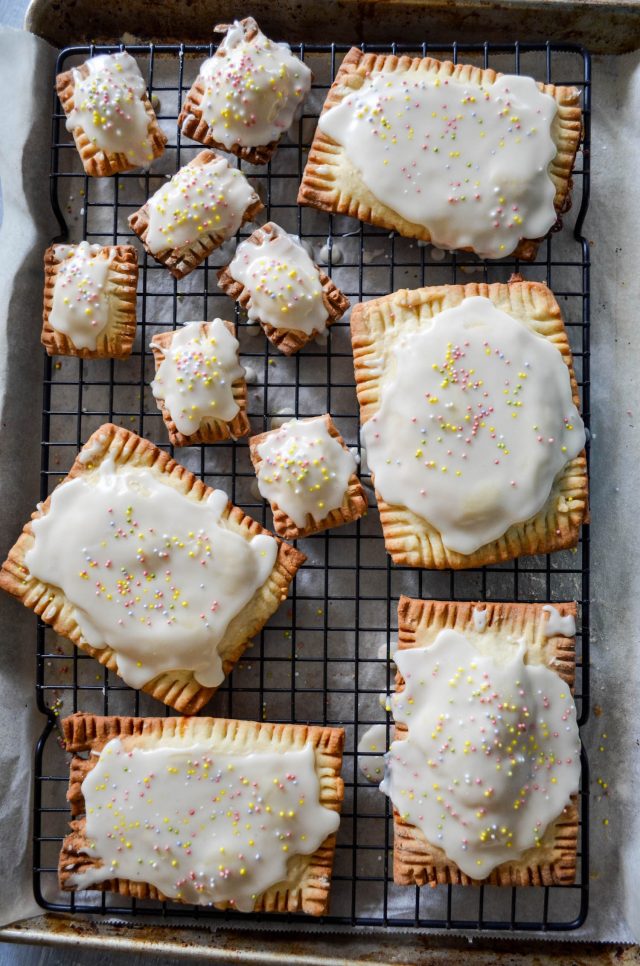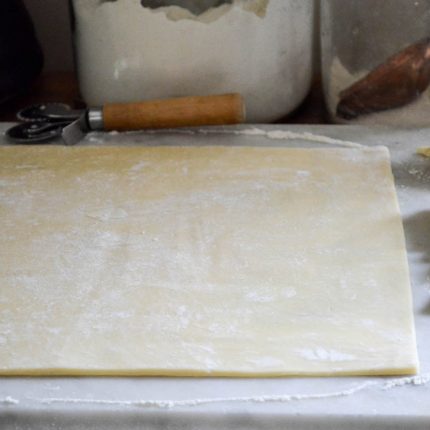 Homemade Pop Tart Dough
Ingredients
1 1/3

cups

200 grams all-purpose flour, plus more as needed

¼

cup

32 grams cornstarch

½

cup

60 grams Confectioner's sugar

Pinch

of sea salt

1/8

teaspoon

baking soda

¼

teaspoon

1 gram baking powder

4

tablespoons

56 grams cold butter, cut into 8 pieces

¼

cup

+ 2 tablespoons

90 ml cream
Instructions
Combine the flour, cornstarch, Confectioner's sugar, salt, baking soda, and baking powder in the bowl of a food processor. Pulse to blend.

Add the butter, and pulse 4 to 5 times until it forms a sandy-looking mixture with some pebble-size pieces.

Pour in the cream. Pulse a few times, then process 30 to 60 seconds until it comes together in a rough ball.

Place the dough on a lightly floured counter or cutting board. Gently knead a few times until it comes together into a smooth dough.

At this point, you can wrap the dough, chill it up to 2 days, until ready to use (let it soften enough to roll if you choose to do so), or continue making these

Peach Pop Tarts

.
Eight Years Ago Fried Green Tomatoes, Peach Raspberry Tart, and Trutas.
Seven Years Ago Freezer Preserved Tomatoes, Cantaloupe Cooler, Peach Blueberry Cobbler Cake, Pickled Jalapeno Watermelon Rind, and Ginger Soy Marinated Flank Steak.
Six Years Ago 60-minute Chicken Stock, Cherry Slushies, and Perfect Pancakes.
Five Years Ago Crispy Baked Eggplant, Homemade Corn Broth, and Smoky Watermelon Gazpacho.
Four Years Ago Easy Peach Jam, Peach Allspice Muffins, Lemon Blueberry Scones, and Day 742.
Three Years Ago Minty S'mores Milkshakes, Cantaloupe Sorbet, Crispy Buttermilk Fried Chicken, and A Clean Slate.
Two Years Ago Roasted Beet Greens, Seriously Delicious Ribs, and Homemade Vegan Ricotta.
One Year Ago No Cook Tomato Basil Sauce, Crispy Baked Kale Chips, Zucchini Oatcakes, Sweet Butter Pastry Crust, Peach Blueberry Tart, Quick Pickles, and Pork Fried Rice Salad.
SaveSave
SaveSave