pickled jalapeno watermelon rind
Soothing waters.
Seagulls trying to steal our potato chips off the beach blanket.
Sand scratching between my toes.
Tomorrow is the big day. The one we wait for every year. The countdown really starts the moment our car rolls down the driveway onto Shore Road, and we wait another 365 days to return to North Truro.
Before I could think about packing, though, I wanted to make sure you had this recipe for pickled watermelon rind. After tasting it—my first venture into this very unique and intriguing Southern side, I decided it was worthy of bumping the other 20 or so recipes in the queue.
It is that good, and addictive, I should warn you. That expected pickle-like crunch. Drops of syrupy vinegar cutting through the heat of the jalapenos. Most recipes call for chopping the rind into chunks. I couldn't resist slicing it into slivers instead. I imagine it will pair well with tacos or instantly perk up an otherwise simple salad.
If only I can stop eating it by the forkful.
So far, I've managed to can four jars. I still have some watermelon in the fridge and might be tempted enough to can a few more while I'm readying the last of our bags for the journey. Trust me, this is one recipe you don't want to shelve until next season.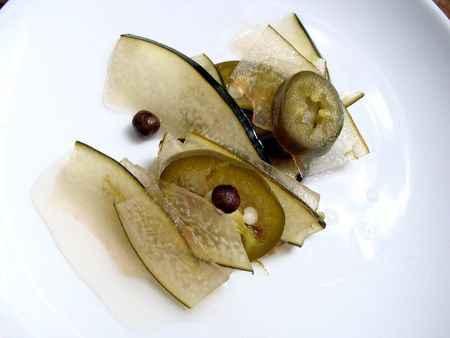 pickled jalapeno watermelon rind
makes 2 1/2 pints
Perhaps the ultimate waste not, want not recipe. Remember safety first, though, so don't use the eaten up rinds, that are covered in drool. This is meant for rinds that have had the watermelon flesh cut off. Come to think of it, this might even be a fun garnish for my watermelon-cilantro margaritas.
1 1/2 cups/337 ml apple cider vinegar
3/4 cup/6 ounces sugar
1 quart washed watermelon rind, red flesh removed & sliced thin
1 medium jalapeno, sliced thin
1/2 teaspoon whole all spice berries
Freshly grated zest of 1 lime
Add vinegar and sugar to a deep glass microwave-safe bowl. Cook on HIGH power until boiling, about 6 minutes. Add the remaining ingredients and cook on HIGH for 2 more minutes. Spoon into sterilized clean glass canning jars and process in a hot water bath. Alternately may be stored in a tightly sealed jar in the refrigerator for up to one month.
SaveSave