I'm not a planner—in any way, shape or form. I'm more of a let's throw a bag together, and go on a ride trip sort of gal at 3:00pm on a Friday afternoon. Never mind the traffic I'll likely get stuck in. And whatever I forgot to pack? Who cares, we can buy it there.
This approach carries into my cooking life, too. That's why you've never seen a meal plan here. I've considered the idea of sharing one here for a long time. It's just so opposite to the way I handle meals that I wonder if it would be hypocritical. Tell me, would you all want me to start that up in September? Weekly plans with links to recipes (mostly here, but also from sites I love) to help make your weekday cooking easier? Let me know in the comments, and if's enough interest, I will make it happen.
But for now, we're here to talk about this Peach Blueberry Tart. You know that business about not being a planner? Well, it has some benefits, ones that result in summer sweet peaches and blueberries wrapped in a buttery pastry crust. I should've been doing a dozen other things besides baking this tart recently, but I couldn't help myself.
The peaches had been sitting on the counter for a few days. And then there were the blueberries in the fridge just screaming to be used up. We're near the end of blueberry season here, and haven't been eating them with as much gusto.
So, instead of jumping into my work day, I made this Peach Blueberry Tart. And because I needed one more reason to procrastinate, I recorded the whole thing on Snapchat. I really love showing stuff like to take the fear out of everyday baking and cooking. I went ahead and repackaged it as one of my Snapchat Recaps. Be mindful that Snapchat works better when shot portrait (opposite of how tour TV looks). I had someone chastise me for this, and my feeling is better to share it once the 24 hour Snapchat window has expired than let it disappear into the digital unknown, yes?
Click here to watch me make this Peach Blueberry Tart live.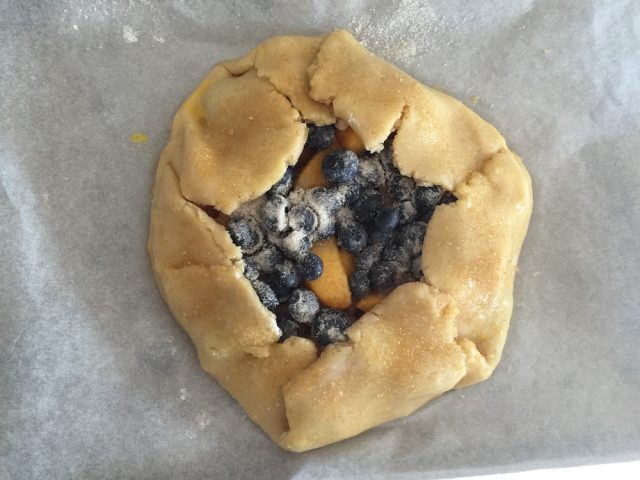 The filling is a basic formula, so feel free to swap in nectarines for peaches, and raspberries or blackberries for the blueberries. Scale back the sugar if your fruit is super sweet, add a little more if your berries are on the tart side. Taste your fruit before using it—that's so important to remember.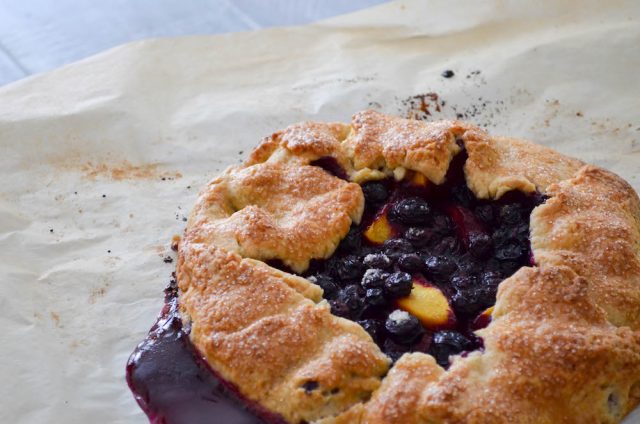 Peach Blueberry Tart
Ingredients
1

Sweet Butter Pastry Crust

recipe here

3

peaches

peeled & sliced

¾

cup

fresh blueberries

¼

cup

50 grams granulated natural cane sugar

1

egg

lightly beaten with a bit of water (this is called egg wash)

1

tablespoon

coarse natural cane sugar

like Sugar in the Raw, optional
Instructions
Place a rimmed 11-inch by 17-inch baking sheet on the center rack of your oven. Preheat the oven to 400ºF (200ºC).

Meanwhile, place a large sheet of parchment, about the size of your baking pan, on a counter. Sprinkle a bit of flour on the paper. Place the crust on top, and roll out into a 12-inch circle (it doesn't have to be perfect).

Arrange the peaches and blueberries in the center of the rolled out dough, leaving a 2-inch border all around.

Sprinkle the granulated sugar over the fruit.

Fold the side over, covering the fruit halfway (the center should be open, almost like a fruit volcano).

Brush the dough with the egg wash. Sprinkle the coarse sugar on top, if desired. Slide the parchment paper, with the tart on top, onto the preheated baking sheet (this will be easier to do if you remove the pan from the oven momentarily).

Bake 40 to 45 minutes, until the fruit bubbles in the center, and the crust is a deep golden color. Transfer to a wire rack, and let cool at least 20 minutes before serving.
Some more peachy keen inspiration from my friends at Food Network's Summer Soiree.
The Lemon Bowl: Peaches and Cream Overnight Oats
Creative Culinary: Bourbon Peach Jam with Vanilla Bean
The Heritage Cook: No Churn Fresh Peach Ginger Ice Cream (Gluten-Free)
Devour: 5 Peachy-Keen Savory Summer Dishes
TasteBook: Peach Bruschetta with Prosciutto
Taste with the Eyes: One Ingredient Transforms The Classic Greek Salad (peaches)
The Mom 100: Plum and Nectarine Crisp
FN Dish: 10 Things to Make with Summer Peaches Before It's Too Late