Bay Leaf Poundcake + Best Way to Clean A Messy Oven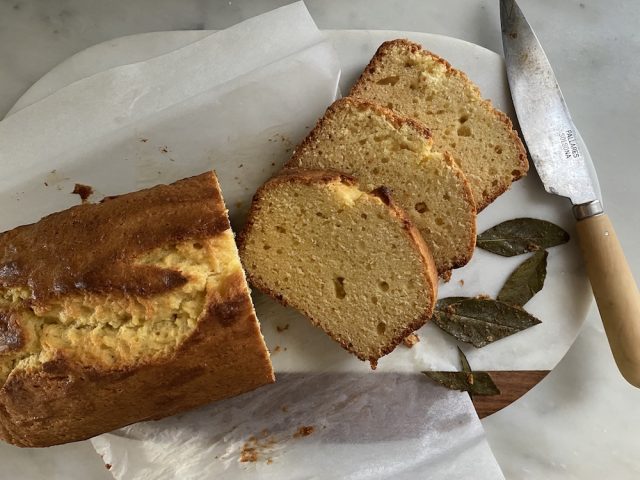 While adding bay leaf to a cake recipe might sound odd, or the list of ingredients might seem too lengthy, I encourage you to cast both those assumptions aside. For starters, this recipe uses melted butter, a bonus which means no need for an electric mixer to cream butter and sugar. All you need are two bowls, a whisk and a loaf tin to make this cake.
The combination of bay leaves, lemon zest and local honey, result in a whisper of herbaceous, citrusy, floral flavor. It feels like summer in every bite yet all the ingredients are readily available to bake this cake year-round. This cake was inspired by David Lebovitz's bay leaf pound cake from My Paris Kitchen with a few tweaks.
I made some changes to David's original recipe. I'd been on a ricotta binge when I made it, and swapped that in place of the sour cream he uses. I also subbed some of the sugar with honey because I wanted to play up the floral notes a little more. Lastly, I had no oranges but always tend to have lemons so used that instead. The orange will definitely add a different flavor here, and I'm eager to make a version with them soon. A link to the recipe for the pound cake is below.
Last week I shared an oven-cleaning tip on Instagram and people were excited and intrigued, so I thought I'd share it here. I don't like harsh chemicals and have moved away from using them over the years. With the exception of the chlorine-free bleach I buy, most everything else you need to clean the house are common ingredients you might already have in the kitchen: lemons, vinegar, and baking soda being the top three.
Kosher salt, washing soda and vodka are other ingredients that aid in cleaning, too. I also use essential oils to add scent (rosemary and orange are my favorites). You can even use fresh herbs for vinegar-based cleaners without worry of them getting moldy in the liquid.
More homemade cleaning products to try
Natural Homemade Fabric Softener
I find cleaning the oven window the biggest challenge if you don't do it regularly. Instead of spraying harsh chemicals or even using the self-cleaning function on your oven to melt away the mess, all you need is some patience, elbow grease, baking soda and fresh lemons. Really, that's it.
With the oven in the open position, sprinkle some baking soda on the glass. Slice a lemon in half, squeeze it over the baking soda then use the cut-side of the lemons as a scrubber to scrub away the grease. I use a metal spatula to scrape and loosen really stuck-on grease. I've never had it scratch the oven door but I can't vouch for your door or spatula, so test this in a small area first.
Use kitchen rags or paper towels to wipe the residue away. You may have to repeat this process a few times depending on how dirty the oven door is—this is a judgement-free zone. This same baking soda and lemon duo can be used to scrub the entire oven. It also works well on my stainless steel sink.
Hope the week is a gentle one and brings pockets of peace. Be well. –xo, j.