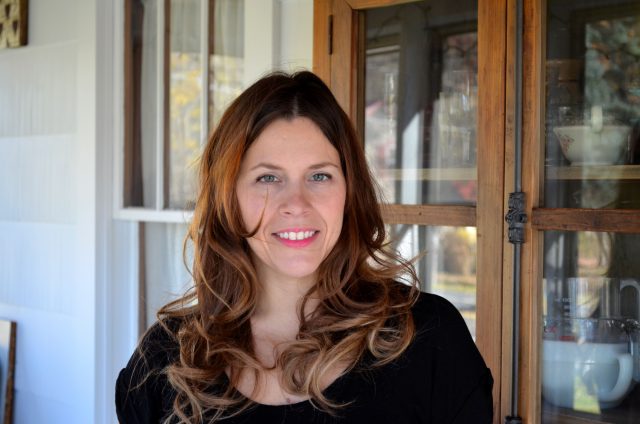 Balance—that ever elusive carrot we moms think is a magic cure all. After working long hours in the restaurant business I decided it was time to focus on motherhood—after all they're only kids once. Truth is everyday is a juggle but the one constant that holds it all together is food. Lucky for me that I love creating new recipes and updating classics since I've got two growing girls.
A bit more you ask? Well, if you really want to know, it all started with an article in Newsweek. Back in 1999, Mikey, my  boyfriend, handed me a clipping about becoming a personal chef. I was 23 and my dad had just passed away—he was only 49 years old. I figured it was time to get cracking on my dreams since there's no guarantee of tomorrow.
Time to Eat was born in 1999. I prepared ready-to-heat homemade meals for busy professionals and did on-site catering for business lunches and cocktail parties. The New York Daily News, Time Out New York, CNNfn and a few local newspapers all agreed this Brooklyn-born girl had made good. In 2000 I took on a second job, working "front of house" at famed NYC restaurant Gramercy Tavern, as a host, reservationist and maître d', to see what life was like outside of the kitchen. Bitten by the restaurant bug, I stayed in the business for seven years, my last gig working as the Events Coordinator at Alain Ducasse at the Essex House until it closed in 2007.
It was then that I decided to bring all the ingredients of my passion for food and cooking together, and took the leap into food writing. At 32 years old, I applied for an internship at Working Mother magazine to get my foot in the publishing door. One year later, in 2008, I stepped into my current role as Consulting Food Editor for the magazine. My original recipes and articles have also been featured on Food Network, in Parenting, Parents.com, now shuttered Relish magazine, Kiwi Magazine, Saveur, Cuisinart, The Spruce Eats (where I was a contributing expert) and Food52 (50+ recipes plus three featured in their debut cookbook).
My debut cookbook, Homemade with Love, was published in 2013, and I've since worked on two celebrity cookbooks with Tia Mowry and Patricia Heaton, as well as wrote a beginner's guide to Intermittent Keto.
Nowadays I commute from a tiny house in the country to the Big Apple (three hours each way, if you were curious) for my job as a Recipe Manager for Dinnerly.  In the spring of 2021 I launched paid subscription site, Simmering for readers to enjoy my writing and recipes free from advertising for a more uncluttered reading & cooking experience.
The takeaway for all of you—always dream big and don't be afraid to do the work it takes to make those dreams come true. Mine started as a seedling 20 years ago, and I really didn't know how it would grow. Along the way I followed my heart, instincts and always asked myself the most important question—"is this what I want to be doing with my life".
COPYRIGHT INFORMATION
I'm flattered that you love In Jennie's Kitchen and while you are welcome to link to recipes and posts on this blog, please note that all the content and photography is wholly owned by me. This means you cannot reprint any writing, recipes or photos found on this site without express written consent. Queries may be sent to injennieskitchen@gmail.com
COMMENTS & FEEDBACK

I really welcome your input about the recipes I post here at In Jennie's Kitchen, and I do my best to serve up each one with a heaping of hospitality. Please remember while you're visiting to keep it clean and if you have nothing nice to say, then take your mom's advice and say nothing at all. Tips or user feedback is always welcome. Downright rude comments are not, and will be deleted.
If you see I've made a typo on the scale of missing an ingredient or an important step, well then by all means do send me an email so I can advise and correct it because I'd hate for you to waste ingredients or make a mistake because of my error.
DISCLOSURE
Quite often I receive samples of products and previews of cookbooks. In general, I write about recipes and how they relate to my life. If I come across a product I like or think enhances the final outcome, then I'll tell you about it. I do not write strictly product reviews and have no interest in doing so at this time.
PRODUCT PITCHES
Please click here for more information regarding sponsored posts.