Gingerbread Cake with Eggnog Frosting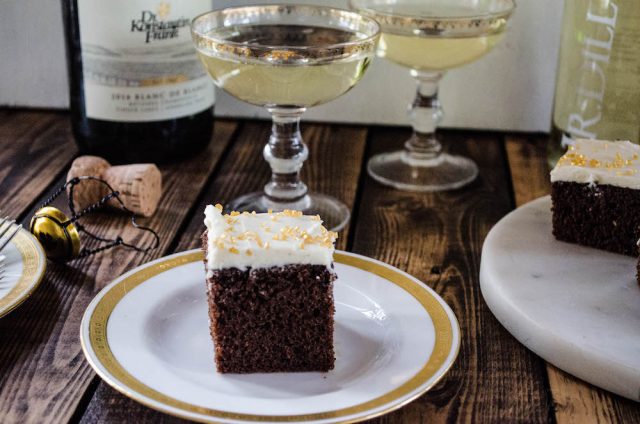 I love gingerbread, and it's no secret considering all the gingerbread recipes on this site. I'd be hard-pressed to choose a favorite, so instead I'm adding one more recipe to the mix with this incredibly easy, one-bowl gingerbread cake with eggnog frosting.
When my friend Carol, who works with the Finger Lakes Wine Country, asked if I'd be interested in creating a holiday dessert recipe to pair with wines from the region, it was the perfect reason to dig even deeper into my gingerbread love affair. Full disclosure, Finger Lakes Wine Country has compensated me for my work on this recipe and post, and I'm incredibly thankful for their support as it's allowing me to make a significant contribution to The Table at Woodstock, a local organization providing free, homemade meals to our community (I'm donating 25% of my fee and you can donate here, too, if you'd like).
How we celebrate the holidays will of course be different this year, but celebrate we shall, if for the mere fact that 2020 is almost over! There's so many wines to choose from in the Finger Lakes region but being the holidays, I was in bubbly kind of mood, and serving this warmly spiced cake with sparkling wine proved to be a perfect pairing.
American gingerbread is usually a combination of cinnamon, cloves and ginger. My very favorite way of making gingerbread, though, is using lebkuchengewürz, which is why I shared my recipe for it recently. This spice blend is to Germans what pumpkin spice is to Americans. It's well worth the few minutes to make a batch of it at home but I'm including measurements for both if you decide the cinnamon, clove and ginger route is the way you want to go.
Tis' the season for eggnog, too, another December favorite recipe of mine.
You could choose to eat the cake straight from the pan as the girls and I did with a few test batches, or top it with the accompanying eggnog buttercream frosting. Whichever way you decide to eat your cake, just don't forget the bubbly. I've been a fan of Dr. Frank wines for about 15 years now. Their Blanc de Blancs is reminiscent of the finest champagnes and would be a wonderful way to ring in the New Year (who else is ready for 2020 to be over?!).
Personally, I'm a believer in every day being cause for celebration, even in the most stressful of years as this one has been, and would pop a bottle of Dr. Frank on a random weekday. If you're looking for something that feels more everyday, there's J.R. Dill's Cayuga White Rise. I was sent bottles of each to taste, and loved them both on their own and paired with this gingerbread cake.
Stay tuned for another recipe this week you can enjoy with these wines. I decided to create a bonus recipe for dark chocolate espresso truffles using Dr. Frank's Blanc de Blanc. They're super easy to make and would be perfect for shipping to friends along with any cookies you might be baking (I've been a busy gal in the kitchen myself the last few days, making lebkuchen, panettone, meringues and homemade almond paste).
Gingerbread Cake with Eggnog Frosting
Ingredients
FOR THE CAKE BATTER

6

tablespoons

84 ml neutral oil (sunflower or grapeseed)

1

large egg

2/3

cup

135 grams granulated natural cane sugar

1/4

cup

84 grams molasses

1 1/2

cups

190 grams whole wheat pastry flour

2

tablespoons

14 grams cocoa powder

2

teaspoons

10 grams baking powder

1/2

teaspoon

2 grams sea salt

1

teaspoon

4 grams ground cinnamon

Scant teaspoon

3 grams ground cloves

1 1/2

teaspoons

4 grams ground ginger

OR 1 ½ tablespoons lebkuchengewürz in place of cinnamon

cloves and ginger

FOR THE EGGNOG BUTTERCREAM FROSTING

¼

cup

56 grams mascarpone, softened

8

tablespoons

butter

112 grams, softened

⅛

teaspoon

freshly grated nutmeg

Pinch

of salt

¼

teaspoon

vanilla extract

2

tablespoons

eggnog or heavy cream

1

cup

confectioners' sugar
Instructions
Preheat oven to 350ºF (180ºC). Coat an 8-inch square cake pan with butter.

Add the oil, egg, sugar and molasses to a deep bowl; whisk until well-blended.

Add the flour,cocoa, baking powder, salt and spices to the bowl. Pour in 1 cup (240 ml) hot water (not boiling). Whisk until smooth and well-blended (batter will be very thin).

Pour the batter into the prepared pan. Bake until sides pull away from pan and a metal skewer inserted in the center comes out clean (a few dry crumbs are okay), 30 to 35 minutes. Let cake cool in pan on a wire rack.

Once cake is cooled, add softened mascarpone and butter to a medium bowl. Using a hand mixer, beat on high until light and fluffy, 2–3 minutes.

Add nutmeg, salt, vanilla, eggnog and confectioners' sugar to bowl. Starting on slow, and slowly increasing speed to medium-high, beat frosting until light and fluffy, 3–5 minutes.

Spread frosting over cooled cake. Cut into squares to serve.