How To Cook Fresh Tomatoes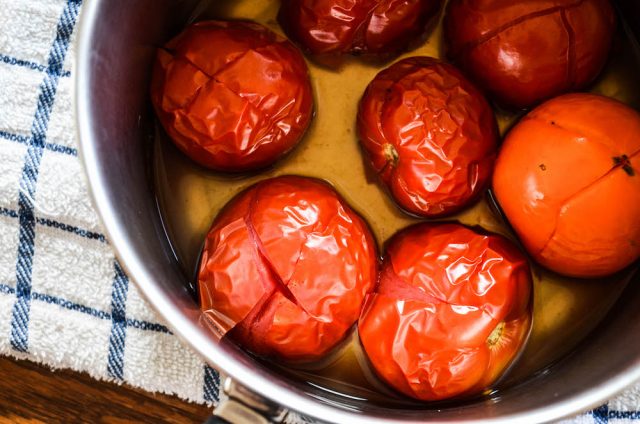 I sometimes wonder if reading this blog is like listening to the old uncle who rolls out the same stories every time nostalgia strikes. So many of the things I write about touch upon the same nerve centers, leading me down similar rabbit holes from the past.
My uncle's stories never grew old—each time I was a captive, willing audience, eager to listen to those well-worn tales with fresh ears. This thought was on my mind while prepping fresh tomatoes to make sauce. I wasn't sure if I'd ever talked about how to do it properly, and set my mind to snapping some photos for a step-by-step tutorial.
As it turns out, I've written about how to peel the skins here, but I find photos to be quite helpful, so I suppose writing about them again today isn't too redundant. While taking a photo of tomatoes simmering in a thin layer of water, it occurred to me that any cooking-related photos I take these next few days will be the last in this kitchen. That left me feeling sentimental.
It was in this very kitchen, just two weeks after Michael died that I felt like I could actually learn to cook again. Not the technical aspects of cooking. I mean find the desire and purpose in cooking again.
I didn't expect to truly find joy in cooking for someone again in that way where every ingredient you see is a pathway to them. What I didn't expect even more was to be in a relationship with someone who felt so at ease with me in the kitchen.
So, when Matthew asked how to use fresh tomatoes to make my 20-Minute Marinara recipe, I talked him through the process of scoring them, steaming them to loosen the skins, and then peeling them. It made me realize this method of preparing fresh tomatoes to use as you would canned would be useful to have in the archives.
Scoring the tomatoes simply means to slash an "x" in the bottom. Once that's done, add them to a pot large enough to hold the amount you're prepping. Add a little water to the pot, about 1/4-inch worth. Cover and bring to a boil, then reduce heat to medium, and continue to cook, covered, until the skins burst and loosen from the fruit enough to slip them off once cooled.
People apply this same method to the oven, slowly roasting the tomatoes instead of steaming. Roasting adds an extra depth of flavor. I'm curious to try this but haven't had a big enough batch of tomatoes this year to make it worth turning on the oven. You can follow this recipe for slow roasted tomatoes for cooking time and temperature, adding more time as needed depending on the size of your tomatoes.
A question that might on your mind is probably what kind of tomatoes to use. Traditionally plum or San Marzano tomatoes are used for making sauce. I don't believe in a lot of hard or fast rules in cooking, though, so use whatever looks good at the farmers' market. In fact, heirloom tomatoes, while prized for eating raw, make a wonderful sauce, too. One bit of advice I urge you to follow is raiding the "seconds" bin. These tend to be slightly imperfect, sometimes overripe tomatoes farmers sell at a steep discount. They're perfect to use for cooking, and will save you a few bucks in the process.
Lemon boy tomatoes, like the yellow one pictured above, taste less acidic, with a faint sweetness. Adding a few them to your tomato sauce creates a nice balance.
Once the tomatoes are steamed (or roasted) and peeled, you can freeze them as I wrote about here a few year ago. You can then use them as you would canned whole-peeled tomatoes. Any remaining water in the pot, and that released by the tomatoes during steaming can be added to your sauce. It'll be thin, so you can add some tomato paste if you prefer a thicker sauce. You can also use the tomato water to poach fish to infuse some extra flavor.
I chopped up my last batch, and used them to make a small pot of Marcella's tomato butter sauce, which incidentally tastes quite amazing as a pizza sauce, really.