Homemade Hot Fudge Sauce, dairy-free
Sundaes remind me of being a teenager with my mom in Bensonhurst. On many a Wednesday we used to walk over to the Carvel on Bay Parkway since it was buy one get one free day for sundaes. I was always a wet walnuts and caramel sauce gal, still am, mostly. My mom was a hot fudge woman, and while it's been a long time, more than 20 years since those days, my hunch is she's still a hot fudge fan, too. That's why when I wrote Homemade with Love, I included a recipe for Hot Fudge Sauce.
Unlike the hot fudge sauce of our Carvel days, this one is dairy-free. Back then it would've sounded crazy to have a dairy-free hot fudge sauce, but with the prevalence of dairy alergies and intolerances, and the wealth of dairy-free ice creams on the market nowadays, well, this dairy-free Hot Fudge Sauce deserves a rightful place in the recipe files.
It comes together easily, with just four ingredients. The lack of dairy also means you can keep it out on the counter. You know, just in case you need a reminder to east sundaes more often. It starts by making a simple syrup of water and sugar, which then gets poured over bittersweet chocolate. Use chips or chop up bar chocolate, whichever is easier for you to find.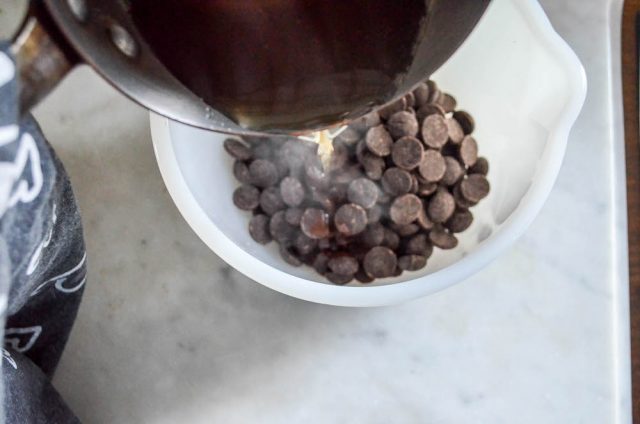 Let this mixture sit for a minute or two, just enough time for the chocolate to begin to melt. Then in goes some vanilla extract and brown rice syrup. Brown rice syrup is a better for you alternative to corn syrup. It's easy to find at any healthfood store. The syrup is what lends the thick, fudgy body to this Hot Fudge Sauce.
At first, the mixture will seem curdled, and quite thick. Keep stirring, and don't worry. It'll all come together in a minute or so, into a smooth, glossy, pourable sauce. Once the sauce has time to cool, it'll thicken, and be more scoopable than pourable. Again, don't fret. Just spoon out what you need, warm it gently in either a microwave with short 15-second bursts, or set the jar, covered, in a pot of very hot water until it loosens into a pouring consistency.
I've no idea if that Carve still exists, but that's the beautiful thing about cooking. Time often feels a foe, not a friend. Bringing moments like this back to life in my own kitchen is a reminder that it is we who are the keepers of own memories, not the tick tock of a clock.
Eight Years Ago Fried Green Tomatoes, Peach Raspberry Tart, and Trutas.
Seven Years Ago Freezer Preserved Tomatoes, Cantaloupe Cooler, Peach Blueberry Cobbler Cake, Pickled Jalapeno Watermelon Rind, and Ginger Soy Marinated Flank Steak.
Six Years Ago 60-minute Chicken Stock, Cherry Slushies, and Perfect Pancakes.
Five Years Ago Crispy Baked Eggplant, Homemade Corn Broth, and Smoky Watermelon Gazpacho.
Four Years Ago Easy Peach Jam, Peach Allspice Muffins, Lemon Blueberry Scones, and Day 742.
Three Years Ago Minty S'mores Milkshakes, Cantaloupe Sorbet, Crispy Buttermilk Fried Chicken, and A Clean Slate.
Two Years Ago Roasted Beet Greens, Seriously Delicious Ribs, and Homemade Vegan Ricotta.
One Year Ago No Cook Tomato Basil Sauce, Crispy Baked Kale Chips, Zucchini Oatcakes, Sweet Butter Pastry Crust, Peach Blueberry Tart, Quick Pickles, and Pork Fried Rice Salad.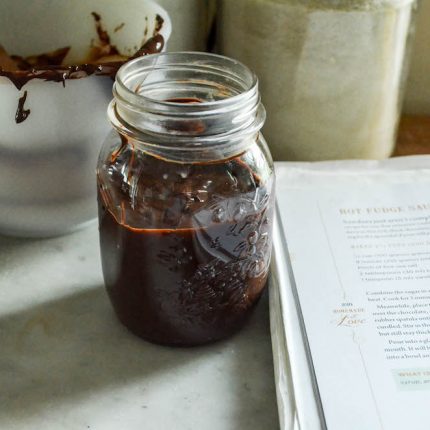 Homemade Hot Fudge Sauce, dairy-free
I set out to make a hot fudge sauce everyone could enjoy, hence no heavy cream or butter. You'll never miss the dairy in this rich, thick chocolate sauce perfect for pouring on top of any frozen treat—or just eating it by the spoonful if your will power is as weak as mine.
Ingredients
1/2

cup

100 grams natural cane sugar

9

ounces

262 grams bittersweet chocolate, chopped fine

1

teaspoon

5 ml vanilla extract

2

tablespoons

30 ml brown rice syrup
Instructions
Add the sugar to a small saucepan with a 1/2 cup of water. Bring to a boil over medium-high heat. Cook for 2 minutes until the sugar is completely dissolved.

Meanwhile, add the chocolate to a deep heatproof bowl. Add the salt. Pour the boiling sugar-water mixture over the chocolate, and let it sit undisturbed for 1 to 2 minutes.

Add the brown rice syrup and vanilla extract. Stir with a rubber spatula until the chocolate is melted. It will look thick and rippled, don't worry. It'll become glossy and smooth, but still stay thick.

Pour into a glass jar and let cool completely. Cover tightly and store at room temperature, or in the fridge, for up to two months. It will harden in the fridge, so don't worry. Just scoop some out into a bowl and heat it in the microwave, using 15 second intervals, until it is pourable.
SaveSave
SaveSave
SaveSaveSaveSave
SaveSaveSaveSaveSaveSaveSaveSaveSaveSaveSaveSaveSaveSave