No Cook Tomato Basil Sauce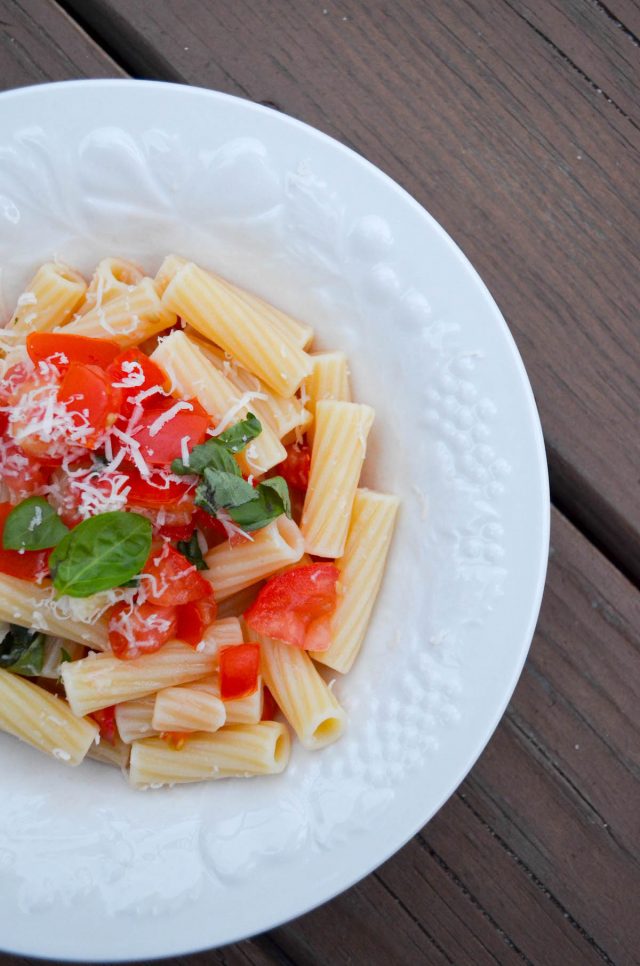 Okay, let's just get the obvious out of the way here. This recipe for No Cook Tomato Basil Sauce at its core is really just hot pasta tossed with the perennial summer combination of tomatoes and basil. But right now we're experiencing a moment in time that only comes once a year.
Tomatoes are at their peak, and it leaves me simultaneously excited and a little nervous. I know this will be fleeting. I wait all year for tomatoes to reach this point, but it's also bittersweet. Tomatoes are the last of the summer crops to come, and their arrival by the barrel load means we'll be soon be tucking into cooler temperatures filled with root vegetables and apples (pears, too, if we're lucky).
Of course, this is only an issue if you eat seasonally, as we do (I say we because the kids follow along by default). So, last week while we were on vacation, it occurred to me that I don't make this No Cook Tomato Basil Sauce nearly enough while tomatoes are at their sun-ripened, juicy, sweet peak.
My girls are plain Janes when it comes to their pasta. Butter, yes. Sometimes a grating of Pecorino cheese. But sauce? One likes it on the side in a bowl to spoon as she sees fit onto her pasta. The other loves dipping bread in it—pasta, however, is not a suitable companion.
Let's not even talk about raw tomatoes. Okay, let's. The girls take after their papa on this one. Raw tomatoes have no place in their palates. Now, this works out splendidly for me when it comes to sharing—all the tomatoes, all for me!
It poses a problem, though, when it comes to making this No Cook Tomato Basil Sauce. Food, after all, is meant to be shared. Luckily, I had friends over while we were in Cape Cod. Their visits gave me the chance to share this super fresh pasta dish.
Now, I said this was a basic sauce, and it is. There are a few tricks, though, that you can take to elevate it beyond simply mixing chopped tomato, basil, and pasta. This probably goes with saying, but I just have to—you know juicy, super ripe tomatoes are key here, right? They'll release the tomatoes' natural juices to help create a broth-like sauce to coat the pasta.
Reserving some of the pasta cooking water is another trick. Adding a bit of the starchy cooking water thickens the sauce ever so slightly. I also like to give my hot, cooked pasta a stir with a knob of butter before mixing with the tomatoes, basil, and salt. You can skip this if you want to keep it vegan, and swap in olive oil. Go for a good quality extra virgin olive oil here.
I intend to enjoy this as much as possible over the next few weeks, while tomatoes are plentiful at the farm stand. This No Cook Tomato Sauce is also a great recipe for easing into back to school schedules. Leftovers make for an easy school and work lunch, too.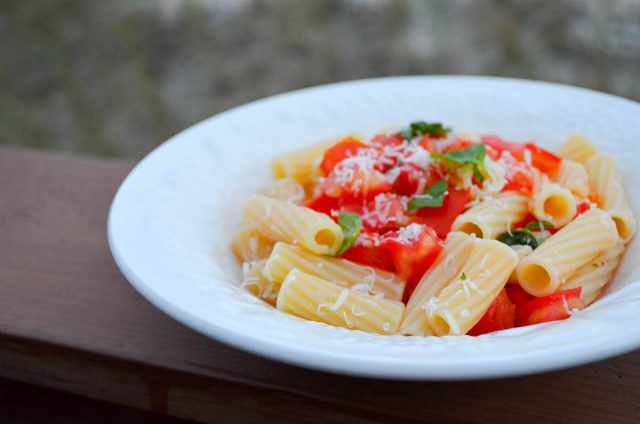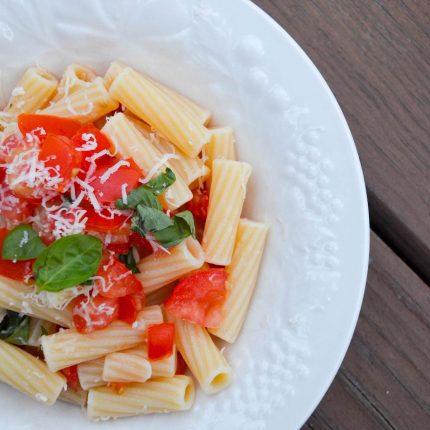 No Cook Tomato Basil Sauce
Ingredients
1/2

pound

dry pasta

3

ripe tomatoes

about he size of a tennis ball, diced

Handful of fresh basil leaves

torn or chopped

Fine sea salt

Knob of butter

Pecorino Romano cheese

to serve
Instructions
Bring a pot of water to a boil. Salt the water. Add the pasta, and cook until desired doneness.

Meanwhile, prep the tomatoes. Add them to a deep serving bowl with the basil, and salt. Stir, and let sit while the pasta is cooking.

Reserve ½ cup of the cooking water before draining the pasta. Add a knob of butter (let's call it 1 to 2 tablespoons) to the bowl with the tomatoes. Add the hot pasta, and stir until the butter is melted. Drizzle in the reserved water, stirring, until the sauce is to your desired consistency. You might not need it all.

Serve hot, with grated cheese.