A Must-Make No-Cook Tomato Sauce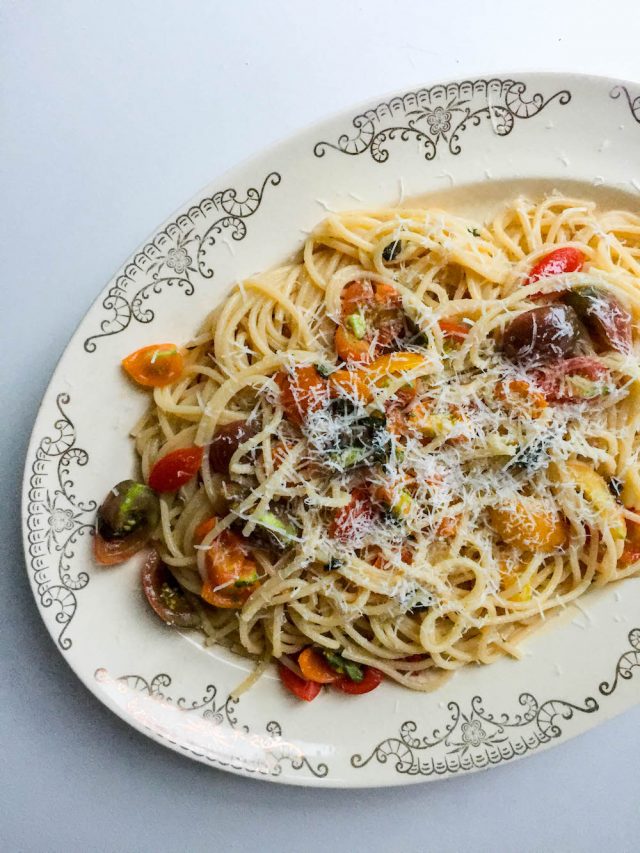 It's been 2,548 days.
I feel like I'm going through the motions, waking up, going to work, taking care of the girls, all the while accepting the reality that next week will be seven years, 2557 days, since he's been gone.
I wondered the other night, had we known this time in 2011 that he had just nine days left alive, would we have done anything differently. Would he have done anything differently. Would he have thrown all caution to the wind, gotten on a plane, and gone somewhere with us.
The suddenness of it all still haunts me, and dictates my everyday life. I struggle with the insecurity of not having enough time to do what I want most, and be with the people I love. I get easily frustrated and withdrawn when people don't seem to go the extra mile, thinking to myself "this could be the last chance we have to…(insert what you like here)".
That's the extra layer of the grief I carry.
For our girls, they still cling to worry when I leave if I'll come home safely, alive. I don't know how, or if that ever goes away. My hope has always been that as they gather more positive life experiences maybe one day they'll overshadow their great loss, or at least give them confidence and security in life itself.
I don't remember the last meal I cooked for him that Sunday morning. How can I not remember something so important? Then I remind myself it was just supposed to be another Sunday, not the last Sunday ever.
But I do remember the last dinner we had. It was hot that Saturday evening, and he'd not been feeling well. We thought it was just a summer cold. Fatigue had hit him out of nowhere. I came home from the Grand Army Plaza farmers' market to find him curled up with the girls on the sofa in his white Hane's t-shirt, and black sweatpants.
We spent the rest of the day snuggled together, the four of us, watching television. Isabella was deep into her Marx Brothers phase, and as luck would have it the I Love Lucy episode with Harpo Marx aired that day.
Michael seemed to liven up come dinnertime, and had an appetite, so I opted for an easy meal that wouldn't involve a lot of clean up. A mash up of pasta and caprese salad is one of my favorite summer meals. It took a few years before I could eat it again. Last week I made it, but opted to leave out the mozzarella, and I changed up the pasta. When I made it for Michael on August 6, 2011 I used campanelle, a flowery, bell-shaped pasta.
This time I used spaghetti, and tossed the cooked pasta with butter first for an extra silky texture once combined with the raw tomatoes. The tomatoes get chopped, salted, and mixed with basil and olive oil. You should do this at least 30 minutes before tossing with the hot pasta. Doing so allows water to be drawn from the tomatoes, creating a thin sauce that thickens with the starch from the pasta. The butter I mentioned adds just a touch of richness. Be sure to dip a measuring cup in the pot, and scoop out some water before you drain the pasta. The water will come in handy if you want to thin out the sauce.
The measurements are negotiable here, and most definitely based on how much sauce you want, and how much pasta you're serving. I wouldn't let any of it stress you out. Just chop the tomatoes, add them to a deep bowl, and mix with salt, pepper, basil, and olive oil. Feel free to mix up the herbs, even chop a chili pepper, add chili flakes, or toss in finely cubed mozzarella.
Once the hot pasta hits the bowl, the tomatoes slump, collapsing from the residual heat of the hot pasta, forming a rustic sauce.  I love the dish most when it's hot, but you can also let it cool, and store in the fridge for a cold pasta salad of sorts.