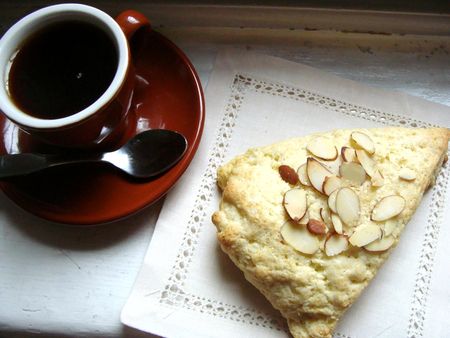 Saturday nights I tend to don my insomniac hat. See, Sundays are the one day of the week I don't set an alarm. It is my day to "sleep in" while the Mr. stirs and tends to the girls. I cherish those lazy mornings, when I rise around 8:30 or 9:00am—a big contrast to the 6:00am I wake every other day. The problem is my mind and body have become adept at running on 6 hours of sleep, and just as I'm about to settle into bed around 11:00pm, I get hit with a second wind.
Secretly, I enjoy this ritual. Everyone is snuggled, all cozy in bed. The house is silent, and it's a rather peaceful way to say goodbye to what has usually been a hectic week. I force myself to bed no later than 2:00am, so in the end my "sleeping in" doesn't grant me more dreamtime. But the reprieve from my weekly morning activities is a very welcome one.
I know. You're wondering why the heck I'm talking about lazy Sunday mornings when it's Monday and we're all back to the grind. Frankly, next to my girls waking up in a good mood, there's no better greeting to the day than a perfect cup of coffee.
This is where I should perhaps put an asterisk, right? When it comes to coffee, tastes vary wider than the mood swings of a teething two-year old. So, let me correct myself by saying this is my perfect cup of joe. I prefer a smooth cup, not weak, but mornings can be tough enough, and I don't need my first sip to be a struggle too.
I've been tweaking this recipe for about a month now, and if you've never tried cold-brewed coffee, you're missing out on a sublime and smooth coffee experience. For lack of a better term the coffee just tastes so clean and pure. Does that make sense? Not a trace of bitterness. And the no-brains required in the morning is a plus too. The whole set-up is done at night and when you wake, there's the sense of security knowing it's waiting for you.
The very first time I used Smitten Kitchen's recipe which was from the New York Times. After a few passes, I decided the strainer method wasn't the best way to go. Even using a coarse-ground grain as directed, it consistently left a grainy residue that rose to the top of my cup. Finally I decided to go with my initial hunch and pulled out the French press. I tried the small one-serving pot first, and after a week or two decided that, for the summer at least, I was a cold-brewed coffee convert. I stepped up to a larger press, and make extra to plan for coffee concentrate ice cubes the next day.
Something unexpectedly also happened. A rich-looking crema, reminiscent to that of a hand-pulled espresso, rose to the top, though it does dissipate after a few cups are poured, and whipping out my camera at 6:00am isn't where my priorities lie. Perhaps another sign of a perfectly brewed cup of coffee?
Pour. Stir. Press. Repeat.
Yep, that's my life—sounds terribly static, but I thrive on the predictability. It leaves me free to handle all the other unexpected things thrown my way. And those almond scones you see above, well, that's a recipe for another day. I figured you'd want to ease into the work week.
cold-brewed coffee
makes 3 double-strength cups
Depending on my mood, I drink this cold, over homemade coffee ice cubes, or hot with steamed milk—either way means I dilute it with equal parts milk (1:1 ratio, for example 4 ounces coffee with 4 ounces milk). Sometimes I simply heat and drink it full-strength for an espresso-like experience (as pictured above). As for the grind, medium works best if you're using the press method as directed below.
Oh, and one more thing, you need a scale. This recipe was the impetus for me to grant a spot on the counter for mine. I finally got tired of reaching into the drawer a million times a day.
42 grams drip-ground coffee (medium-textured)
3 cups/24 ounces/675 ml cold water
Add the coffee to a French press pot. Pour in the water and stir. Do not skip this step or else the grinds will not steep properly. Trust me, I speak from experience. Cover with a plate or rest the press cover on top, but do not plunge. Let "brew" at room temperature for 8 to 10 hours (I find the last 2 hours don't make a huge difference but don't want you setting your alarm just to push the press down—that'd be plain silly).