cherry-lime biscuit muffins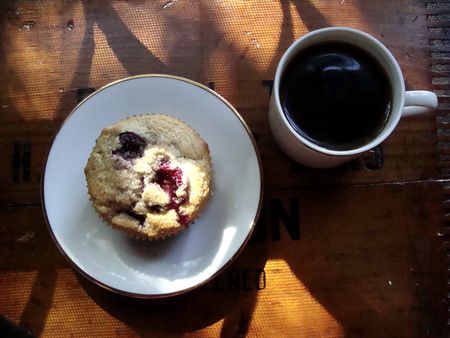 I'm used to hot, humid New York City summers. Johnny pumps freely flowing for relief were a norm growing up, so much so that the fire department used to offer special sprinkler caps to help conserve water while letting city dwellers get some relief from the heat.  Air conditioned trains were a treat, not the standard—and the fare was 75 cents.
Alas, all this talk of heat waves has me chuckling a bit. I mean, it didn't stop us from cooking back then, so why should it deter us now? In fact, heading into these record temps I began an obsession with biscuit muffins. Discovering that BJ's wholesale club carries Land O'Lakes butter, King Arthur Flour and Rumford Baking Powder just helped enable my addiction.
I started out making them with buttermilk and blueberries, then played around with a gluten-free version and last week found myself swapping in whole milk and sweet bing cherries. Today, I added lime, and honestly, I don't see an end to what some of you may see as madness. Really, with a recipe this easy, why would I let 90-degree weather get me all hot and bothered about baking them?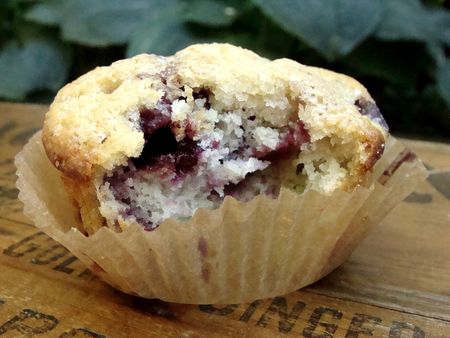 The idea came to me a few weeks ago when I was too lazy to make my other blueberry muffin recipe. It was also late and the sound of my mixer making a racket would've rattled the Mr.'s nerves. Then biscuits came to mind, and I wondered if I could try using the same technique with a little more liquid and sugar, to turn them into muffins. It was a satisfying experiment on all levels—one bowl, meant an easy clean up, and no mixer necessary means it goes into the vacation recipe files since I stop short of packing my Cuisinart stand mixer when we go to Cape Cod for two weeks.
Now that I've given you an awesome recipe, ready in less than 30 minutes—did I also mention it's egg-free, I need some help. This bird has been visiting our yard the last few weeks and I'd love to know what it is exactly. We're blessed with cardinals, blue jays and sparrows, but this one stumps me.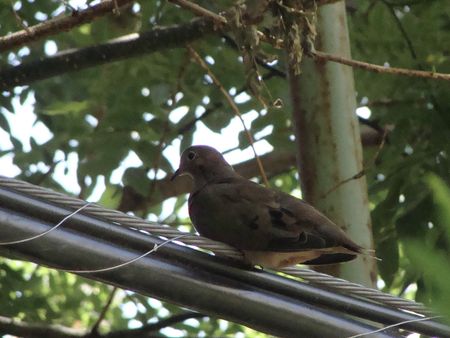 sweet cherry-lime biscuit muffins
makes one dozen
I originally made this recipe with 1/2 cup (4 ounces) of sugar, then one day inadvertantly only used 1/4 cup. My friend from Paris agreed it was even better, so I'll let you use your judgement—it works great with either proportion. And if you decide to try these without lime—I already did for you, then omit the baking soda.
2 cups (8.5 ounces/240  grams) all purpose white flour
1/4 cup (2 ounces/58 grams) granulated sugar
1 tablespoon (15 grams) baking powder
1/4 teaspoon (1 gram) baking soda
1/2 teaspoon (2 grams) coarse salt
6 tablespoons (3 ounces) cold butter, cut into 12 pieces
1 cup (225 ml) whole milk, plus more as needed
1 cup pitted, cherries, sliced in half (7 ounces weighed before pitting)
Freshly grated zest and juice of 1 lime
2 teaspoons (10 grams) coarse sugar, optional
Preheat oven to 400ºF. Grease one 12-cup standard size muffin tin; set aside.
Add flour, granulated sugar, baking powder, baking soda and salt to a deep bowl. Whisk to combine. Add butter and using a pastry blender, or your fingers (my preferred method), blend until it forms a sandy-looking mixture. Stir in the lime zest.
Pour in the milk and lime juice and stir, using a wooden spoon, until just mixed and there are no visible traces of flour (add additional milk, 1 tablespoon at a time, if needed). Gently stir in the cherries. Spoon into the prepared muffin tins and sprinkle tops with an even amount of coarse sugar, if desired.
Bake 24 minutes, until tops are golden and a skewer inserted comes out clean (it's okay if there's cherry juice on it). Remove from oven and let cool 15 minutes in the tin, then transfer to a wire rack to cool completely before serving.