Creamy Dill Dipping Sauce
When I was assigned a project to create these Zucchini Quinoa Fritters, it included a request for a dill dipping sauce. The parameters were either using sour cream or mayonnaise. Given my distaste for mayo (honestly, even saying the word freaks me out), the choice was clear. Sour cream it would be. 
I'm chuckling as I write this, wondering where Matthew would stand on this dipping sauce. I've been lucky enough to find a partner in this life who detests mayo as much as I do. He, however, takes it a step further, and I suspect anything that remotely seems it could be confused for mayonnaise is off the table (or out the window, as he says). We're not alone in our hatred of mayo.
But I digress, as usual. Should you be a dipping sauce fan, and need a mayo-free alternative, this Creamy Dill Dipping Sauce is the answer. It's perfect with these Zucchini Quinoa Patties or their cousin, Broccoli Quinoa Patties. I suppose you can even use them for these Homemade Chicken Nuggets (but I'm more of honey mustard girl).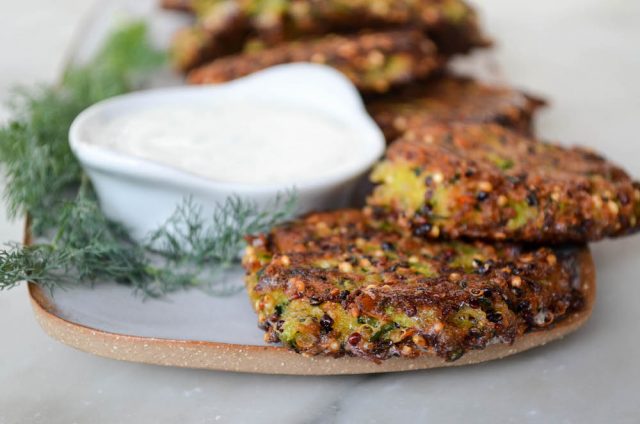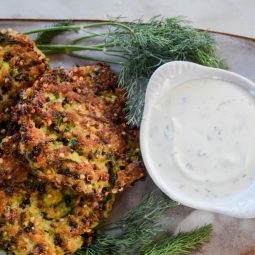 Creamy Dill Dipping Sauce
Ingredients
1

cup

sour cream or crème frâiche

2

teaspoons

fresh squeezed lemon juice

1 to 2

teaspoons

chopped fresh dill

Sea salt

to taste
Instructions
Combine sour cream, lemon juice, and dill in a small bowl. Whisk to blend. Season with salt, cover, and set aside in the fridge until ready to serve. Will keep in a covered container for 3 days.
SaveSave
SaveSave
SaveSave