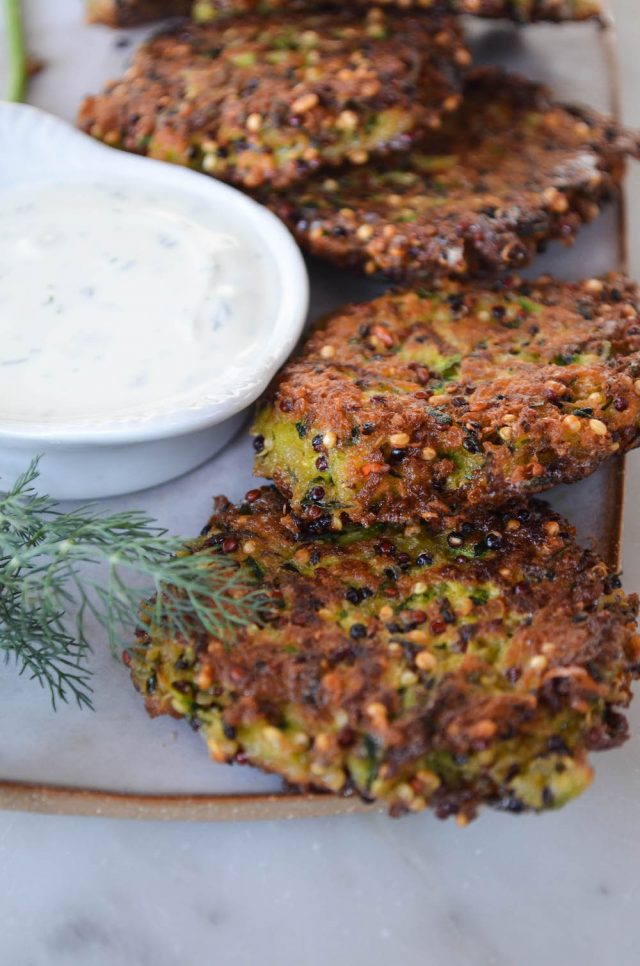 It happens every year. The first sight of zucchini sends me into overdrive, and next thing you know, squash is spilling out of every corner of the fridge. I'm not sure where this zucchini insecurity came from, but maybe one year I'll be able to get it under control.
Throw in the summer squash growing in the garden, and well, my squash cup runneth over in a big way. One thing on the cooking menu for today are these Zucchini Quinoa Patties I developed for The Spruce a few months ago. I almost forgot about the recipe because it was created long before the zucchini seeds were even in the ground, and with out-of-season zucchini shipped thousands of miles.
I can barely contain the excitement I feel knowing I can now make these with squash harvested right from my garden. Before I get to that, though, it's worth mentioning the squash blossoms that come with growing zucchini. I figured everyone knew they were edible, but a dear friend saw my photo on Instagram last week, and said she had no idea they were edible.
My favorite way to prepare them is with a quick egg batter. Whisk up an egg with some milk and salt, add enough flour to make a thin, but not too thin, batter. Some people prefer to make a water or seltzer batter, omitting the egg and milk. If I'm making something else that requires an egg batter, I find it too fussy to make a separate one for the squash blossoms. I've never found the egg batter to be too heavy so long as it's thin enough, but give them a try both ways, and be the judge for yourself.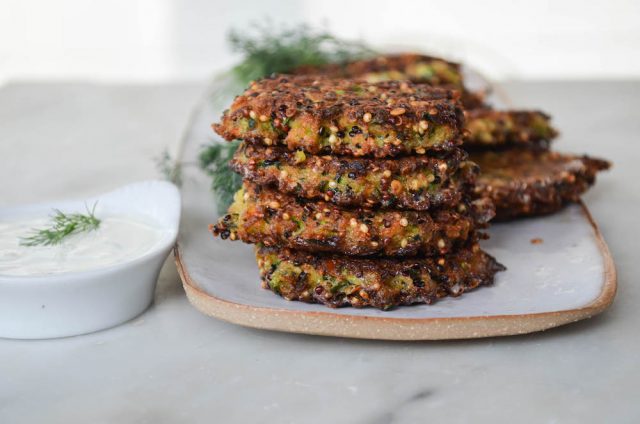 Once coated, dip the blossoms in the batter (I leave the stems on to make this part easier, and less messy), then fry them in a skillet (make sure the oil is hot first, you can tell when the oil has ripple-like waves). You can sneak a peek at them here. I know my need-to-follow-a-recipe folks will want something more concrete. I'd like to say maybe I'll get around to it, but truthfully, I prefer to keep some recipes as no recipes in my cooking routine. This might be one of them. If you must have more guidance, or are curious of other things you can cook with squash blossoms, this is a great article with some ideas from Yotam Ottolenghi from last week's New York Times.
Now, back to our regularly scheduled programming: Zucchini Quinoa Patties.
When the project was assigned a few months ago, it was simply create a zucchini fritter recipe. Simple enough. Almost too simple, and a bit boring in my mind. Did the world really need another standard zucchini fritter recipe? I think not. My thoughts immediately went to these Broccoli & Quinoa Patties from last fall.
A few tweaks to that recipe, most importantly swapping out the broccoli stalks for shredded zucchini, and a cousin of that recipe was born. I love the new addition of red pepper flakes. They catch you right at the end. This didn't go over well with my sensitive palate kids, so leave it out if in doubt (or leave it in, and rejoice in not having to share them!).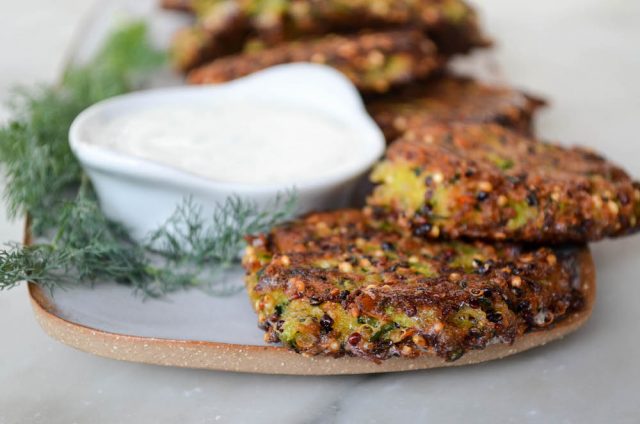 Resist the temptation to skip wrapping the zucchini in a towel to wring out excess liquid, and if you do skip that step, please don't come back here and complain. I told you so. Zucchini is very in high in water. It's imperative to get as much of it out as possible so the patties hold together properly. I've not made these using gluten-free breadcrumbs, but if you do, and have a brand you love, outside of making your own crumbs out of GF bread, please leave a note in the comments for anyone else interested.
One last thing. My project also required creating a dipping sauce. Admittedly, I'm not a dipping sauce kind of gal, and likely wouldn't have created one on a whim myself. In this case, though, I love the cooling contrast of this Creamy Dill Dipping Sauce with the subtle spice from the red pepper flakes in the patties.
Okay, Tuesday, Let's do this. I'm not sure I'll survive the week long forecast of rain and thunderstorms, but I'm going to give it my best try.
This recipe is now part of my new site, Simmering. It can be found here.
SaveSave
SaveSave
SaveSave
SaveSave
SaveSave
SaveSave
SaveSave
SaveSave