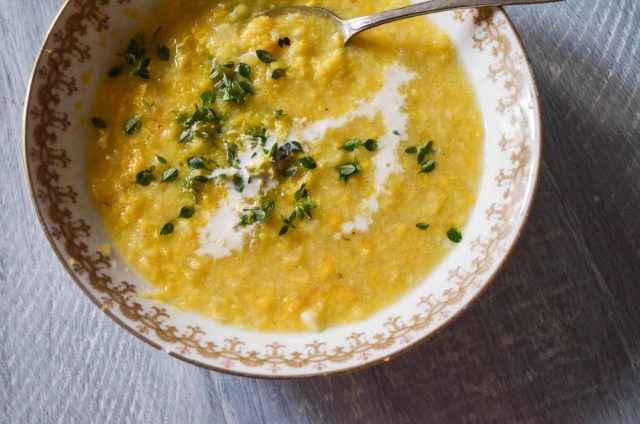 In the days leading up to vacation, it's all about working my way through the fridge. Leftovers are easy, just heat and eat. The crisper bin poses more of a challenge, requiring some thought. Unless we're talking about fresh corn on the cob. My kids would eat it straight up, just steamed, grilled, or dare I say this—even microwaved in a pinch (leave it in the husk, and it steams that way!). So, using up the few ears I had hanging around in there weren't a real quandry, but more a great excuse to whip up this incredibly simple Sweet Summer Corn Soup.
There's nothing complicated about this soup. I'm not kidding, folks. A quick scan of the ingredient list, and you might think it's almost too simple. This soup is an homage to the true flavor of corn, letting it shine in all its glory with no fuss or frills. Needless to say, it means the better quality corn, the better tasting soup you'll be slurping. 
It begins with making a base broth from the cobs, something similar to this recipe. I had a few fresh spring onions to use up, not to be confused with scallions. I'm talking about onions just pulled from the ground before they've had a chance to form a papery, protective skin. Anything from the allium family will do here—store bought onions, leeks, shallots, even scallions, though they would be a last resort for me, just in terms of the flavor they'd impart.
I had garlic scapes to use up, as well, and while I could've made pesto to store in the freezer, throwing them into the pot of broth was a much easier option. Yes, you can absolutely use garlic cloves in their place. Some fresh herbs would be fine, too—parsley, cilantro, bay leaves, but not a requirement.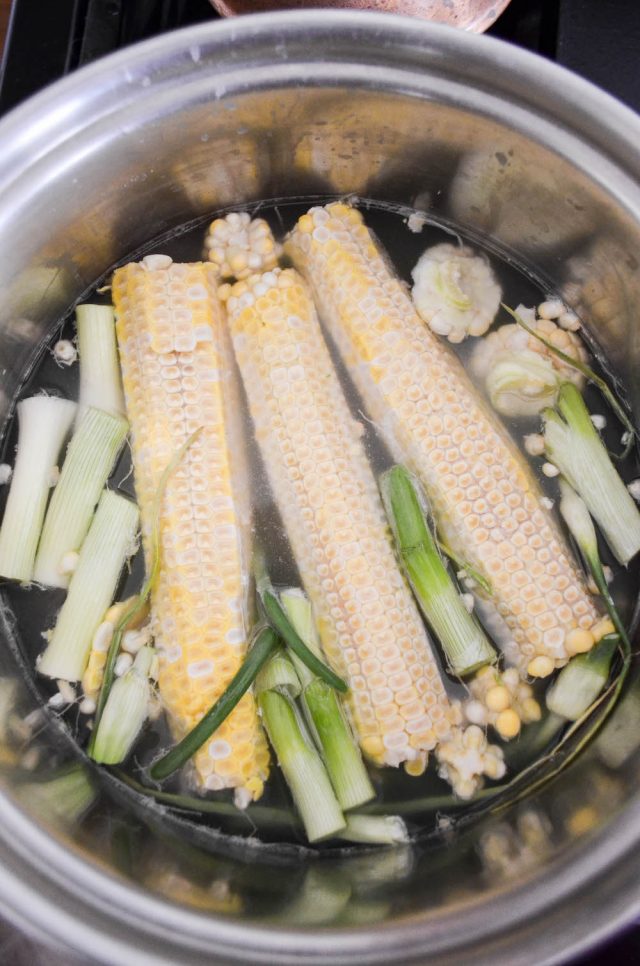 Once the broth is made, the corn kernels get sautéed with some onion, and the broth is added to the pan. After a quick simmer, just enough to soften the corn slightly, you go at it with an immersion blender to create a thick, chunky, chowder-like soup. It's that easy. I finished mine with a swirl of cream. Really, I wanted cashew cream, but didn't have any, nor the energy to make it with everything else on my To Do list. Some freshly grated lemon zest and lemon thyme really brightened and pulled all the flavors together.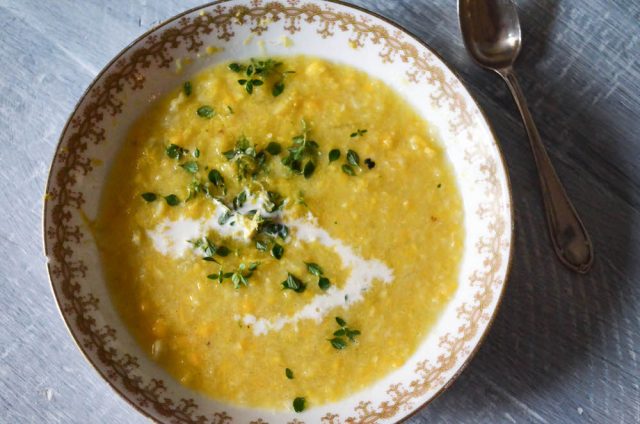 More Corn Recipes from In Jennie's Kitchen
Corn Chowder & Sweet Corn Ice Cream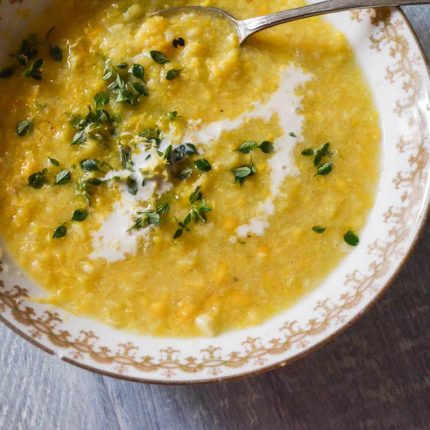 Sweet Summer Corn Soup
Ingredients
3

ears of corn

3

small fresh spring onions

few garlic cloves

or handful of garlic scapes (torn)

Sea salt

Olive oil

Freshly grated lemon zest

Fresh lemon thyme

optional

Swirl of cream

optional
Instructions
Cut the kernels from the cob, and set aside in a bowl. Cut two of the onions in half, and chop the last one.

Add the cobs, onions halves, garlic, and salt to a medium pot. Add enough water to cover the cobs completely. Bring to a boil over high heat. Reduce to low heat, and simmer 20 minutes. Let cool, if you have the time, but not a deal breaker if you're in a rush.

Pour the broth through a sieve, and discard the cobs, onions, and garlic.

Add a swirl of oil to a deep skillet or medium pot. Heat over medium flame until shimmering. Add the corn and chopped onion to the pot. Sauté until corn brightens, and onion gets slightly tender.

Add the broth, and increase heat to high, Bring to a boil. Reduce heat to low, and simmer until corn is tender, but still has some bite to it.

Use an immersion blender to puree the soup into a chunk chowder-like consistency. Alternately, add half the soup to a blender, puree roughly, then stir back into the pot.

Ladle the soup into bowls. Garnish with a swirl of regular cream or cashew cream, lemon zest, and fresh lemon thyme leaves, and serve immediately.
SaveSave
SaveSaveSaveSave
SaveSave
SaveSave
SaveSave