summer fest 2010: corn chowder & ice cream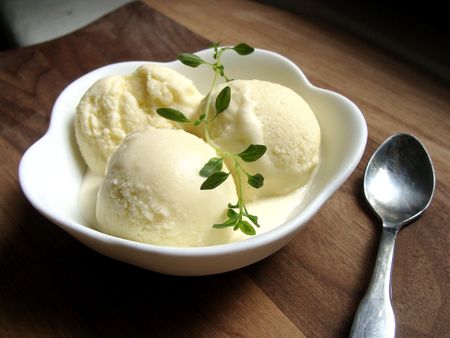 Remember yesterday I mentioned the vacation countdown? Well, hope you don't tire of hearing about it. Seems every day brings a new reason to need to get away. Today is the middle of week three of construction right outside our apartment. It's necessary stuff—gas pipelines and sewer pipes. Don't get wrong, I want them to do this work, lest our basement overflow, or even worse—my stove ceases to turn on (though I can turn out some pretty good stuff with a hot plate and convection oven if my back is against the wall).
So add loud trucks, bulldozers and a lot of dust and dirt to the list as reason #372 why an escape from city living is much needed.
There is a downside to vacation, though.
Believe it or not, it takes a lot more effort to eat locally out on Cape Cod. North Truro is a little piece of heaven on earth, nestled between the bay and the Atlantic. After the long drive there, the salty air consumes me, acting as nature's aromatherapy. In many ways, I feel like I'm home. This is where the Mr. first took me more than 15 years ago.
There were no family vacations in my childhood. Beach outings were to Riis Park or the Rockaways, and there is no comparing a city beach to that first experience, or the ones that have followed each year since.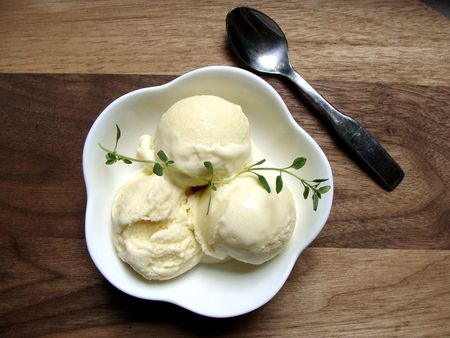 As we drive down 6A, I glance at the corner room of the motel we first stayed in. My memory fills with the snapshot of the Mr. trying to open a bottle of wine with the world's cheapest corkscrew. It was a "convenience room", and that meant it had two burners—one to simmer some homemade marinara and another to boil water for the pasta.
My connection to the land and food system was not as in tune, so shopping at the supermarket satisfied my needs. More than a decade later, that's changed. Now shopping means getting in the car and hunting down locally grown produce. Can you believe with all the fields out there, it's easier to get Jersey-grown tomatoes? I let out the biggest laugh the year I went to the local farmstand and saw the sign proudly displayed.
It's getting better, as everyone's awareness of where their food comes from increases. There's now a farmers' market in Provincetown on Saturdays from 8:00am to noon. Roadside stands abound with fresh picks from local backyards. And one ingredient that is always plentiful is also this week's Summer Fest 2010 theme: corn.
This past weekend I discovered a new love. Call it a culinary ménage à trois, with me nestled between the delicate pairing of corn and lemon thyme. This fragrant herb is currently growing like wildfire in my yard. Until last week, I must confess it was often neglected. Then I made Heidi's sauteed zucchini and since there was no dill on hand, lemon thyme played pinch hitter.
Wow is the only way to sum up each spoonful.
It was only natural that I added it to a corn and tomato salad the next day. Then I started thinking about a dessert I'd had at Gramercy Tavern last year. The cobs left over after the kernels had been removed for the corn salad went into some milk to steep. This would be the base for a sweet corn ice cream scented with lemon thyme.The recipe is over on my Cuisinart blog.
The next step in my corn craziness was chowder, but I wanted a lighter, dare I say refreshing take on it. I also had Shauna on my mind, as I often do when cooking these days. Cooking for those I love makes me happier than I can express. I've been slowly creating a collection of recipes that I will be able to make when she comes for a visit—I'm not letting the east coast-west coast thing get in the way. As for the corn chowder, that meant it would also be gluten-free, using the potatoes' natural starch as a thickener.
The flavors in the final dish scream freshness. Corn is the predominant taste, not a thick mouthful of heavy cream. A scattering of lemon thyme adds a lightness and pleasure akin to a cool breeze on a hot summer afternoon.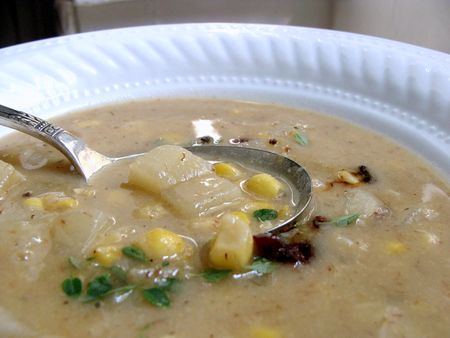 Wondering what everyone else is doing to celebrate corn this week? Go visit Margaret at A Way to Garden for more inspiration. As for me, I'm tucking this chowder recipe into my vacation recipe files, along with a few snips of lemon thyme from my yard.
summer corn chowder
serves 4 to 6
4 cups/900 ml vegetable stock
2 cups/8.5 ounces grilled corn kernels, reserve cobs
2 ounces smoked shoulder bacon, chopped
1 tablespoon/12 grams finely chopped shallots
Drizzle of olive oil, if necessary
1 1/2 cups/7 ounces 3/8-inch diced white or yukon gold potatoes (about 1 medium size potato)
Fresh lemon thyme, to garnish
Combine stock and reserved corn cobs in a medium pot. Bring to a boil, then shut off heat and let steep for 10 minutes.
Meanwhile heat a separate pot over medium-high flame. Add bacon and saute until crisp. Remove with slotted spoon and set aside.
Add shallots to the pan, and a drizzle of olive oil if necessary. Saute for 1 to 2 minutes until softened. Add potatoes and corn, and saute for 1 minute. Stir in the stock. Bring to a boil, then reduce to a simmer and cook until potatoes are fork tender, about 5 minutes. Remove from heat. Carefully pour half the mixture into a glass blender bowl, adding half of the cooked bacon, and puree until smooth—and remember the soup is hot, so be careful.
Stir the pureed mixture back into the pot with the remaining soup. Return to a medium flame and heat through. Serve ladled into bowls garnished with fresh chopped lemon thyme and reserved cooked bacon.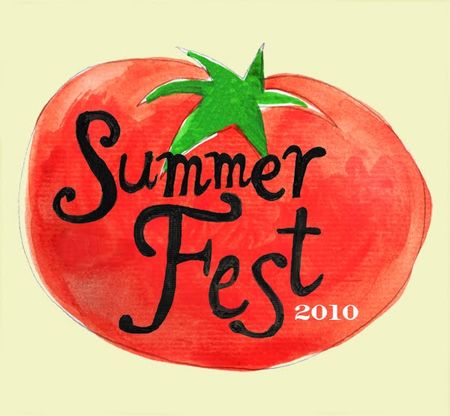 HOW YOU CAN JOIN IN SUMMER FEST:
So now it's your turn: Have a recipe or tip that fits any of our weekly themes? Starting yesterday, for the next five Wednesdays,  you can contribute in various ways, big or small.
Simply leave your tip or recipe or favorite links in the comments below a Summer Fest post on my blog, and then go visit my collaborators and do the same.
The cross-blog event idea works best when you leave your recipe or favorite links (whether to your own blog or someone else's) at all the host blogs. That way, they are likely to be seen by the widest audience. Everyone benefits, and some pretty great dialog starts simmering.
Or think bigger: Publish entire posts of your own, if you wish, and grab the juicy Summer Fest 2010 tomato badge (illustrated by Matt of Mattbites).
SaveSave