Cooking on Instinct: farfalle with lemon, walnuts and parmesan
Well, it's been a while. Thanks to all the amazing bloggers who guest posted and shared their wonderful recipes. I was getting near the end of my rope, so to speak, and that end of summer vacation was much needed. The Mr. and I have been going to North Truro for 14 years now. Almost the furthest tip of Cape Cod, it's the last town before Provincetown, it's nestled between Cape Cod Bay and the ocean. And the view from our deck is just what the doctor ordered for this busy city girl.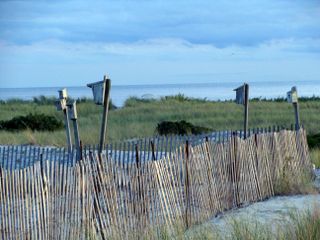 The girls had fun too.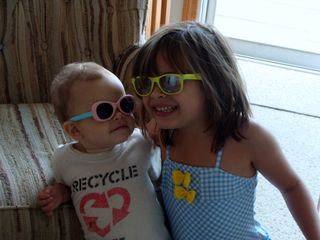 And here's a picture of that accidental quahog the Mr. found while walking on the beach during low tide—it made an awesome chowder. Can you believe how much meat was tucked into that beast?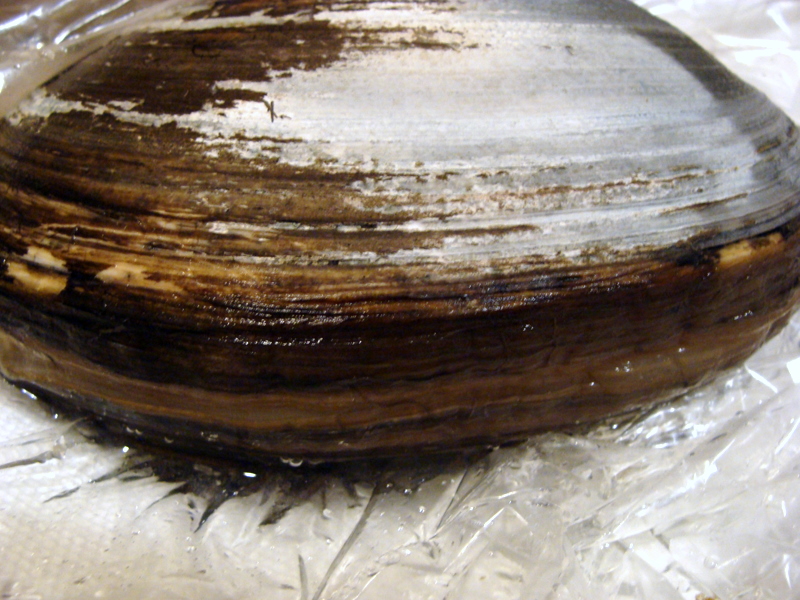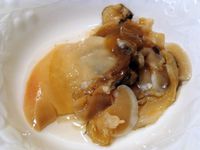 Vacation cooking is a fun challenge. For one, the stove there is electric, a bit different from gas cooking. We've been renting the house for five years, so I've mastered it (things like bringing to a boil and quickly reducing to a simmer require preheating another burner). Then there's the pantry. I bring a few spices, olive oil, balsamic vinegar, etc. but I don't have access to the endless list of ingredients like at home. It's also a fun challenge to use up everything towards the end so nothing goes to waste.
Three days before we were set to leave, I was sure we'd have to make a sandwich run to Farland Provisions (incidentally, they make the best blueberry muffins I've ever had). I stared at the fridge's contents wondering what I could make to avoid changing from my swimsuit and taking the drive into town. I spied local walnuts I found in a basket in the produce section of the health food store. There were a few lemons leftover from the stock I kept on hand for our evening sidecars, and I'd bought a nutty, aged wedge of Parmesan-reggiano at the start of our vacation. Oh, and there was a bag of farfalle pasta (bowties).
Without a real plan, I started peeling some garlic, shelling the walnuts and really just went along until it started feeling right. I was cooking on instinct, knowing what flavors would meld nicely to produce a satisfying meal. And there was always the Farland takeout menu as a back up. Thankfully it wasn't needed. The end result was a creamy walnut, lemon and parmesan farfalle that tasted like something out of Gramercy Tavern (yes, I am patting myself on the back). I wish the pictures I took had come out nearly as great as the dish. Guess I was too much in a rush to eat my creation. Anyway, the photo above is of what I did with the leftover cooked farfalle. I always make extra pasta and store it in the fridge for just such ocassions. It became a delicious cold tomato and corn pasta salad on our last beach day.
Farfalle with Lemon, Walnuts and Parmesan
serves 2 to 4, depending on appetite
This dish originated as a fly-by-the-seat-of-my-pants meal. I had a hunch the flavors would work, and figured out the order and amounts as I was adding them to the pan. Luckily, I had a pen and paper nearby to record the tasty results. We didn't have any leftovers, but my guess is this would make a pretty yummy cold pasta salad too.
2 teaspoons extra-virgin olive oil
2 Tablespoons butter
3 cloves of garlic, smashed
10 walnuts, shelled and coarsely chopped
generous splash of white wine
1/4 cup milk
Salt and freshly ground pepper, to taste
zest of 1 lemon
juice of 1/2 a lemon
1/4 cup frozen peas
8 ounces farfalle pasta, cooked according to package directions
Heat olive oil with butter in a deep skillet. Add garlic and saute for 1 minute. Add walnuts and saute for 3 to 5 minutes, stirring or shaking pan ocassionally, until golden and fragrant. Add the wine, and scrape up any toasty bits on the bottom of pan with a wooden spoon.
Slowly stir in milk. Season with salt and pepper. Stir in lemon zest and juice. Simmer for five minutes until sauce thickens slightly. Add the frozen peas and continue cooking until heated through. Adjust salt and pepper seasoning as needed. Toss with cooked pasta and serve immediately.
And for that leftover plain, cooked pasta…
Grilled Corn, Tomato & Farfalle Salad
serves four
This recipe uses all items I had on hand: some leftover corn from the previous night's dinner, plain cooked pasta, tomatoes and some cilantro I was determined would not get tossed at the end of vacation. Feel free to use whatever fresh herbs you have on hand, and same goes for the pasta.

1 ear of grilled corn
8 ounces farfalle (bowtie) pasta, cooked according to package directions
1 large tomato (or 2 small), chopped
Extra virgin olive oil
Balsamic vinegar
handful of cilantro, roughly chopped
Salt and freshly ground pepper, to taste
Cut kernels off the grilled cob of corn. Add with cooked pasta to a large mixing bowl. Toss with tomatoes and enough olive oil to coat pasta. Add balsamic vinegar to taste. Stir in the cilantro and season with salt and pepper. May be prepared the day before. Serve at room temperature.