Coconut Peanut Sauce Beef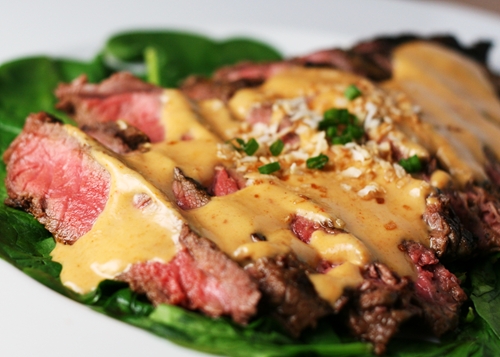 Remember that recipe for kalbi last week? This week, I'm delighted to have Alice from Savory Sweet Life in person (well, you know what I mean). She's sharing another favorite beef recipe with us, and I can't wait to get back from vacation to try it out. Sounds like the perfect dish if you planning a Labor Day barbecue this weekend.
-Jennifer
p.s. I love you too Alice. Only 24 more days 'til San Francisco!
***
by Alice from Savory Sweet Life
I love Jennifer Perillo and when she asked if I would guest blog for In Jennie's Kitchen, I jumped at the opportunity right away!  We both understand cooking for families of small children while satisfying the palates of adults too.  One of our family's favorite dishes is Coconut Peanut Sauce Beef.  I typically use london broil because it is budget friendly and when prepared correctly is very tender.  The coconut peanut sauce adds a wonderful exotic sweet-savory flavor kids will love and adults will appreciate.  This dish can be made in under 30 minutes and is guaranteed to become a favorite in your home too. Enjoy!
Coconut Peanut Sauce Beef
Serves 4 to 6
One 2-pound London Broil
Kosher Salt and freshly ground pepper, to taste
Olive Oil
1 can (13.5 oz)  coconut milk
3 tablespoons peanut butter
4 tablespoons. brown sugar, packed,
2 teaspoon curry powder
2 tablespoons fresh squeezed lime juice (about half a lime)
steamed rice, to serve
*optional garnish: toasted coconut and green onions sliced thinly
Pre-heat grill on high.  Rub olive oil over steak and season with kosher salt generously and pepper. Set aside.  When grill is ready, grill each side for 5 minutes.  With london broil you do not want to cook it over 5 minutes on each side because the steak will toughen.  If you prefer a medium or well done steak, I suggest using flank.  Remove steak from grill and allow to rest on a plate covered with foil.
To make coconut peanut sauce, add coconut milk, brown sugar, curry powder, lime juice, and peanut butter to the sauce pan. Cook on medium heat, continuously stirring until all of the ingredients have completely come together.  Turn off heat.
Cut steak into thin slices across the grain and arrange beef on a large platter.  Pour coconut peanut sauce on top of the slices and garnish with optional toasted coconut and green onions. Serve over steamed rice. Enjoy!