Chocolate Espresso Truffles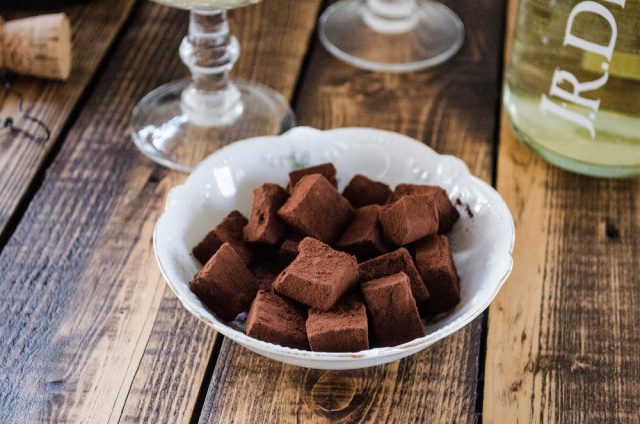 22 days to go. I realize the calendar turning to 2021 isn't some miraculous panacea but it feels like getting through to the other side of this will be within reach (even if the reality comes to be in the last quarter of 2021).
I can see the toll this is taking on my kiddos, especially as Isabella navigates the college process. College! Can you believe it? She was six years old when I began writing in this space and now she's 17 going on 18. As I write that, the amount that Michael's missed brings a tidal wave of emotions.
I found myself simultaneously missing him and yelling at him in the car the other day. What I wouldn't give for one more conversation to catch up on all that's happened and find out what happens when you leave this earthly world.
Sigh.
In other news, my annual cookie baking extravaganza is done. I finished the last batch of goodies last night, making Heidi's nougat (I add pistachio, almonds and sesame to mine). It's a fun recipe, and one sticky heck of a mess but don't let that discourage you from trying it. The total tally is 41 dozen cookies and 11 dozen candies. Most of the candy is the nougat but I also made two dozen of these sparkling wine truffles.
Are chocolate truffles easy to make?
Chocolate truffles are essentially a ganache and can be flavored by steeping the cream with herbs, spice or tea. In this case, I substituted some of the cream with sparkling wine (think champagne truffles for reference). Remember I mentioned Dr. Frank's sparkling wine in my gingerbread cake post? That's the wine I used to make these chocolate espresso truffles.
The flavor in these chocolate espresso truffles is intense, modeled after ones I used to buy at Jean-Charles Rouchoux in Paris. They're tiny in appearance, big in taste. Waves of dark chocolate, hints of richly-brewed espresso and a faint whisper of orange.
If you're looking for an easy, no-bake treat to send friends to celebrate the holidays, this chocolate espresso truffle recipe may just be the answer.
Favorite December Recipes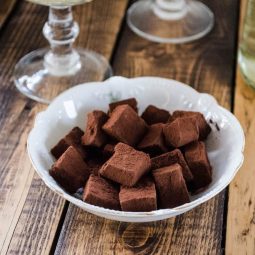 Chocolate Espresso Truffles
Ingredients
1

cup

heavy cream

2

tablespoons

25 grams granulated sugar

2-

inch

by 1-inch orange peel

white pith scraped off

½

teaspoon

instant espresso powder

10

ounces

280 grams dark or bittersweet chocolate chips

¼

cup

sparkling wine

2

tablespoons

12 grams unsweetened cocoa powder, sifted
Instructions
Line an 8 by 4-inch loaf pan with a sheet of parchment paper long enough to cover the bottom and hang over the sides (this will act a sling to lift out the truffles once set). Add the chocolate to a medium bowl.

Combine the cream, orange peel and espresso in a small pot over medium heat. Cook until the cream is very hot, but not boiling.

Pour the hot cream mixture through a sieve over the chocolate; discard the orange peel. Let the chocolate sit, undisturbed, until it begins to melt, about 1 minute.

Stir with a rubber spatula until the chocolate is completely melted and smooth (do not whisk as this will cause air bubbles in the ganache). Stir in the sparkling wine until well combined. Pour the mixture into the prepared pan. Chill in the fridge until completely cooled and firm enough to cut (but keep in mind it'll still be a soft, fudge-like consistency).

Add the cocoa powder to a small bowl. Lift the ganache from the tray, and cut into ½-inch bite-sized squares. Gently toss the truffles in the cocoa powder until lightly coated all over.

Store truffles in refrigerator or a cool spot (you may want to set them at room temperature 10 minutes before eating), and enjoy within one week.