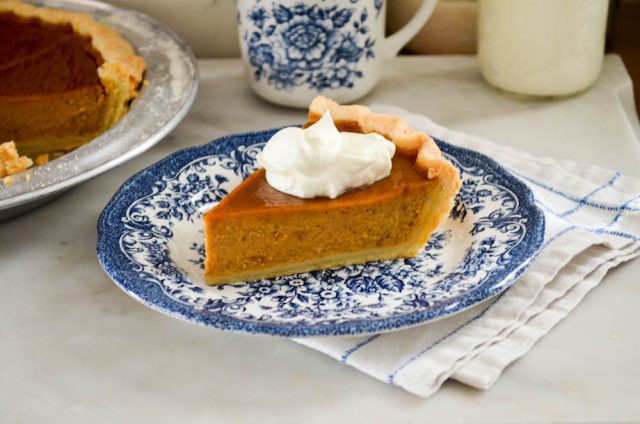 Does the world need yet another pumpkin pie recipe? I don't know, considering there's already quite a few on this site (see here). I do know I needed another one, or should say wanted. The classic pie is one I come back to year after year. As time goes by, and I work through the web of dependence on refined sugars, creating a pie that I could feel better about eating more than once a year on Thanksgiving became a priority. That's what inspired this Honey Pumpkin Pie recipe.
This isn't to say I'm completely free of refined sugars. I just think everything is about balance. Sometimes granulated sugar is the way to go, and in moderation, I really do think there's no harm. Our wires seem to be all crossed with what, and how, we eat these days. I'm not one to preach and say which way is right. We are the keepers of our own needs, and so, it is up to each of us individuals to decide the correct path based on our own dietary needs and philosophies about how we fit into the world beyond our kitchens.
For those looking for a more healthful alternative, this pie uses honey as the sweetener, hence the name. Honey felt like a natural pairing, and my hunch proved right from the first bite of this Honey Pumpkin Pie. Where sugar might mask pumpkin's earthiness, honey plays it up, accentuates it. If you want to keep the whole pie refined sugar free, then use this pie crust recipe, too.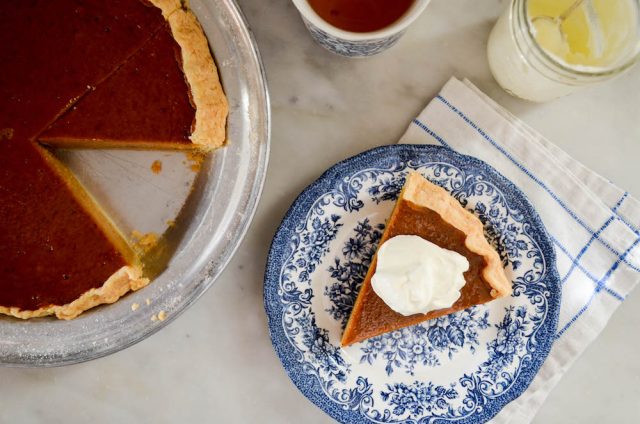 Always one to push myself, and feed curiosities in the kitchen, I also worked on a vegan pumpkin pie recipe last week. That one uses maple syrup as the sweetener, and well, there was a lot more tweaking going on, since there are no eggs or dairy in that recipe, too.
It's going to be an active week or two here, in my hopes to share some new favorite recipes before Thanksgiving. Sorry in advance for the (almost) daily emails you'll be getting, with news of each new recipe. Be patient with me, as I think you'll be excited with the results from a whirlwind of recipe development.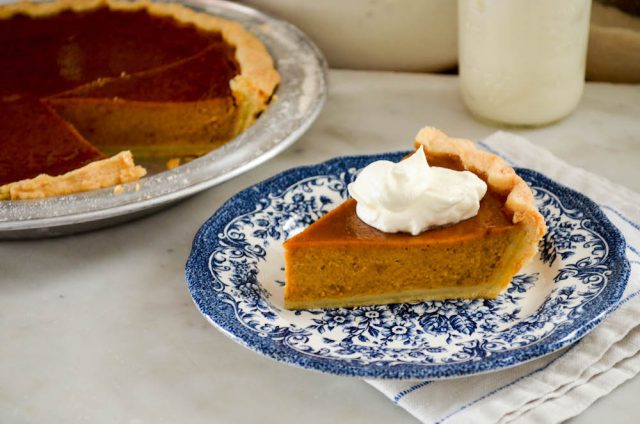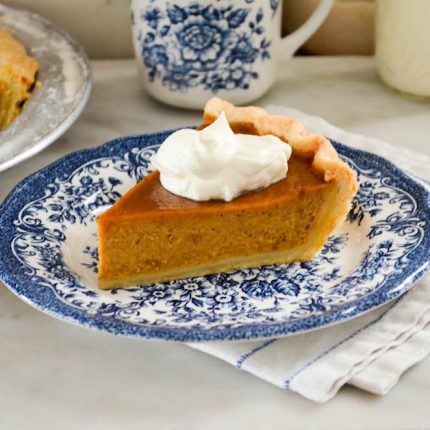 Honey Pumpkin Pie
Ingredients
One single piecrust

I used half of this recipe

½

cup

160 grams honey

3

large eggs

1/4

teaspoon

1 gram kosher salt

1/2

teaspoon

ground cinnamon

1/2

teaspoon

1 gram ground cloves

1

teaspoon

2 grams ground ginger

15-

ounces

pumpkin puree

¾

cup

180 ml heavy cream
Instructions
Preheat the oven to 425ºF (220ºC) with a rack set to the lowest position.

Generously grease a 9-inch pie plate (regular, not deep dish). Tear bits of dough off, and press it against the sides of the pan (making sure it covers from the top to the bottom of the sides). It should be about 1/8-unch thick. Once the sides are covered with dough, press the remaining dough into the bottom of the pan. Set the pan in the fridge to stay chilled while you prepare the filling.

Add the honey, eggs, salt, and spices to a deep bowl. Whisk until the eggs are a bit fluffy, 1 to 2 minutes. Whisk in the pumpkin puree. Whisk in the cream.

Pour the filling into the pan with the crust. Bake for 15 minutes on the lowest rack. Reduce temperature to 350º (180ºC). Bake 45 minutes more, until the filling puffs up slightly (don't worry, it'll fall soon after coming out of the oven), and the center looks set. Let cool for at least 1 hour before serving. Store leftover pie in the fridge.
SaveSave
SaveSave
SaveSave