gruyère cheese & rosemary buttermilk biscuits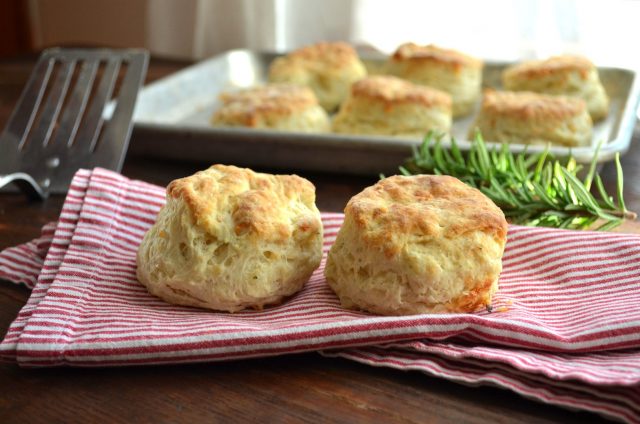 It's the Monday before Thanksgiving, and so the countdown begins. I'm excited for the recipe I'll be sharing tomorrow for a new kind of pumpkin pie (and a press-in pie crust!). Today I'm sharing a recipe for the best buttermilk biscuits, with a twist. A friend posted a question to Facebook today, asking if bread or rolls were a must. It's interesting how divided the responses were. Some people were adamantly against it, feeling that it just distracts from all the other better food on the table. Others felt stuffing was suffice enough to serve as the bread component. I'm Italian-American. We've been known to eat spaghetti sandwiches (no joke). Carbs are our friends, not foes. So, yeah, I'm totally all about the bread basket, specifically buttermilk biscuits.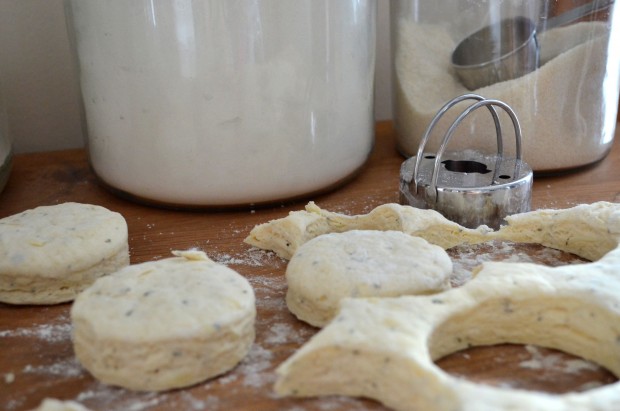 I made an actual list for Thanksgiving, but then I cleaned the house today, so the list is…well, somewhere, of which I don't know anymore. My main objective for today is to get the bread for the stuffing, which I think is really considered dressing the way I make it (I bake it separate from the turkey). I'll cut the loaves into cubes, and set them in a single layer to dry out a bit in preparation for making the stuffing (or is dressing?) on Wednesday. I'll also get my final grocery list in order, so I can do my shop tomorrow (the Tuesday before Thanksgiving, in case you're ready this late to the game plan). Here's a peek at our menu. You'd think we're hosting an army, but it's just going to be five of us. I feel like we should probably cut back on some things, but we have our own favorite foods and traditions. I'm sure some of this year's menu is about marrying our past with our present.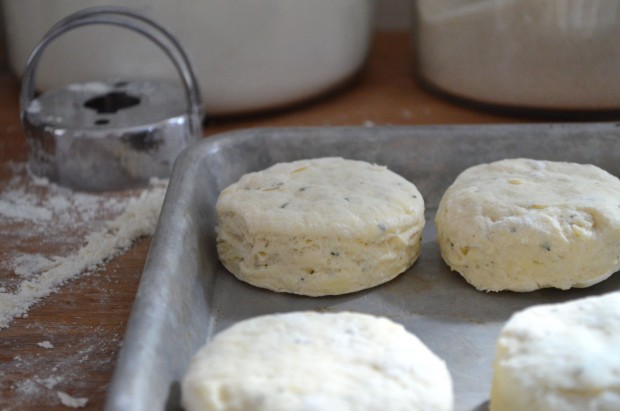 Thanksgiving Menu
Charcuterie Board & Kale, Pecorino & Pomegranate Salad
***
Roast Turkey & Chestnut Stuffing
Mashed Potatoes & Sweet Potato Pecan Pie
Carrot Ginger Puree & Cranberry Sauce
Buttermilk Biscuits
***
Coconut Custard Pie
Apple Pie
Pumpkin Pie (maybe…)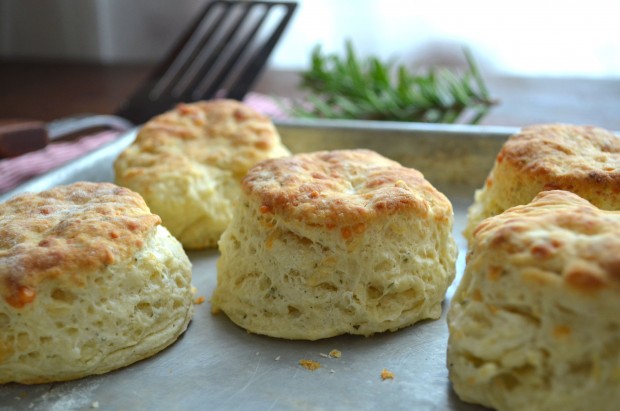 Gruyère Cheese & Rosemary Buttermilk Biscuits
Makes 10
Music Pairing: Biscuits by Kacey Musgraves
I've baked hundreds of dozens of biscuits, yet the excitement, and sheer wonder like a kid on Christmas morning, always strikes as I watch them rise through the oven door. I feel the same with so many baked goods that rely on baking powder as the rising agent. It's instant gratification compared to the longer rising times required of yeast-based breads. Just be sure your baking powder is fresh so they rise properly. If in doubt, toss it, and buy a new can. My tried and true brand is Rumford.
2 cups (300 grams) all-purpose flour, plus more for shaping the biscuits
1 tablespoon (15 grams) baking powder
1/4 teaspoon (1 gram) baking soda
1/2 teaspoon (3 grams) fine sea salt
1 teaspoon (7 grams) granulated natural cane sugar
2-inch (5-cm) sprig of fresh rosemary
3 ounces (84 grams) Gruyère cheese, grated
6 tablespoons (84 grams) very cold butter, grated
1 1/4 cups (312 ml) cold buttermilk, well shaken
Preheat the oven to 425F (220C) with the rack adjusted to the upper middle position.
Add the flour, baking powder, baking soda, salt, and sugar to a deep bowl. Whisk to combine.
Remove the needles from the rosemary, and finely chop them. Discard the woody stem. Add the chopped rosemary to the flour mixture. Scatter the cheese and butter over the top. Using your fingertips, rub together quickly until it forms a sandy mixture with some pebble-sized pieces.
Pour in the buttermilk and stir just until there are no visible signs of flour, and it comes together into a wet, loose dough.
Scrape the dough onto a generously floured surface. Using the tips of your fingers, gently press the dough into a 1/2-inch thick rectangle. It doesn't have to be a perfect rectangle, just be careful to only press lightly—do not knead the dough.
Fold one third of the dough in towards the center. Fold the outer third of the dough in towards the center; laying it on top of the piece that has already been folded over. Gently lift the dough, and sprinkle more flour underneath, if needed, to ensure it doesn't stick. Sprinkle a little more flour on top, too. Gently press the dough back down into a 1/2-inch thick rectangle. Repeat this two more times.
Dip a biscuit cutter, or the rim of a glass, into some flour (I use a 2 1/2-inch round cutter). Press it into the dough firmly to cut straight through to the bottom—do not twist the cuter, or else the biscuits will not rise properly. Place the cut biscuits onto an ungreased baking sheet. Bake 12 to 14 minutes until the tops are bottoms are golden.
Prep School
Mix the dry ingredients, and store them in a container or zip top bag. Just give it a shake before using, then proceed with the recipe as directed. You can also store the mixture in a glass mason jar, and tie a note around the rim with the directions to finish making them for teacher and hostess gifts.
Make It Your Own
Try swapping cheddar cheese, a less expensive alternative to Gruyere. Fresh thyme or sage would work well in place of the rosemary.