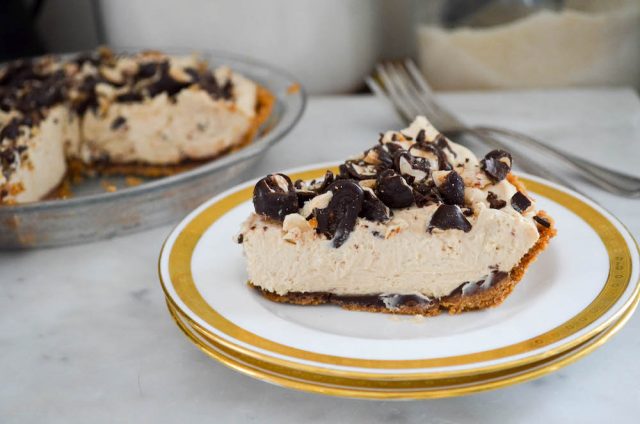 When I wrote my Thanksgiving round up of recipes I forgot an all important one. Well, forgotten is not quite the right way to describe, for me at least. See, peanut butter pie was never a Thanksgiving pie in our family.
It was Mikey's favorite, a relic of a recipe I created from the one he loved so much at the long shuttered Old Devil Moon. Oh, New York City, how you play with my heart, a constant reminder that nothing gold can stay, as Robert Frost says. 
It seems so many people make this beloved Peanut Butter Pie to share with friends and family at Thanksgiving. I guess it makes sense, a time we hold those dear a little tighter. This year, I think, we've decided to go to a friend's house for dessert. The girls wanted to have a quiet dinner at home.
It's kind of a win-win for me. An intimate dinner, just me and my daughters, yet I can flex my baking muscle and make multiple pies—something that would've been rather wasteful and ridiculous if it was just the three of us. Mikey's Peanut Butter Pie will be in the line up, and it reminded me that some of you might want to have it grace your Thanksgiving dessert table, too.
Recipe for Mikey's Peanut Butter Pie is here.
SaveSave
SaveSaveSaveSave
SaveSave