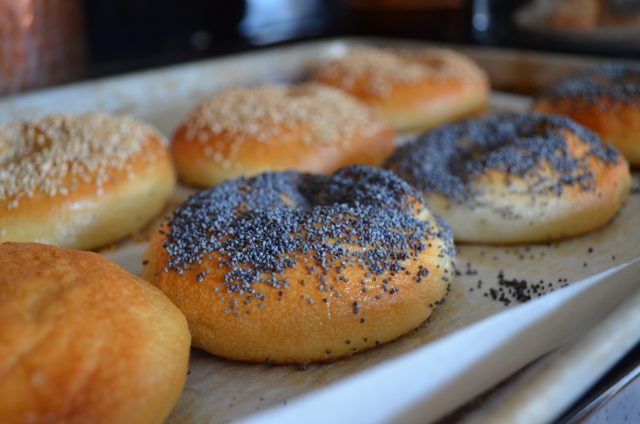 I'm not sure where the time goes lately. It feels like I just shared the recipe for my turmeric tea blend, but the reality is that was two weeks ago. From this point on, I imagine the rest of 2014 will fade as fast as the sun just before it dips below the horizon.
I've got quite a few recipes to share, but before I even go there, this one for homemade bagels is long overdue. I've no poetic prose to go with them. You just need to know one thing—you need these in your life if a) you love bagels, and b) you don't live in NYC. I know one of you will chime in about Montreal bagels. To each their own, but there's no convincing this Brooklyn born and bred gal that anything tops a NYC bagel. And even a great one is hard to come across there nowadays. Most are doughy masses, with no flavor worthy of the calories.
The real deal resides at the Kosher Bagel Hole on Avenue J in Midwood. I haven't been there in years, since Michael passed away. Every now and then, I'd sneak out on a Sunday morning before the kids woke, and come back with a dozen of bagels and a little tub of whitefish salad for my love. The bagels were about the size of my fist, with a crusty exterior, and soft, malty-flavored inside. That was my goal when I set out to make my own. I'm pretty darn happy with this recipe from Peter Reinhart, and don't see any point in recreating the wheel here. One thing I do want to mention, and I reiterate it in my headnote—get barley malt if you can. It makes such a difference.
I'm off now to finish working on the winter issue of Simple Scratch Cooking. It's available for preorder now, so go on over and get dibs on your copy. All of the print fall issues are sold out, but you can order a digital edition here. Be back soon with a Thanksgiving side dish you'll be excited to make all winter long.
PRE-ORDER Simple Scratch Cooking – winter issue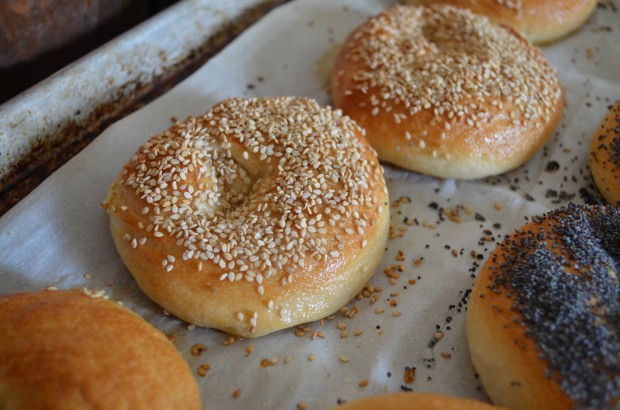 Recipe from Peter Reinhart's Artisan Breads Every Day
Makes 6 to 8
Music Pairing: Sunday Girl by Blondie
A few things to know before setting out to make these. For starters, the recipe calls for bread flour. I haven't used that, but have made them with my "00" Antimo Caputo pizzeria flour and regular all-purpose flour. I thought they came out better with the all-purpose flour. The "00" ones were really good, but after two batches, I decided they were a bit too light in texture. I had run out of bread flour, and decided to give them a try with all-purpose flour—they were perfect, in my opinion.
I've also made them with both brown rice syrup and barley malt syrup. As with the flours, the rice syrup ones were outstanding bagels. However, seeking out barley malt syrup is worth the effort, especially if you want to make homemade bagels a regular thing. It was a total game changer in terms of flavor.
I added a minor, but I think crucial step, that Reinhart doesn't mention. Every time I made these, I found the plastic wrap would stick to the proofed bagels, therefore deflating them slightly before poaching. A little bit of oil brushed on top before covering them with plastic wrap the night before remedied that problem.
One last note, regarding the salt. I use whatever is closest while preparing the dough. I know, it's rather lazy, but I currently have four different salts in the kitchen (kosher, fleur de sel, Maldon salt flakes, and a coarse Sicilian sea salt). Now, I know many chefs will tell you fleur de sel is more of a finishing salt, but I think it imparts a lovely flavor in my breads and baked goods. I also have two sacks I brought back from Paris six months ago at a steal (Poilane sells kilo bags for less than 4euro). In this case, I really do recommend measuring your salt by weight.
For the Dough:
1 tablespoon (21 grams) barley malt syrup or brown rice syrup
1 teaspoon (3 grams) instant yeast
1 1/2 teaspoons (11 grams) salt
1 cup plus 2 tablespoons (255 grams) lukewarm water (95F/35C)
3 to 3 1/2 cups (390 to 454 grams) bread flour or all-purpose flour
Grapeseed oil, for greasing the bowl and brushing the bagels
Poaching Liquid:
2 to 3 quarts (2L to 3L) water
1 1/2 tablespoons (29 grams) barley malt syrup or brown rice syrup
1 tablespoon (14 grams) baking soda
1 teaspoon (7 grams) salt
1 egg white, beaten with a bit of water
Sesame seeds, poppy seeds, or other toppings of your choosing
To make the dough, combine the barley malt, yeast, salt, and water in a deep measuring cup or small bowl. Whisk to mix well.
Add the flour to a deep bowl. Pour the water-barley malt mixture over the flour. Stir vigorously with a wooden spoon, until it forms a ragged dough, about 2 minutes. Knead the dough in the bowl for 1 to 2 minutes, until it forms a smooth ball.
Transfer the dough to a lightly oiled bowl, and cover tightly with plastic wrap. (I use a plastic tub with a lid from a restaurant supply store). Let sit at room temperature to rise for 1 hour.
Line an 11-inch by 17-inch rimmed sheet pan with parchment paper. Brush the paper lightly with oil.
Divide the dough into 6 to 8 equal pieces, depending on if you want smaller, or larger-sized bagels (see headnote). Roll each piece into an 8-inch (20 cm) rope. Using a small bowl of water, dab your fingers, and moisten the ends of the rope. Form the rope into a ring, overlapping the ends by about 2-inches (5 cm). Keeping two finger inside the hole of the ring, use the palm of your other hand to roll the ring, which will seal the end closed, and also widen the hole in the center (see headnote).
Place the formed bagels on the prepared baking sheet. Brush the tops lightly with oil. Cover with plastic wrap, and set the tray in the fridge overnight.
The next morning, take the bagels out of the fridge 1 1/2 to 2 hours before you're ready to bake them. They will continue to proof (rise) as they come to room temperature.
30 minutes before the bagels are ready to bake, preheat the oven to 500F (260C).
About 20 minutes before the proofing is finished, prepare the poaching liquid. Bring the water to a boil in a large, deep pot (preferably an 8-quart pot so it doesn't boil over when you add the baking soda—trust me on this!). Stir in the barley malt, baking soda, and salt.
Carefully remove 1 bagel from the pan, and place it in the pot of boiling water (I use a slotted spoon to do this). Add 1 or 2 more bagels, depending on the size of your pot. Let the bagels cook until they look set around the edges, about 1 minute to 90 seconds. Flip over, and let cook for 30 to 60 seconds more. Remove using a slotted spoon, and place back on the baking sheet. Repeat with the remaining bagels.
Brush the tops of the bagels with a bit of egg wash. Add toppings, if using. Place the tray in the oven, and reduce the temperature to 450F (230C). Bake until deep golden, 15 to 20 minutes. Let cool for at least 20 minutes before serving.
Note: To test the bagels to see if they're ready to poach, fill a bowl with cold water. If one bagel floats, then they're all ready to proceed. After you do this step once or twice, you'll get an idea of what they should look and feel like, and can likely skip this step in the future.
SaveSave