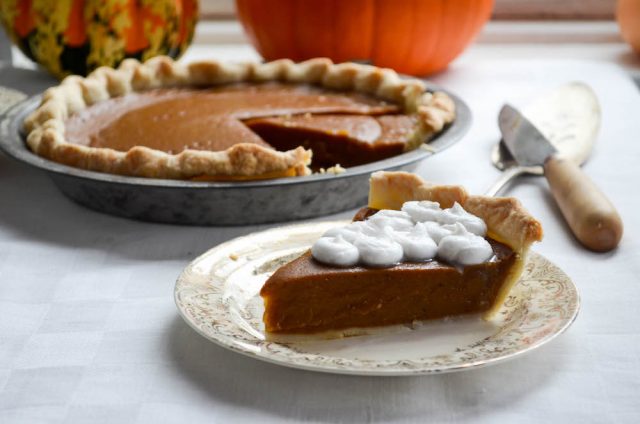 It's well established that as an omnivore, dairy is a part of my life. Still, I love developing recipes that can be enjoyed by a wide range of people, and so the idea of creating a Vegan Pumpkin Pie is one I wanted to make a reality a few weeks ago.
Pumpkin pie is one of my favorites. In a way, the ability, or preference to eat a varied diet, makes me a more discerning taster, and developer when it comes to working on vegan recipes. I could choose to eat any one of these pumpkin pie recipes, so a vegan version needs to be as strong, if not better, to contend with them.
There are a lot of vegan pumpkin pie recipes that use flax eggs. I opted for cornstarch as the thickener, and egg replacement, feeling it would result in a smoother, velvety filling.
I used cashew milk in the filling, but you can also use coconut milk, which would lend a lovely flavor, or any other dairy-free milk of your choosing. Canned coconut cream (not the creamer sold for coffee) would work well, too. Just be sure to really mix it with the coconut water, as it tends to separate in the can.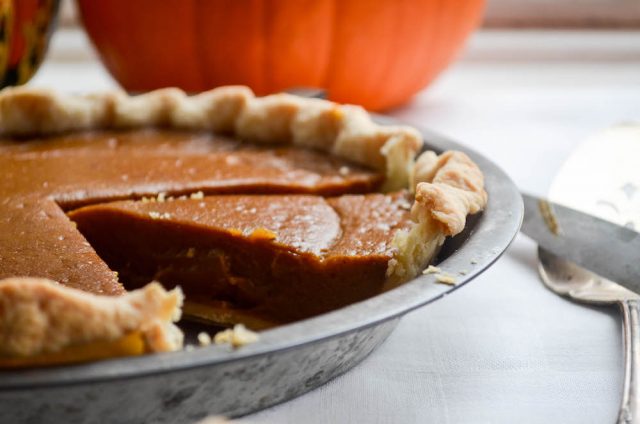 Speaking of canned coconut cream, that's what I whipped up for the topping to this Vegan Pumpkin Pie. I whipped the solids into a cream, and saved the liquid for using in smoothies. The great thing about this is the coconut is sweet enough on its own without the need for any additional sugar.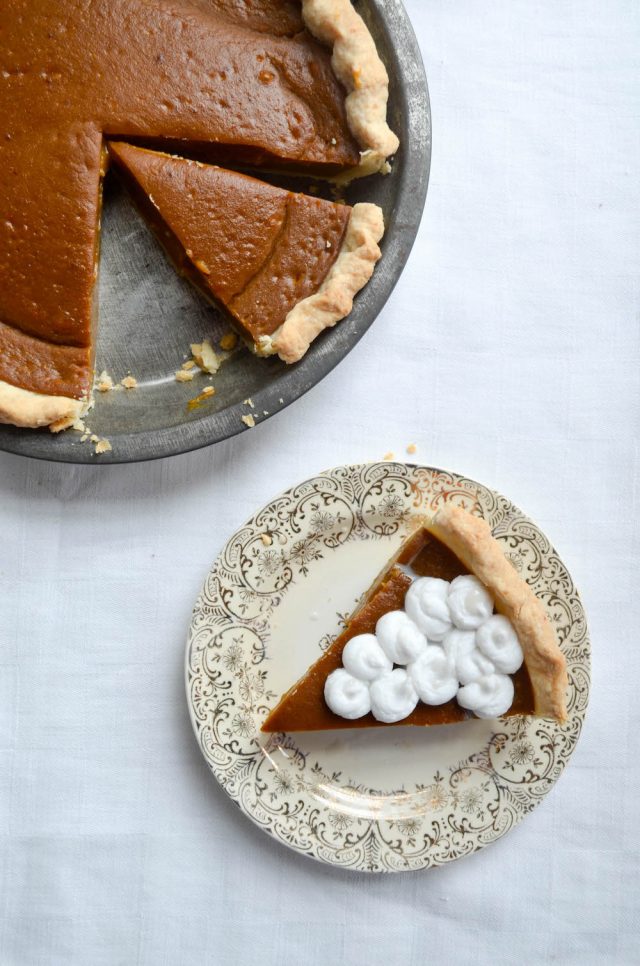 Vegan Pumpkin Pie
Ingredients
One single piecrust

I used half of this recipe

½

cup

100 grams sugar

3

tablespoons

30 grams cornstarch

1/4

teaspoon

1 gram kosher salt

1/2

teaspoon

ground cinnamon

1/2

teaspoon

1 gram ground cloves

1

teaspoon

2 grams ground ginger

15-

ounces

pumpkin puree

¾

cup

180 ml cashew milk
Instructions
Preheat the oven to 425ºF (220ºC).

Generously grease a 9-inch pie plate (regular, not deep dish). Tear bits of dough off, and press it against the sides of the pan (making sure it covers from the top to the bottom of the sides). It should be about 1/8-unch thick. Once the sides are covered with dough, press the remaining dough into the bottom of the pan. Set the pan in the fridge to stay chilled while you prepare the filling.

Add the sugar, cornstarch, salt, and spices to a deep bowl. Whisk to blend. Whisk in the pumpkin puree and cashew milk.

Pour the filling into the pan with the crust. Bake for 15 minutes, then reduce temperature to 350ºF (180ºC), and bake for 30 to 40 minutes more, until the filling puffs up slightly (don't worry, it'll fall soon after coming out of the oven), and the center looks set. Let cool for at least 1 hour before cutting. May be refrigerated overnight, and served cold, or at room temperature the next day.
SaveSave
SaveSave