apple cranberry crumb cake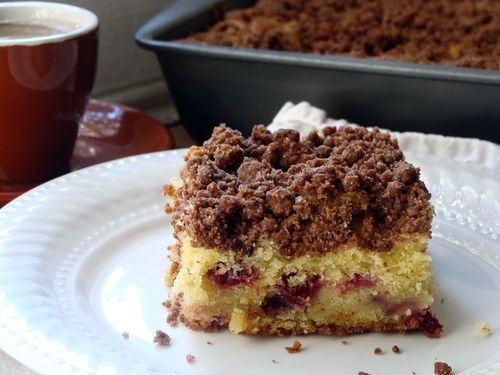 I'm very excited for cranberries this season. While they'll probably peak in home kitchens during next week's Thanksgiving holiday, there's no reason to shelve them until 2010. Last weekened I had decided they'd play a part in my recipe for Bon Appétit Blog Envy Bake-Off. But what would I make (hint: look up at that cake above)? One of the rules for the bake-off is it has to be a holiday recipe. Now, really, what does that mean? I didn't want to make a cookie, and yule log was out. I also wanted a recipe that could hold its own year-round, and if it doubled as a brunch or breakfast item, but could easily pass as dessert too, then I'd be a bit closer to genius (at least in my mind). And, so the final outcome was crumb cake—it seemed to fit the bill perfectly.
Now, I like a generous amount of crumb, so there's no skimping in this recipe. It also has a nice variety of layers. On first bite, there's the crunchy cocoa-streusel topping. That's followed by a thin, moist layer of golden, buttery cake. And the bottom is where the shredded apples settle to form a cakey-applesauce-like layer. All the while flecked with chopped bits of cranberries. To heck with the food writer snobs who frown on the word delicious, because that's just what this cake is. So I'll let you know if it gets accepted to Bon Appétit's Blog Envy Bake-Off (update 11-16 GO VOTE HERE). Until then, go buy some cranberries and stuff a few bags in the freezer to last you once they disappear from stores so you can enjoy this cake before, during and after the holiday season.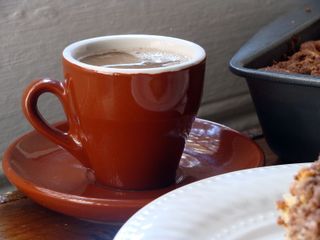 apple cranberry crumb cake
For the cocoa streusel topping
1 1/2 cups flour
1/4 cup granulated sugar
1/4 cup brown sugar
2 Tablespoons cocoa powder
1 teaspoon allspice
1/2 cup butter (1 stick), melted
For the coffee cake batter
3 cups flour
1/2 teaspoon baking soda
1/2 teaspoon salt
2 teaspoons baking powder
1 cup butter (2 sticks), softened
2 cups sugar
4 large eggs, at room temperature
1 cup buttermilk
2 cups shredded apples (about 2 medium)
2 cups fresh cranberries, coarsely chopped
Preheat oven to 350ºF. Grease a 9-inch by 13-inch baking tray; set aside.
To make the streusel topping, add the flour, sugars, cocoa powder and allspice to a medium bowl. Stir in melted butter and mix until fully combined. Set aside.
For the cake, whisk the flour, baking soda, salt and baking powder together in a large bowl; set aside. Add the butter and sugar to the bowl of a stand mixer and beat until light and fluffy, about 3 to 5 minutes. Add the eggs, one at a time, beating well after each addition.
On low speed, add one third of the flour mixture and mix well. Add one third of the buttermilk and mix well. Repeat, alternating between the dry and wet ingredients until all have been add. Beat on medium-high speed for 30 seconds. Fold in the apple and cranberries. Spread into prepared pan, sprinkle crumb topping evenly over batter, making sure to get that outer edge too. Bake 60 minutes, until a metal skewer inserted comes out clean. Let cool 30 minutes, or to room temperature, before cutting.
Did I mention you can vote for this to win Bon Appetit's Blog Envy this year? Think of it as a combo birthday and holiday gift to little 'ol me. VOTE HERE