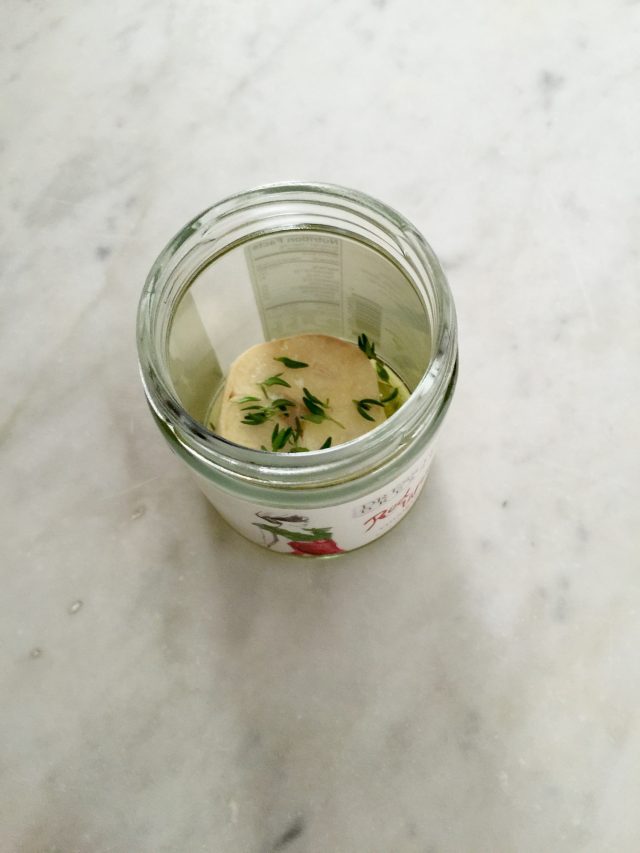 When I was in the office a few weeks ago, Sophia, the woman I work with, and founder of Dress it Up Dressing, shared her secret to making roasted garlic without turning on the oven. We were working away at our respective desks, and I mentioned the pesto I made that weekend. I swapped in cashews for the pine nuts, and they're currently now giving walnuts (my pesto nut of choice) a run for their money.
Anyway, I told her I skipped the garlic because I find it too bracing in its raw form. Being too lazy (read: tired from weeding the garden, hence the pesto making session), I didn't feel like sauteeing some garlic to mellow the flavor a bit. That's when Sophia told me to ditch the oven, and hit the microwave for meltingly tender roasted garlic (really!). I know it, sounds crazy, but trust me.
This tip for microwave roasted garlic is a lifesaver on sweltering days like the streak we're experiencing right now.
You can use any kind of glass jar, but this was a perfect way to upcycle an empty salad dressing jar. Sophia uses this method on garlic cloves. I went for the whole head so I could have it to use throughout the week. Just choose a head of garlic that easily fits inside.
Cut the top off a whole head of garlic. Place the head in the jar, cover with the top you cut off, then drizzle a little olive oil & sprinkle some salt. Cook on high for 90 seconds to 2 minutes. The timing depends on the power of your microwave (mine is a tiny 700 watts). It'll pop and sizzle as it cooks—don't worry. The cloves will be incredibly tender, and slide right out of the skins once done (be sure to let them cool a bit, obviously).
The roasted garlic is perfect to spread on bread, toss with cooked pasta, serve with grilled meats…and I'll even confess to eating it all by itself (quite addictive, and good way to keep the vampires at bay). Once you're done, the jar acts as a container to neatly store the lefotvers (less dishes to wash is a win!).