garlic scape pesto—with a twist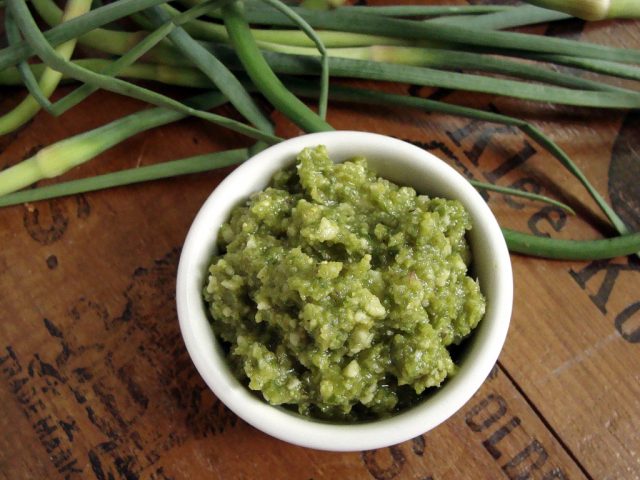 What would you say if I told you last year was the first time I ever experimented with garlic scapes? I'd probably had them dozens of times at finer restaurants, but those wild strands bunched together at the market always intimidated me. Really, there's nothing to be scared of—they're just the shoots that sprout from the top of garlic plants. Yet I hadn't any idea what to do with them at home.
Willing to risk the three bucks a bunch would cost me, I scooped up some and did what any of us what've done. I googled "garlic scape recipes". A few clicks later I was perusing Dorie Greenspan's blog and found this lovely recipe for a pesto. The Mr. and I proceeded to devour it slathered on slices of crunchy baguette. I also followed Dorie's cue and tossed it with some hot pasta for a quick, light summer meal.
A few weeks ago a friend tweeted she spied some scapes at the Union Square Greenmarket. I eagerly awaited our Saturday market in Brooklyn, but alas none were to be found. Luckily, we have a wonderful new addition to the Carroll Gardens' Sunday market, and Lani Farms made my pesto dreams come true.
The first night I made it, I decided to pair it with some strawberry jam braised chicken thighs. Rather than use almonds as the recipe called for, I remembered I had some pistachios in the pantry and thought the meaty flesh and mild sweetness would compliment the raw intensity of the garlic scapes. A little dollop was the perfect counterbalance.
Then, just a couple of days ago I came home from dropping the kids off at school and daycare and needed a protein pick me up to start the work day. Eggs in a hole was the answer…with a bit of that pesto. That pool of liquid gold is thanks to Grazin' Angus Acres. Worth every penny indeed.
My appetite now satisfied, the creative wheels were turning, and I thought why not spread it on baguette for a riff on garlic bread. Even the baby agreed, as she licked the pesto off slice after slice, casting aside the bread. Oh, how I wish I had photographic evidence because it was a hilarious site. Next time I make this, I'm going to add some softened butter, as I do in my
basil pesto
for a creamier touch. Thankfully the season has just begun, and fleeting as it will be, I intend to keep exploring the possibilities.
garlic scape pesto
(adapted from
Dorie Greenspan
)
makes one cup
10 garlic scapes
1/2 cup freshly grated Parmesan cheese
1/3 cup shelled, unsalted pistachios
1/2 cup extra virgin olive oil, plus more as needed
Freshly ground black pepper, to taste
Add the scapes, cheese and pistachios to the bowl of a food processor. Pulse until the scapes and nuts are very finely chopped. Slowly add the olive oil, while pulsing, until it forms a wet paste. Season with pepper. Add more oil if you desire a "wetter" pesto, especially if tossing with pasta.