I imagine Carrie Bradshaw reacts to Manolos and Jimmy Choos, the way I do to strawberries and rhubarb. I just can't help but leave the farmers' market with an armful of each. 21 jars later, after last week's jamming session, I had preserved a nice stockpile of strawberries to enjoy all winter long. Yes, I really said winter…in June. Our growing seasons is so short here, and soon enough I'll be looking at root vegetables for months on end.
But not just yet. First I had to do something with all that rhubarb I greedily bought. I just couldn't help myself, and am sure you all understand. I was in the middle of roasting asparagus and toasting bread to prep that night's panzanella and figured it was time to try a new jamming technique.
I cut up the rhubarb, tossed it in a non-stick pan with some sugar and cinnamon and popped it in the oven. Then I crossed my fingers and prayed for 20 minutes. Okay, so maybe I'm being a bit dramatic. I knew at the very least I'd have a yummy, tangy topping for ice cream, but that was not my intention.
When I took the pan from the oven, the juices were all bubbly and gooey. I knew success had been achieved, and with little effort I had a new spread for our morning toast. I'm betting it would be nice with some grilled pork too, but that's for another day.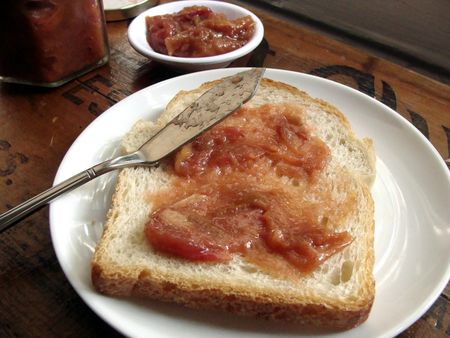 roasted rhubarb jam
makes one generous cup
Wonder how I do all my canning? Well, it just got easier thanks to the new Ball Canning Discovery Kit. Last season I changed my ways and realized it made more sense for me to jam and can a few small batches of various fruits each weekend it was in season.

Then in comes Ball with an answer to make it even easier. Before receiving their new kit at a work event, the scariest part of canning was retrieving the scalding hot jars from the boiling pot of water. If you're new to canning, have always wanted to give it a try or are even a somewhat veteran like me, you will so appreciate this kit. And guess what? Ball has kindly donated two (2) to be given away*. Just leave a comment letting me know your favorite way to eat jam. On toast? In your oatmeal? A dollop in the muffin batter?

The baby loves it by the spoonful. I prefer a thin smear of butter before spreading mine on toast. Isabella skips the butter. Funny, how different we are even though we share the same gene pool.
1 pound (16 ounces) rhubarb, tough ends removed & cut into large chunks
1/2 cup (4 ounces) sugar
1/4 teaspoon cinnamon, optional
Preheat oven to 400ºF. Toss rhubarb with sugar and cinnamon, if using, in a 9-inch by 13-inch nonstick baking dish. Roast for 20 minutes until thick and bubbly. Stir to mix well, then let cool completely. Transfer to tightly sealed jar and store in refrigerator for up to two weeks. May also be processed in a hot water bath using sterilized glass jars.
*The winners for this giveaway will be chosen at random on Friday, June 4th. Please only one comment per person.