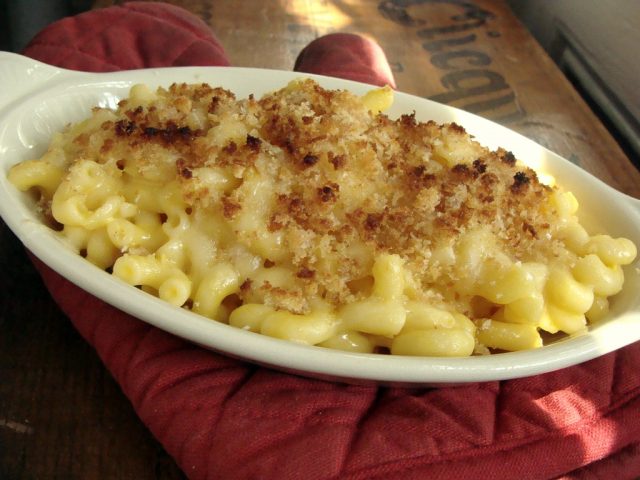 After 10 years of looking into the Mr.'s eyes during dinner, he is no longer able to share in our daily family meals. Mortgages have to be paid, and while we all do what we have to, not an evening goes by Monday through Friday that I don't stare at his empty seat and long for him to come home.
Since our weekday face time is severely limited lately, I instituted date night a few months ago. I needed one night a week for us to catch up and enjoy a hot meal together. While I wish it was one I prepared, and much of the conversation revolves around the kids, I'm still tickled pink every week when our special night rolls around.
In the beginning I used to just order pizza and let the girls treat it as a fun night with the babysitter. After a couple of weeks I couldn't bare the thought of them eating take-out so regularly. So, now I make them dinner and sit down and just have some wine with them—you know to counteract their whining. It's also my chance to make sure our lovely sitter gets at least one nutritious meal that day (her mom Jane is I'm sure thankful!).
The girls and Lindsay will agree their most favorite date night dinner is mac n' cheese. I can actually hear the squeals ricocheting off my ear drums as I tell Isabella what's for dinner. This isn't from a box, but it's also not haute cuisine.
Save your truffles and fancy cheeses for another home. Here we like a classic, creamy, not too sharp, mac n' cheese. I've been through phases and have added eggs to boost the nutritional value.
Swap in cheddar? Been there. Not really a fan, and the kids absolutely hate it. So, for a long time my dirty secret was American cheese from the deli counter. Hey, at least it wasn't Velveeta folks.
I just stopped making it, because if I couldn't replicate the dish I really craved, then it wasn't worth indulging in at all. Then I came across this at the local health food store.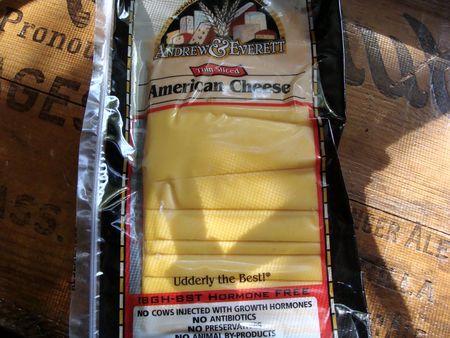 It melts like American cheese. It tastes like American cheese. But, the ingredients are simply rBGH-BST hormone free milk, salt, water, sodium citrate—basically a citric acid which helps hold the cheese together, vegetable rennet, enzymes and annatto for coloring. Most American cheeses contain casein, an industrial food glue. Yeah, gross. But, not this one from Andrew & Everett— it's also gluten free.
The kids like their mac n' cheese as-is, spooned from the pot into their bowls. I add some peas for color and the obvious 3 to 5 a day veggie needs. This meal hits a homerun every time, and makes it much easier for me to escape their sticky, sweet clutches for our weekly rendevous.
classic macaroni & cheese
serves 4 to 6
Sometimes I make this and serve with a salad when the whole clan is together. On such occasions, I like to put a little grown up twist on it, and give it a run under the broiler with some cheddar cheese and the Mr. loves the crunch from the breadcrumbs.

One last note on the paprika I use. It's a sweet and smoky variety with a hint of spice from the local farmer's market. I really recommend giving it a try if you live in the city.

8 ounces dry, uncooked elbow pasta
7 ounces Andrew & Everett sliced American Cheese
2 cups (16 ounces) milk
1/4 cup freshly grated Parmesan cheese
pinch of Bradley Farms paprika
1/4 breadcrumbs, optional
1 tablespoon melted butter, optional
1/2 cup grated cheddar cheese, optional
Prepare pasta al adente according to package directions.
Meanwhile, place American cheese, milk, Parmesan cheese and paprika in a microwave-safe bowl. Cook on HIGH 3 minutes—may need more or less depending on your microwave, mine is 1000 watts. Stir until smooth and all the cheese has melted. This can alternately be done in a small pot on the stove top.
Drain cooked pasta and return to the pot. Pour the milk-cheese mixture over the pasta. Stir to coat well. May be served at this point or proceed with the following casserole instructions.
Position oven rack on highest possible setting, leaving enough room to slide in a casserole dish. Preheat oven broiler.
Spoon macaroni and cheese into a greased oval or square casserole dish. Combine the breadcrumbs and melted butter, stirring with a fork until it forms a sandy mixture. Sprinkle the cheddar cheese on top of the macaroni and cheese. Sprinkle breadcrumb mixture over the cheddar cheese. Place under the broiler and cook until cheese is melted and bubbly and the breadcrumbs are lightly toasted. Watch carefully as this will only take about a minute or so.