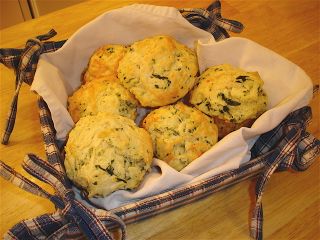 It's spring break in NYC, so I'll be busy juggling the kiddies and work this week. Here's one of my favorites I created for The Cuisinart Stand Mixer blog.
Cheers,
Jennifer
—
Breakfast is my favorite meal of the day. Like the sunrise, it signals a new beginning and chance to do things differently. That thought was on my mind while looking at the crisp bunches of baby spinach at the farmers' market this past weekend. Sure I could sauté them with garlic and toss them with pasta or use them in a dinner salad, but I wanted to find a new way to enjoy this beautiful bounty.
I started thinking about the savory spinach-cheddar muffins a local patisserie sells. They're light and airy – as if a muffin and a flaky biscuit had a lovechild. I decided to bring this baby green to the breakfast table and make spinach and cheese muffins. Instead of settling for cheddar, I found inspiration thinking about what types of cheese are usually shaved or sprinkled into a spinach salad. I decided to test the recipe three times using a different variety for each batch.

Goat cheese came to mind first. Unlike the soft, crumbly kind most popular in supermarket dairy aisles, you can find lovely, aged varieties at the cheese counter. I chose Pantaleo, a firm (or hard), aged goat cheese from Italy, with a nutty, sharp flavor. My second choice was Fioro Sardo, a hard sheep's milk Italian cheese, similar in taste and texture to Pecorino. A Dutch smoked Gouda made from cow's milk took the last, coveted place in my shopping basket.
Cheese in hand, I had to decide the best way to prepare the spinach for the muffin batter. The quickest, easiest method also retained the earthy-fresh flavor of the spinach: steaming it in the microwave. Make a batch of muffins at the beginning of the week and store them in airtight container.  You'll be grateful for one of these on mornings when you're in a rush and need a bite on the go.
Spinach & Cheese Muffins
Makes twelve
These biscuit-like muffins are a delicious way to start the day.  They also add a touch of flair to any breadbasket.
INGREDIENTS
3 cups all-purpose flour
1 Tbsp baking powder
½ tsp baking soda
½ tsp salt
8 Tbsp butter, cubed & softened
¼ cup granulated sugar
2 large eggs
1 ½ cups sour cream
1/3 cup cooked spinach, drained and chopped
6 ounces semi-soft or hard cheese, shredded
1. Preheat oven to 375º. Mix flour, baking powder, baking soda, and salt in a medium-sized bowl; set aside.
2. Cream butter and sugar on medium-high speed in your
Cuisinart Stand Mixer
until light and fluffy, about three minutes.  Add eggs one at a time, beating well after each one. 
3. Beat in one third of the dry ingredients, then add one-third of the sour cream. Alternating between dry ingredients and sour cream, repeat until all ingredients have been incorporated. Scrape mixing bowl with rubber spatula and beat 30 more seconds.
4. Fold in spinach and half of the cheese. Evenly divide batter into a 12-cup nonstick muffin pan (or use liners if your pan is not nonstick).  Sprinkle tops with remaining cheese and bake for 20 to 25 minutes, or until golden brown and a toothpick inserted comes out clean.
This was an original post to
The Cuisinart Stand Mixer blog
.