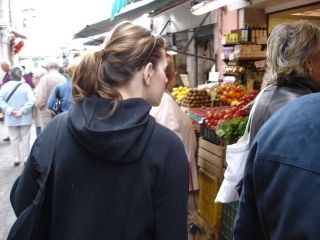 That's me shopping at Venice's Rialto Market.
Mine is not the romantic story of a girl who grew up surrounded by a love of cooking. My family was more about the love of eating. There were many Thanksgivings where baked ziti served as the precursor to the turkey main course. Then, there's the reality of being a child of the 70's. Rice-a-Roni wasn't just a San Francisco treat. It was a regular in my mom's cooking catalog along with mashed potatoes from a box and TV dinners (I always picked the fried chicken based on that little chocolate cake dessert).
Today I'm the consulting food editor at Working Mother magazine and have some great work under my belt, including features in Parenting, Kiwi magazine and the New York Daily News. So, how'd I get from there to here? I always knew cake was more than just add eggs and oil. During the summer between my freshman and sophmore year in highschool I claimed the family kitchen. Family being me and my mom. She was working as a cashier and I had the summer free so figured I'd do my part.
There were a few other big changes. I began serving mixed green salads with dinner, devouring cooking magazines and learned you didn't have to fry or cook everything until it screamed for mercy. But I still didn't find my path. Culinary school has always been expensive. I turned my sites towards a broadcast journalism degree at Brooklyn College. From there, went on to become a video producer. Then my dad died when I was 23 and it rocked my world. It made me think about regret and missed opportunities. Around the same time my husband, then boyfriend, clipped an article about personal cheffing from Newsweek. I did my homework, then gave two weeks notice.
Time to Eat was born in 1999, and I prepared ready-to-heat homemade meals for busy professionals and did on-site catering for business lunches and cocktail parties. My business was proudly featured in the New York Daily News, Time Out New York, online at CNNfn and in local newspapers. After a successful three-year run, I ventured into the New York City restaurant scene to see how the big boys did hospitality and service. I worked with Tom Colicchio when he was the top chef at Gramercy Tavern back in 2000, and left the NYC restaurant scene in 2007 on a high note as the Events Director for Alain Ducasse at his namesake restaurant in the Essex House.
Nowadays, you'll find me juggling spatulas and sippy cups in my Carroll Gardens, Brooklyn home with my husband, and two daughters.
COPYRIGHT INFORMATION
I'm flattered that you love In Jennie's Kitchen and while you are welcome to link to recipes and posts on this blog, please note that all the content and photography is wholly owned by me. This means you cannot reprint any writing, recipes or photos found on this site without express written consent. Queries may be sent to injennieskitchen@gmail.com.
ADVERTISING
Currently advertising opportunities are available in my monthly e-newsletter. For more information, please send an email to, yes, you guessed it, injennieskitchen@gmail.com.