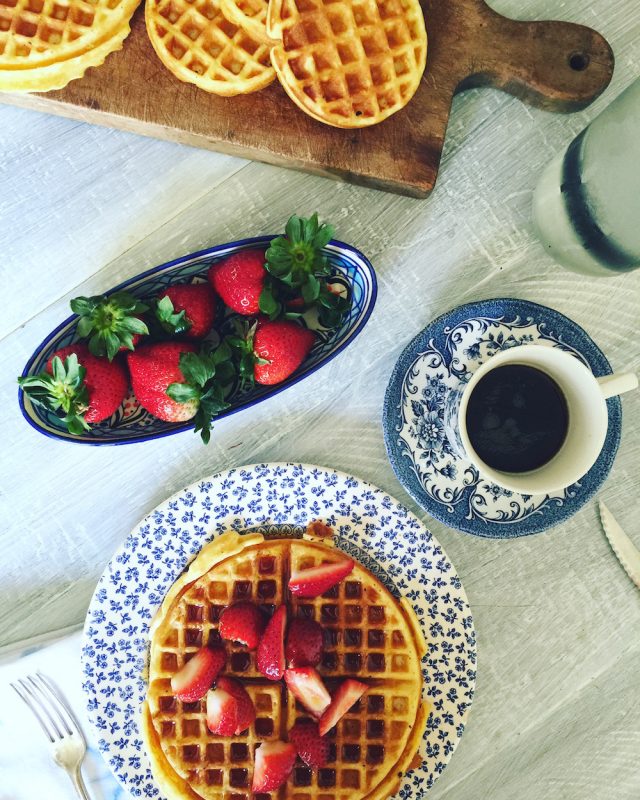 My Sunday Best Waffles recipe is the top recipe on this site, no matter the day, week, or year—it will always be waffles. That makes me chuckle a bit because waffles vs. pancakes were a frequent debate in our house when Michael was alive. He loved, I mean loved with a capital "L", waffles. Back then, Isabella was team pancakes all the way. Virginia and I were always team eggs.
Times have changed, as has our family, at least in terms of how many seats occupy our dining table. In a fit a few months ago, I moved the fourth chair up to the attic. It sounds crazy, I'm sure, but I just couldn't take the empty chair staring at me. It'll be six years this August, and I still struggle with the hole in my heart, and in our family, and after all this time, I know it'll the feelings of "what should've been" will linger forever. Some days they're not so loud, others, well, other days it's all I can do to keep my head high, and get through the day. And that's okay. The lows remind me to appreciate the highs even more.
When it comes to waffles, the tables have turned, and Isabella is with her papa on team waffle. Of course since siblings are obligated to never agree on anything, Virginia is now team pancakes. Me? I'm still team eggs, but waffles are a close second, especially when topped homemade jam or summer sweet berries (we're sooo close to the first strawberries of the season here).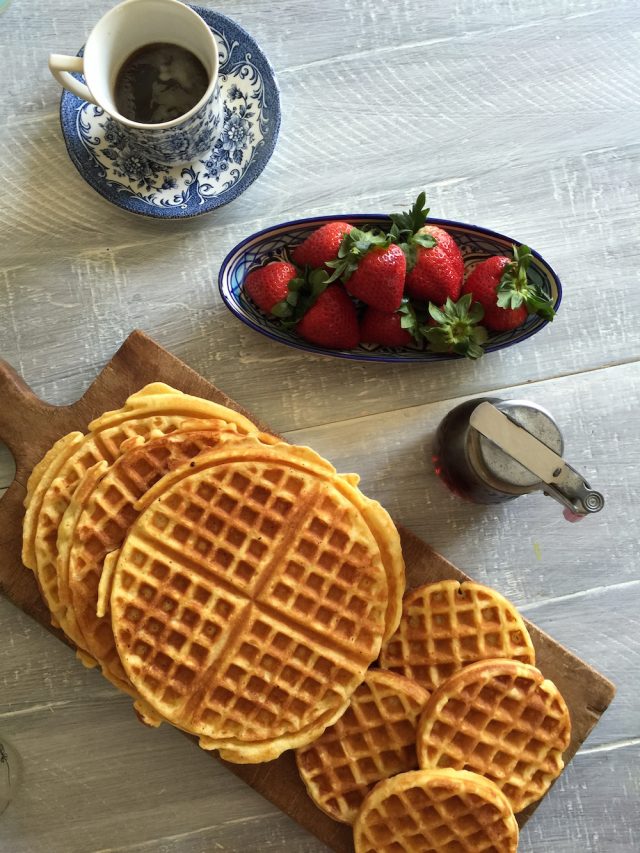 Recently, I made a tweak to my beloved waffle recipe, and decided to use honey instead of cane sugar. Wow. Total game changer for me, and I think this means eggs are getting some serious competition. Give this slightly new recipe a try, and let me know which team you'll be rooting for come Sunday morning.
More Breakfast Recipes from In Jennie's Kitchen
Lemon Poppy Buttermilk Pancakes
Raspberry Croissant Bread Pudding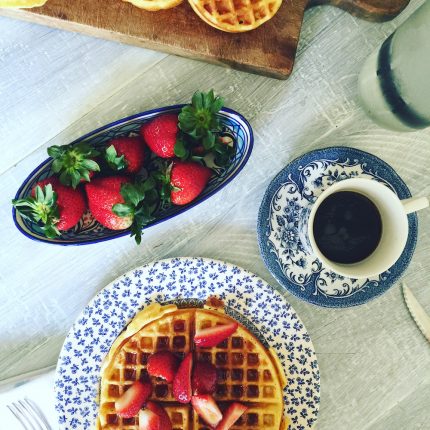 Honey Vanilla Waffles
Ingredients
1 3/4

cups

262 grams flour

1

tablespoon

15 grams baking powder

1/2

teaspoon

salt

1 3/4

cups

414 ml milk

2

large eggs

1

stick

112 grams butter, melted

2

tablespoons

40 grams creamy, churned honey

1

teaspoon

vanilla extract
Instructions
Whisk the flour, baking powder and salt together in a medium bowl. In another bowl, beat the milk, eggs, melted butter, honey, and vanilla extract. Pour the milk mixture over the dry mixture and stir with a fork until just combined. Let sit five minutes to "develop" (just a fancy word for letting the baking powder activate).

Meanwhile, heat your waffle iron. Pour, or ladle, enough batter to cover about 2/3 of the surface (the rest will spread once you close the top). Most waffle irons have a handy light that goes on or off, signaling the waffles are ready. A sure sign of doneness is once you see all the steam has stopped shooting out.