Sunday Best: Homemade Waffles
A few months ago I was at a friend's house having breakfast. Four adults and three kids had eaten through the lemon blueberry waffles he made with lightening speed, and when the calls came for more, he replied "there's no more mix left". He's such an avid cook, I was surprised he'd rely on a box or package to make waffles, especially since they're much easier to make from scratch than you might think. So, that's why today, I'm sharing my recipe for the best homemade waffles.
Now, if you've been with me a while, you know I'm not the preachy kind in the kitchen—except for getting on my local, sustainable, Grazin' Angus Acres high horse. Like the tagline says, I'm all about making meals easier, one recipe at a time. I can't think of anything incredibly easier than making homemade waffles.
All you need to keep stocked is flour, baking powder (I haven't been convinced yeast is worth the overnight prep), salt, eggs, butter, milk and vanilla extract. You could even leave the latter out if you don't have it on hand. So this weekend, give it a shot.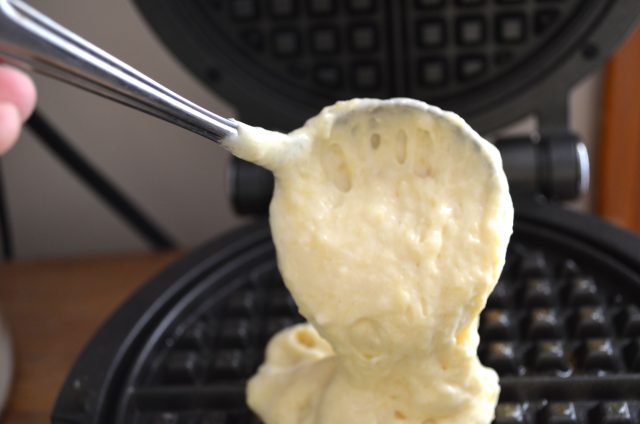 Can you make waffle batter in advance?
If you like sleeping in, mix the dry ingredients the night before. All you need to do in the morning is melt the butter in the microwave and beat it with the eggs, milk and vanilla, and stir it into the flour mixture.
Quick & Easy Homemade Waffles
Makes 5 to 6 Belgian-style waffles
You'll never use a mix again after you try this super easy recipe. I love topping them with fresh berries when they're in season. Some preserved jam is a tasty pick-me-up during the cold winter months too. And if you grew up with Mrs. Butterworth or Aunt Jemima and still crave them no matter what anyone says about pure maple syrup, then head to Trader Joe's. They make an agave-maple blend that's got all the taste you want without the high-fructose corn syrup and artificial flavors.
Update: a few people have mentioned they prefer to add some sugar to sweeten these. That's totally fine, and I do it on sometimes, too. Add up to 1 1/2 teaspoons sugar, or a splash of pure maple syrup to the batter if you're avoiding refined sugars.
1 3/4 cups flour
1 tablespoon baking powder
1/2 teaspoon salt
1 3/4 cups milk
2 large eggs
1/2 cup melted butter
1 teaspoon vanilla extract
Whisk the flour, baking powder and salt together in a medium bowl. In another bowl, beat the milk, eggs,  melted butter and vanilla extract. Pour the milk mixture over the dry mixture and stir with a fork until just combined. Let sit five minutes to "develop" (just a fancy word for letting the baking powder activate).
Meanwhile, heat your waffle iron. Pour, or ladle, enough batter to cover about 2/3 of the surface (the rest will spread once you close the top). Most waffle irons have a handy light that goes on or off, signaling the waffles are ready. A sure sign of doneness is once you see all the steam has stopped shooting out.
Love this recipe? Click here to contribute.
SaveSave
SaveSaveSaveSave
SaveSave
SaveSave