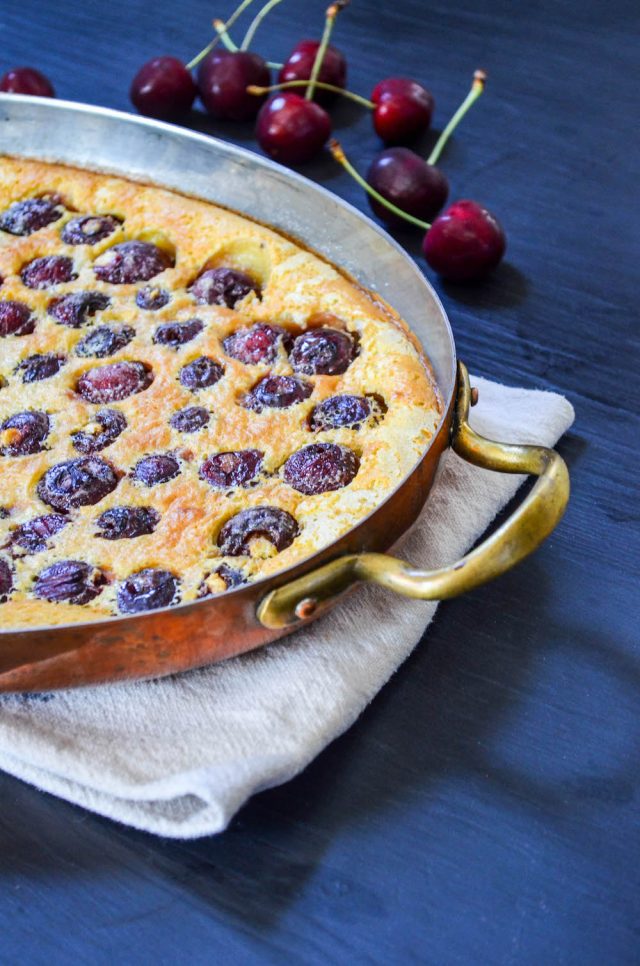 I never really caught my footing between winter and summer. Yes, there's no mention of spring because we barely had one here, and that likely explains the wonky, out of sorts feeling I've had with this season's harvest. Without a proper spring, my mind and cooking mood has needed a lot of motivation to find a rhythm in the kitchen.
As a veteran cook, it's also easy to get stuck in ruts here and there. Usually a sign I need to step away from digging deep into my own creativity, and let someone else guide the way to a new gateway of creativity within myself. That's what lead me to making Julia Child's Cherry Clafoutis from Volume One of Mastering The Art of French Cooking.
I've been buying so many cherries, and while I'll soon (hopefully) get to sharing the final step to make that Sweet Cherry Chocolate Rippled Gelato I mentioned recently, this clafoutis is one well worth tucking into your repertoire of recipes this summer. It works with pretty much any fruit, except for, I think, raspberries. They seem far to delicate to me to hold any texture, but maybe I'm wrong. Do chime in if you've made one yourself.
A clafoutis only sounds fancy. Basically, it's a French custard, actually filed under the heading of fruit flans in Child's book.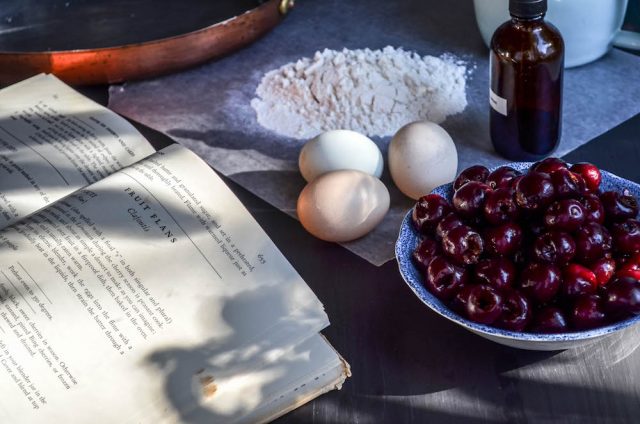 I tasted my first one back during my Gramercy Tavern days when Claudia Fleming was the pastry chef. I must confess to not remembering exactly what the filling was, and while the hunch is to say cherry since that's the most classic pairing to make this French dessert, Claudia was a genius with flavor profiles and combinations. I imagine she would've made the clafoutis her own while still honoring the technique, which incidentally is much easier than you might think (really).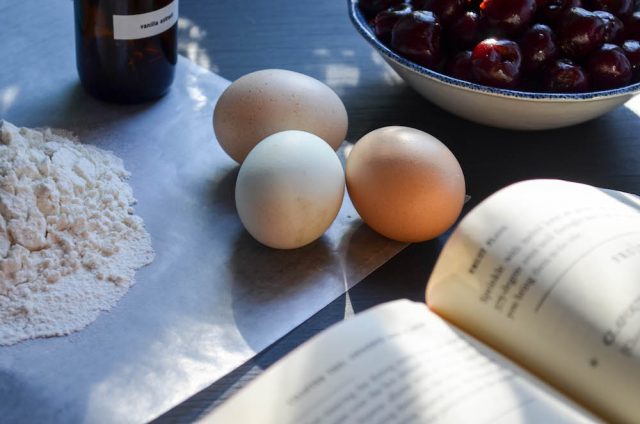 This was my first time making clafoutis, and all I've done since is dream about making so many variations (looking at you apricots and peaches). I was mostly overall content with the results from Julia Child's recipe, though I'm very curious to try one tip Fleming uses in her recipe from cookbook The Last Course. Rather than use the batter immediately as Child does, Fleming notes to let it rest for 30 minutes. I imagine this might make the resulting clafoutis a little lighter, and planning to give that a try next time.
One last thing Fleming does—she starts her oven hotter, at 400ºF, and then reduces it to 375ºF just after sliding the clafoutis in. I might try this next time to0, for an extra blast of initial heat.
I used a lovely shallow copper casserole dish I found at an antique shop recently. Most recipes, including Child's and Fleming's, call for a pie plate or cast iron skillet, so you have options if you don't own an oval casserole dish as I note in the recipe below.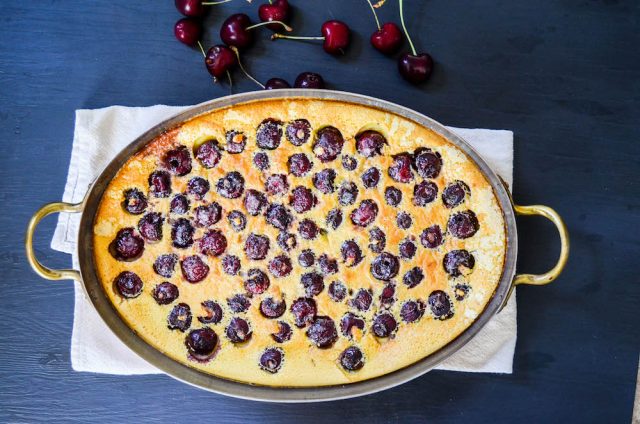 Eight Years Ago: Zucchini Coffee Cake, DIY Cold Brewed Coffee, Cherry Lime Biscuit Muffins
Seven Years Ago: Milk-Braised Zucchini, Homemade Nut-Free Nutella, 20-Minute Marinara Sauce
Six Years Ago: Rustic Lemon Cake
Five Years Ago: Blackberry Old Fashioned, Raspberry & Chocolate Mint S'mores
Four Years Ago: Cantaloupe & Lillet Sparkler, Sweet Corn Ice Cream, Mixed Berry Muffins
Three Years Ago: Basil Pistachio Pesto, Raspberry Sorbet, Sour Cherry Jam
Two Years Ago: Chickpea & Fennel Tartine, Cherry Cashew Milk, Sweet Cherry Coffee Cake
One Year Ago: Summer Peach Cake, Penne Primavera, Sweet Summer Corn Soup, Roasted Peach Scones, The BEST Chocolate Cake Ever, Chocolate Cherry Banana Bread
SaveSave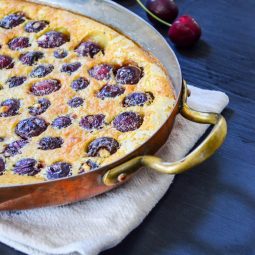 Cherry Clafoutis
Ingredients
3

cups

420 grams sweet black cherries, pitted

1 1/4

cups

milk

2/3

cup

130 grams granulated natural cane sugar

3

eggs

1

tablespoon

vanilla extract

1/8

teaspoon

salt

2/3

cup

75 grams sifted all purpose flour

Confectioners' sugar

for dusting (optional)
Instructions
Preheat the oven to 375ºF. Generously butter the bottom and sides of a 12-inch (30-cm) oval casserole.

Add the milk, 1/3 cup (65 grams) sugar, eggs, vanilla, salt, and flour to the bowl of a blender. Blend until smooth, about 1 minute.

Pour a 1/4-inch layer of batter in the prepared baking dish. Set it over a medium flame on the stove for 1 to 2 minutes, until the batter just begins to set at the bottom of the dish.

Spread the cherries into single layer in the pan. Pour the remaining batter over them.

Sprinkle the remaining sugar on top.

Bake for one hour, until the flan puffs up, and is deeply golden.

Let the clafoutis cool 10 to 15 minutes, and dust with confectioners' sugar, if desired, before serving. May also be served at room temperature.
SaveSave
SaveSave
SaveSave
SaveSave