Fennel & Herb Potato Salad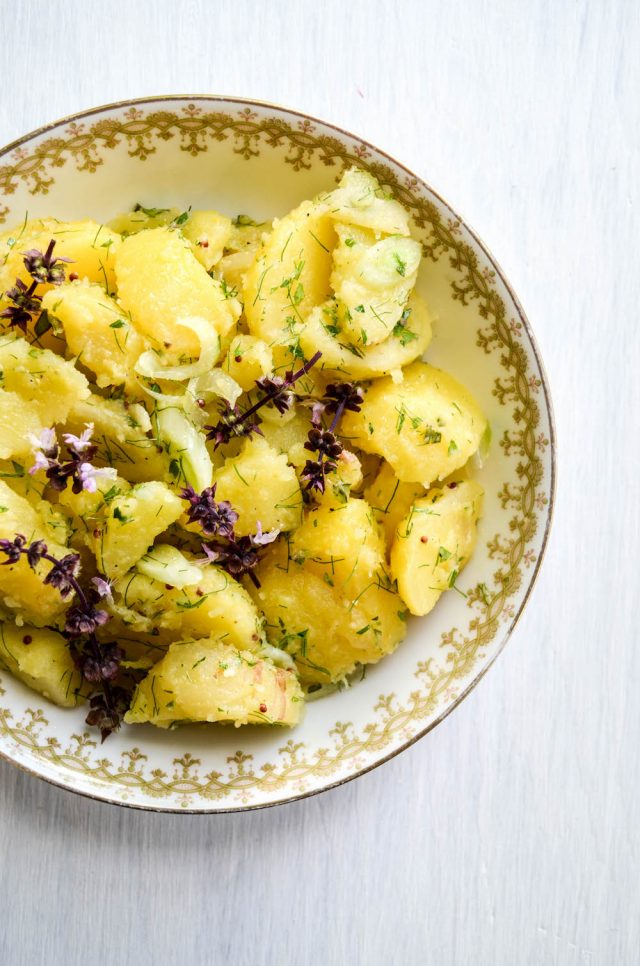 Mayo once saved my marriage. Well, at least this homemade mayo recipe did.
I abhor mayonnaise. Whenever people talk about eating tomato and mayonnaise sandwiches, all I can think is what a way ruin a perfectly good piece of produce. I'm not sure how my detest for mayonnaise came to be, and frankly just writing the word this many times has me feeling queasy. I grew up in a house with mayo-loving people. Meanwhile, I'd stare at the jar, wondering who ever thought this was a product that needed to be created.
Michael laughed at my dislike of mayonnaise. We would both order BLTs when eating at diners, and of course he couldn't just keep the peace, and order his sandwich dry. Then he'd watch as the dishes came to the table, the look of fear that his reckless consumption of mayonnaise might've confused the cook into accidentally putting mayo on my sandwich.
In the early years, I was polite about these errors, and would kindly let the server know of the mistake. After too many years of this happening, and more than a few times of someone in the kitchen thinking it was okay to just scrape off the offending condiment, I've now become rather vocal when my BLT arrives with any sight of mayo.
Now sandwiches go back with a firm request for a brand new sandwich. New bread. New bacon. New tomato. New lettuce. Give the contaminated bits to someone else. I want what I ordered, not some sloppy, mayo-infested seconds.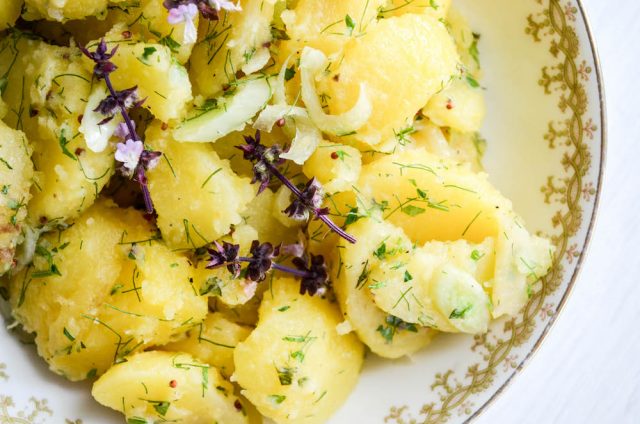 These feelings about mayonnaise extended to what I allowed in the house, and that meant I didn't buy it, nor did I allow anyone else to bring it into my house.
My answer to keeping the peace in my marriage was to compromise, and make homemade mayonnaise. At least deconstructing the whole process gave me a better sense of control, even if I still didn't enjoy eating it.
There've been a lot of things I've mourned about, and missed, since Michael died. Mayonnaise is not one of them. So, when it comes to making potato salad, I always make vinaigrette based ones, akin to a German potato salad, except mine tend to be sans bacon (not that I have anything against bacon, mind you).
So, when I came across some freshly dug up red new potatoes at the farm stand the other day, my mind immediately drifted towards making this Fennel & Herb Potato Salad. I'm growing fennel in the garden, and can just cut what I need rather than harvest a whole bulb.
The garden is also filled with 20 different herbs, one of my favorites being Thai basil. Unlike Italian basil, which is peppery, Thai basil has a hint of sweet, black licorice flavor. I felt like it would add some emphasis to the fennel already in the salad. If you don't grow Thai basil, or have it available, tarragon would be nice, too. And if all else fails, just go with Italian basil. The flavor will be different, no doubt, but still wonderful.
A word about the dressing. It might seem like a lot at first. The salad is meant to be made while the potatoes are still hot, and that means they will drink up the dressing more than you realize. I always start off with ¼ cup of dressing, and end up increasing it to ½ cup because nothing is worse than dry potato salad. Unless, of course, you make potato salad with mayonnaise—that's really the worst thing you could ever serve.
Nine Years Ago: Chocolate Peanut Butter Cupcakes, Zucchini Parmesan Hummus
Eight Years Ago: Zucchini Coffee Cake, DIY Cold Brewed Coffee, Cherry Lime Biscuit Muffins
Seven Years Ago: Milk-Braised Zucchini, Homemade Nut-Free Nutella, 20-Minute Marinara Sauce
Six Years Ago: Rustic Lemon Cake
Five Years Ago: Blackberry Old Fashioned, Raspberry & Chocolate Mint S'mores
Four Years Ago: Cantaloupe & Lillet Sparkler, Sweet Corn Ice Cream, Mixed Berry Muffins
Three Years Ago: Basil Pistachio Pesto, Raspberry Sorbet, Sour Cherry Jam
Two Years Ago: Chickpea & Fennel Tartine, Cherry Cashew Milk, Sweet Cherry Coffee Cake
One Year Ago: Summer Peach Cake, Penne Primavera, Sweet Summer Corn Soup, Roasted Peach Scones, The BEST Chocolate Cake Ever, Chocolate Cherry Banana Bread
Fennel & Herb Potato Salad
Ingredients
6

large red new potatoes

½

cup

Basic Vinaigrette

recipe here

Small fennel bulb

thinly sliced (plus some chopped fennel fronds)

Handful of fresh flat-leaf parsley

chopped

8

Thai basil leaves

chopped

Sea salt and freshly ground black pepper

to taste
Instructions
Add the potatoes to a deep pot, and cover with water. Bring to a boil. Cook until potatoes are very tender when pierced with the tip of a paring knife, about 15 minutes.

Drain the potatoes, and let them cool until easy enough to handle, 10 to 15 minutes.

The potato peels should've separately slightly during cooking. Slip them off, and discard, or add to your compost pile. Slice the potatoes however you like—large chunks, thick slices, really it's your preference here.

Add the potatoes to a deep bowl with the fennel (and fronds), parsley, thai basil, and vinaigrette. Stir with a rubber spatula until well mixed, and the dressing has absorbed into the potatoes. Season with salt and pepper. Serve warm, room temperature, or cold. Will keep in the fridge for up to 1 week.
SaveSave
SaveSave
SaveSave
SaveSave
SaveSave