I'm racing against the threat of thunderstorms today, hoping to get to the farmstand, and then BestBuy to pick up a small chest freezer. It's about time, really. After all these years of using the freezer as one way of preserving fruits and vegetables, I'm not sure why I've put it off this long.
There's actually a humongous chest freezer in my basement. It was here when I first looked at the house five years ago, and was supposed to be gone by time I bought the house, as per the contract. After I got to the house from the closing not only did I discover the house was infested with fleas, the chest freezer was still perched on cinder blocks in the basement. Removing it would be no small task.
Oh, why don't I use it now, you ask? Well, anyone terrified of horror movies like myself knows that's where they keep the dead bodies. For a couple of years, I learned to co-exist with the tell-tale heart living in that dormant chest freezer. Then one day my friend was visiting with her husband. Upon touring the house, which takes all of five minutes it's so teeny, Francis wandered to the basement.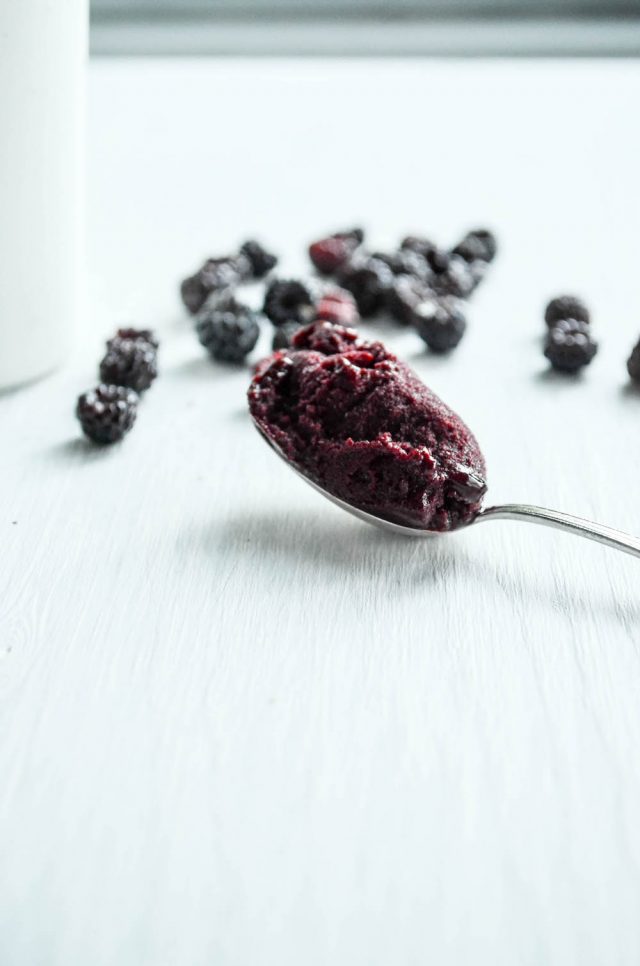 Before I could get down there, he'd opened the chest freezer, and said, "Jennifer, this is amazing," to which I replied, "OH MY GOD, Francis! You released the evil spirits."
One might think Francis thought I was crazy but he's known me long enough to just laugh, and tell me I was being silly. Sure, it was all fine and good for him because he didn't have to live in the house now that the spirit had been unleashed.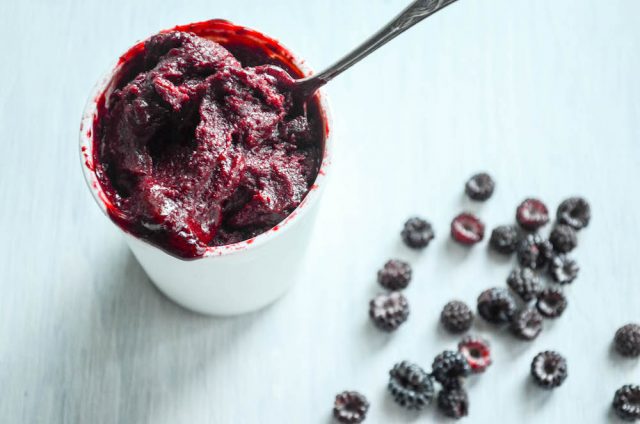 While there's been no out of the ordinary paranormal activity (or would it be supernatural?), I've still not found a peace with the chest freezer. I mean, it might've one day been used to store dead bodies. I can't really rule that possibility out (Matthew, stop laughing at me if you're reading this!).
Soooo, the time has come to buy a small chest freezer. One small enough that I can carry downstairs myself, but as Virginia kindly noted in Lowe's, still big enough to fit a small body.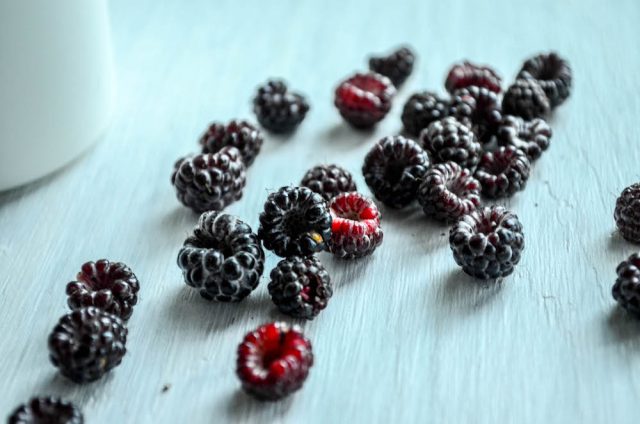 What does this have to do with a recipe for Black Raspberry Sorbet you're probably wondering? Good question. The extra freezer space means more room to buy and freeze a lot more fresh fruit and vegetables than I've ever been able to in the past. One taste of this Black Raspberry Sorbet, and you'll understand why this is of utmost importance.
I know not everyone has an ice cream maker, and the truth is you don't really need one to make sorbet. I've written the directions both ways, so you can choose the method most convenient for your situation. Given the choice, though, I really love the ice cream maker method best. It produces a creamy sorbet that you could even eat right after churning if patience isn't your strong suit.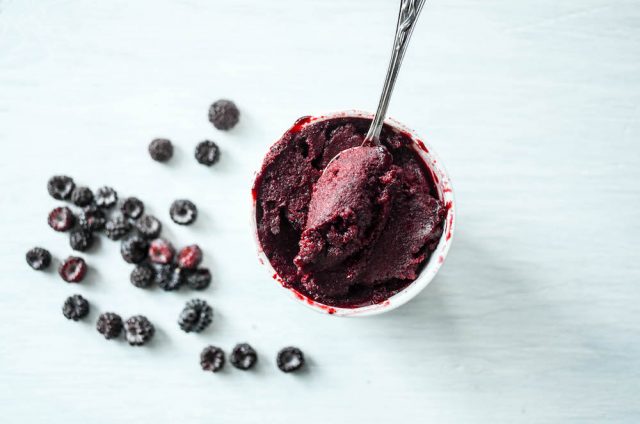 Nine Years Ago: Chocolate Peanut Butter Cupcakes, Zucchini Parmesan Hummus
Eight Years Ago: Zucchini Coffee Cake, DIY Cold Brewed Coffee, Cherry Lime Biscuit Muffins
Seven Years Ago: Milk-Braised Zucchini, Homemade Nut-Free Nutella, 20-Minute Marinara Sauce
Six Years Ago: Rustic Lemon Cake
Five Years Ago: Blackberry Old Fashioned, Raspberry & Chocolate Mint S'mores
Four Years Ago: Cantaloupe & Lillet Sparkler, Sweet Corn Ice Cream, Mixed Berry Muffins
Three Years Ago: Basil Pistachio Pesto, Raspberry Sorbet, Sour Cherry Jam
Two Years Ago: Chickpea & Fennel Tartine, Cherry Cashew Milk, Sweet Cherry Coffee Cake
One Year Ago: Summer Peach Cake, Penne Primavera, Sweet Summer Corn Soup, Roasted Peach Scones, The BEST Chocolate Cake Ever, Chocolate Cherry Banana Bread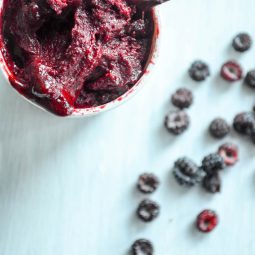 Black Raspberry Sorbet
Ingredients
1

pint

250 grams black raspberries

1

teaspoon

fresh lemon juice

2/3

cup

Simple Syrup

recipe here
Instructions
Line an 8-inch loaf pan with parchment paper.

Combine the raspberries and lemon juice in the bowl of a food processor. Process until pureed. Pour the juice through a sieve to strain out the seeds, if desired.

Whisk in the simple syrup.

Pour the mixture into the prepared tin. Cover & freeze until almost solid.

Scoop or scrape the frozen sorbet into the bowl of a food processor. Pulse until creamy, but still solid. Serve immediately, or transfer back into the pan, and freeze until ready to serve.

Alternatively, once the simple syrup has been whisked in, you can pour the mixture into a frozen base for an ice cream maker, and churn for 20 to 25 minutes, then freeze for at least 2 hours before serving.
SaveSave
SaveSave
SaveSave