Summer wouldn't be summer without some time here in on Cape Cod, and while I feel a bit rested, as the bay and sea air has rejuvenating powers, we all felt a little off balance emotionally. A new house, a new town, new habits. It was all very new for us, after 13 years of settling into patterns we loved.
Wellfleet is a nice town, and one that was familiar to us, having made a few trips into town each summer over the past 20 years. But, Wellfleet is not North Truro. There's something magical about the thin strip of land running alongside 6A that winds into Provincetown. North Truro is a state of mind.
I'm thankful to have found a cozy house in Wellfleet, one we made home for the week we've been here. The bedrooms are a throwback, in dire need of renovating, but the front of the house, where we spent most of our indoor hours was quite comfy, and updated. The house is shrouded in privacy, blanketed by trees all around. You could hear the pitter patter of neighbors around you, but couldn't really see anything or anyone.
All the newness was balanced with a kitchen that had the feeling of home. Beautiful white and blue English china, reminiscent of my own dishes. Little things like a coffee cup I fell in love with, and hope to one day find at a flea market. These are the quirky things about me that one either loves, or finds an endless annoyance. I'm particular about my surroundings, and everything within them. A coffee cup that feels like home sounds silly, but it's a comforting treasure amidst the unknown.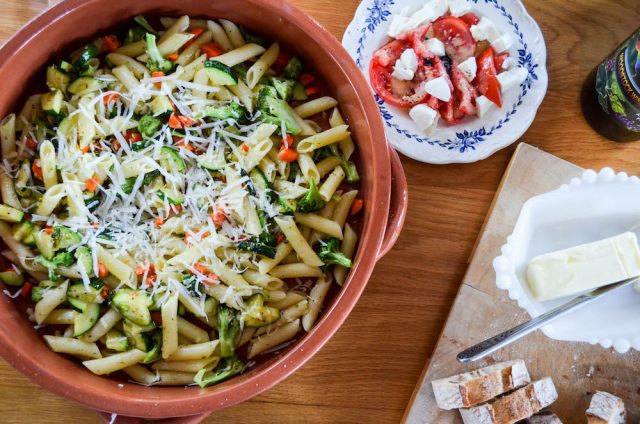 I didn't do nearly as much cooking as usual for me on vacation, but did prepare some nourishing meals in this little vacation rental stove. Blueberry pancakes, homemade pizza, potato & eggs frittata, chocolate chip pancake muffins, and this very spur of the moment penne primavera, pulled together from leftovers  and extra ingredients in the fridge.
It started with some leftover cooked pasta. I was just going to add some sautéed broccoli, but then remembered I bought a zucchini at the farmers' market in Truro. We had carrots in the crisper bin, too, to go with some hummus I'd also bought at the market. Everything I needed for a light summer pasta dish was at my fingertips. Primavera translates to spring in Italian, and I'm not sure the origins, or authenticity, of pasta primavera dishes. I'm sure a little digging around would unearth information, but that can wait for another day.
This Penne Primavera is not heavy or weighed down with cream like so many dishes you encounter in restaurants. It does have some butter, which you can easily omit if you prefer to keeps things dairy free. Instead of large chunks of vegetables, as often seen in many recipes, I opted for a smaller dice so you can get a good serving of pasta and veggies in each forkful.
This is far from a fancy recipe, and yet it's a necessary reminder that sometimes the ingredients we need to nourish ourselves are there, right before our very eyes. We just need the clarity to see them, and the willingness to create the reality we want.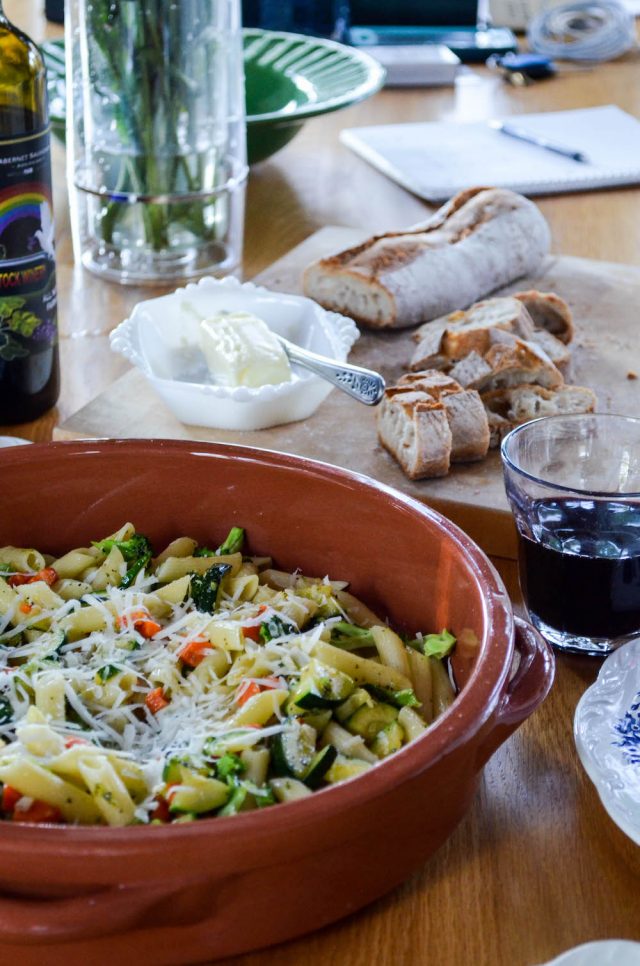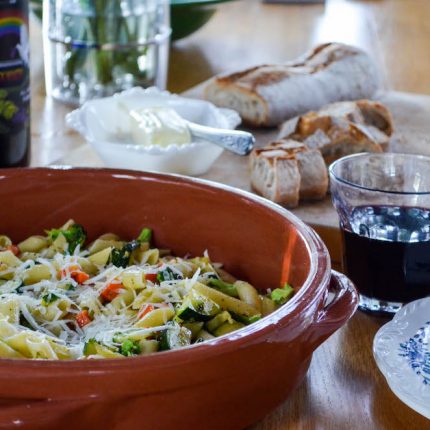 Penne Primavera
Ingredients
Extra virgin olive oil

2

broccoli crowns

florets roughly chopped (save stalks for another use)

1

carrot

peeled & diced

1

green zucchini

cubed or cut into triangles

2

garlic cloves

Sea salt & freshly ground black pepper

2

knobs of butter

5

cups

cooked penne pasta

Freshly grated zest of ½ to 1 lemon

Freshly grated Pecorino Romano cheese
Instructions
Heat a wide, deep skillet over medium-high flame. Add a swirl of oil to coat the bottom of the pan. Add the broccoli, carrot, zucchini, and garlic. Season with salt and pepper. Sauté until the vegetables are tender, and garlic is golden and fragrant.

Add the pasta and butter to the pan. Stir to mix everything together, and coat the pasta and vegetables with the butter. Cook until the pasta is heated through.

Stir in the lemon zest, and as much Pecorino as desired.

Serve hot, warm, or even cold, if you like.