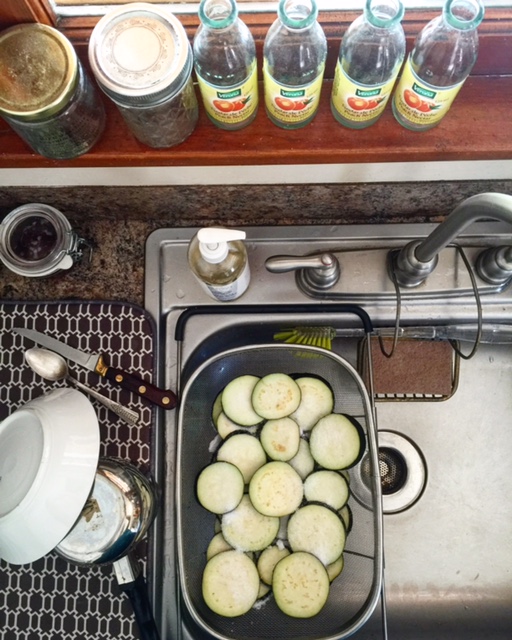 I'm not sure how it happened, but today is August 1st. I need to let that sink in a bit. Usually by this point we're in major countdown mode to the Cape. This year things are flip-floppy, with us having just returned from a week in Wellfleet. I must confess, though, that I'm partly looking forward to being home for most of August since that's peak harvest season here. No furiously canning tomatoes at the end of the season. I can take my time doing it in small batches. Last year I managed to can 36 jars, a variety of plain plum tomatoes, and marinara sauce, which fed us wonderfully through most of the winter months.
And then there's eggplant. It's one vegetable we all love, but of course that's with a big caveat. My girls will only eat it when it's crispy. Sometimes I fry it, letting the just cooked slices drain on a brown paper bag, the way my nana would've done it. More often, though, I use this oven method I shared a few years back. Actually it was five years—where time goes is a constant question I ask myself.
This eggplant recipe is a labor of love not for difficulty, but for the patience required. It's an ingredient I'm often lacking in my life outside of the kitchen. The eggplant needs salting first to remove any bitterness (really only necessary if it's very seedy), but mainly to remove excess moisture. After they sit for about 30 minutes, the salt is rinsed, then the slices are wrapped tightly in a kitchen towel to absorb all excess moisture. At that point it can really sit in the towel for hours until you're ready to proceed with the flour-egg-breadcrumbing process.
Once you're done dredging them in flour, dipping in egg, and coating in breadcrumbs, you can flash freeze them, and bake them off as you like. Flash freezing is easy. Just line a sheet pan with waxed paper or parchment. I use waxed paper because it's a lot less expensive. Also, make sure the pan fits in your freezer first. Lay the coated eggplant slices in a single layer, and freeze until firm. The slices can be stored in a container or ziptop bag.
I'm sure someone is going to ask me how long? All I can say is they don't last very long in my freezer because we eat it so fast. A more accurate guess would be in a well-sealed bag, in a freezer that works correctly (mine is a mess, and driving me crazy), they should store fine for a few months. When ready to bake, follow the directions, and add a few more minutes to the cooking time.
On that note, it's time for me to scoot back into the kitchen, and get the breading process underway for my eggplant. I hope everyone's week is off to a good, gentle, and happy start.
Recipe for Crispy Baked Eggplant is here.
For more Favorite Summer Recipes on In Jennie's Kitchen, click here.
SaveSave