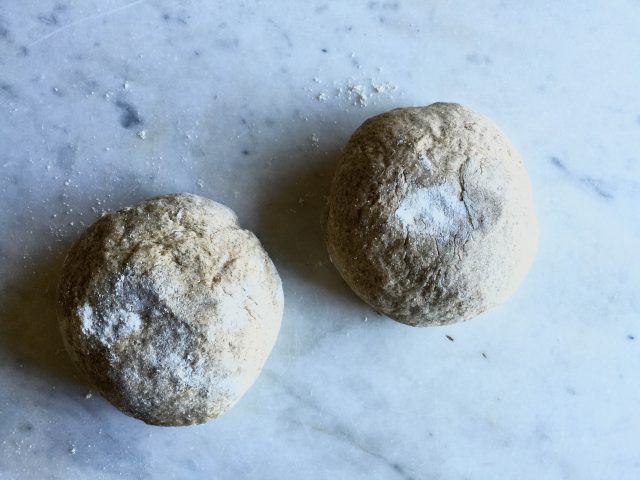 How many recipes can one have for pizza dough? Obviously, the answer is as many as you like, if you've been reading along here for the last eight years.  I have a standard dough recipe that I've been following for years now, one I use for pizza, bread, focaccia. It's a multi-purpose dough recipe, but every now and then, I like to stray, and mix things up a bit, as with this Whole Grain Pizza Dough recipe.
This dough uses a combination of three of my favorite whole grain flours: whole wheat pastry flour, buckwheat flour, and spelt flour. While the buckwheat seems like a small amount, don't discredit its contribution to the overall flavor. If you prefer not to buy a whole bag for this recipe, then you can replace it with extra spelt flour. I do highly recommended keeping a bag of buckwheat flour in the fridge, though, and if you need some recipes to use up the remaining flour, you'll find plenty here (the banana bread is one of my favorites).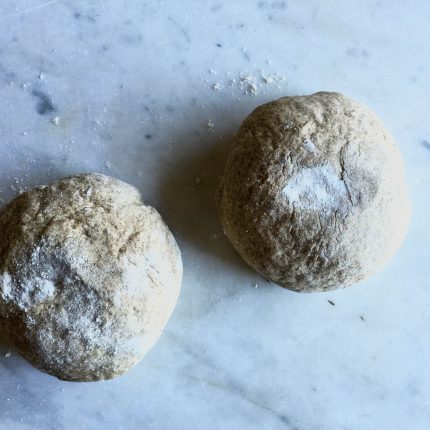 Whole Wheat Pizza Dough
Ingredients
1

cup

plus 2 tablespoons

175 grams whole-wheat pastry flour, plus more for kneading

¼

cup

35 grams spelt flour

2

tablespoons

15 grams buckwheat flour

1

teaspoon

6 grams fine sea salt

1/2

teaspoon

3 grams active rise yeast

A bit more than 3/4 cup

195 grams warm water
Instructions
Add the flours, salt, and yeast to a deep bowl. Whisk to blend.

Pour in the water, and using a wooden spoon, stir until it forms a sticky dough.

Lightly flour a counter or large cutting board with some of the whole wheat pastry flour. Scrape the dough onto the surface, and lightly sprinkle some more flour on top. Knead the dough 3 to 5 minutes, adding more flour only as needed, until the dough forms a smooth, round ball.

Sprinkle some flour into a clean, deep bowl. Add the dough to the bowl, and cover tightly with plastic film. Let sit in a warm spot until doubled in volume, about 1½ hours. Proceed with desired pizza recipe.
Good Eats From the Archives
Eight Years Ago: Peach Raspberry Tart
Seven Years Ago: Ginger Soy Marinated Steak
Six Years Ago: Cherry Slushies
Five Years Ago: Smoky Watermelon Gazpacho
Four Years Ago: Easy Peach Jam
Three Years Ago: Crispy Buttermilk Fried Chicken
Two Years Ago: Roasted Beet Greens
One Year Ago: No-Cook Tomato Basil Sauce