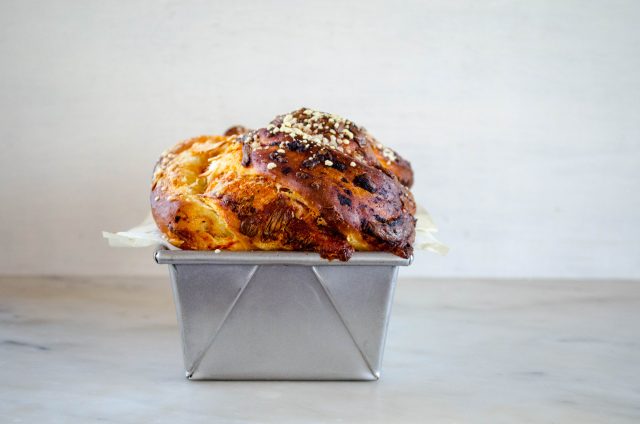 Yes, you read that correctly: pizza babka. I hadn't even realized that was a thing until the recipe was assigned to me for a recent The Spruce Eats project. Is it as good as it sounds—or as gross, possibly, which was my kids' initial reaction?
The answer is astoundingly DELICIOUS. We're not supposed to use that word in food writing but the food writing police can go suck it. How else can I express the experience of layers of marinara sauce, mozzarella and pecorino swirled throughout a soft, spongy, challah-like loaf of bread?
Babka is usually a sweet dough but for this version I kept the dough closer to my base challah recipe because it just made sense. I find the trickiest part to making babka of any kind is the rolling, cutting and twisting. It's one of those things that just takes practice, so don't get annoyed with yourself (or me!) if it doesn't look like a show stopper the first few tries. As they say, practice makes perfect.
Get the recipe for my Pizza Babka here.
Unlike my other Spruce Eats recipes, this one doesn't have step-by-step photos. If you're curious to see babka shaping, this video by Red Star Yeast is a good one to watch. It's for a sweet babka, but the folding and shaping technique still applies, so give it a watch before you set about making your pizza babka.
In case you're curious how to eat pizza babka leftovers (is this even a real question?), slices heat up great in a regular toaster. You can also bake them in a 350ºF oven until warm or heat up a swirl of olive oil in a skillet and heat them on the stove top. Is it crazy to suggest using slices of pizza babka to make a grilled cheese sandwich? Probably, you only live once, and I might just give it a try next time I make a loaf.
If you like this Pizza Babka recipe, don't forget to rate it on The Spruce Eats.
More pizza recipes from the archives: