All-Purpose Dough for bread, pizza & more
There's no shortage of pizza dough recipes on the site, and the same can be said about bread recipes (see here, here, here, and here). The last few years I've settled on what I like to call a universal dough recipe, one that can be used for pizza, just as easily as a daily loaf of bread. Let's call it an All-Purpose Dough.
I know the first thing some of you are going to ask—"Jennie, how can we convert this into cups?" And you know my answer, right? Get a scale—I promise you it will become your best friend in the kitchen. I will never understand why this method for measuring ingredients never caught on in the U.S. I don't mean to sound cranky or rude, really. I'm just being honest here, and sharing how I do things in my own kitchen.
All you need are four ingredients to make this dough: flour, yeast, salt, and water. It's by a Peter Reinhart recipe, which I stay pretty true to here, but over the years have also adapted to make a no knead recipe by increasing the water. In that case, you'll want it to be a bit of a wet dough, so increase the water to 600-625 grams.
I also use a different approach for the water—it can be straight from the tap or bottle, if that's what you use, no need to warm as with many other recipes. Most recipes call for warm water to activate the yeast quicker. This one gets a long enough rest, that the temperature of the water isn't a variable. And obviously, if you're making it into a no knead dough, skip the kneading part in step 3 of the recipe below. This is more often how I make the dough, but lately I've been loving kneading in other recipes, and wanted to offer that option for anyone who feels intimidated by working with such a wet dough.
Pull as much as you need, when you need it, knowing the dough will stay fine in the fridge for up to 4 days. Beyond that the yeast over develops, and starts to affect the flavor. You can also portion it out, place into oiled ziptop bags, and store it in the freezer for a grab & go approach to pizza dough. Move it to the fridge the night before you plan to use it, and it'll thaw out in time for dinner. You can even let it thaw on the counter top the day of—it takes a few hours, depending on the temperature in your kitchen.
I'll be sharing some techniques for making bread and focaccia with this dough. In the meantime, you can start by swapping it in for your favorite pizza recipe. If you're using it for pizza the same day you make it, the photo below shows a great way to portion it out before setting it aside to rise. The pieces of paper are parchment. Hope the week is going well for everyone. I'm excited to start sharing more recipes using this master All-Purpose Dough recipe.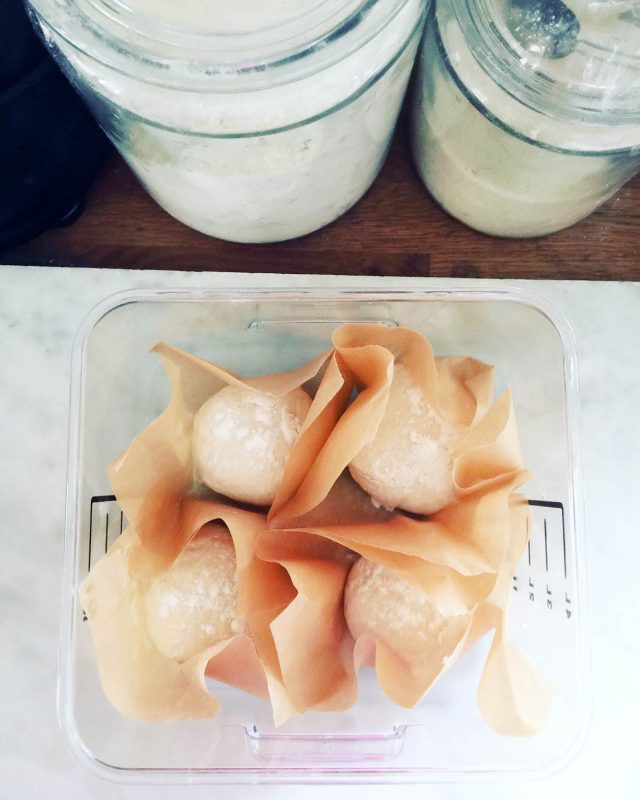 This recipe is now part of my new site, Simmering. It can be found by searching the archives
here
.
SaveSave
SaveSave