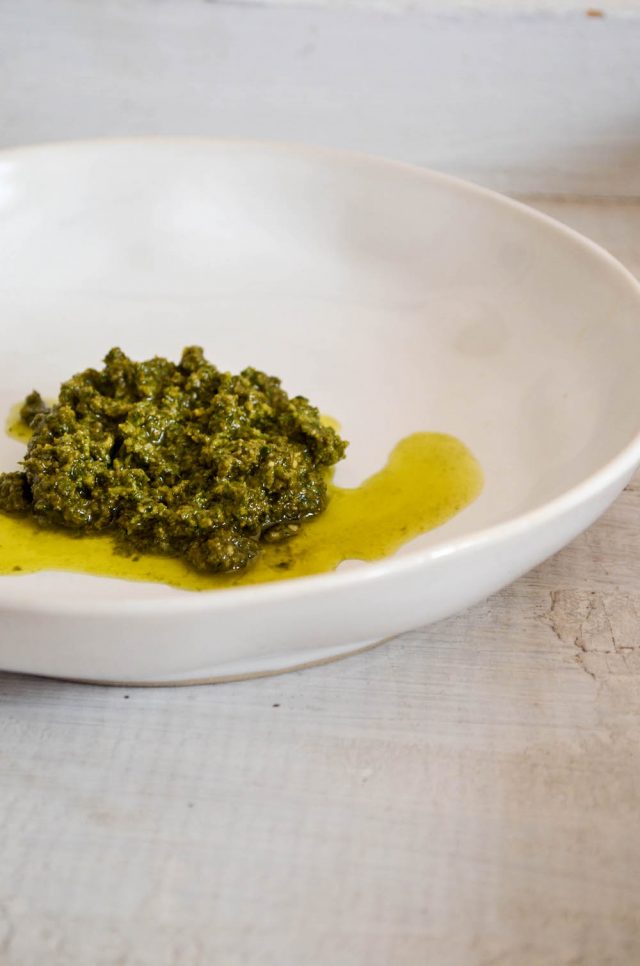 This time of year is bittersweet. While I appreciate the cooler weather fall ushers in, this particular change of season is a tough one for me to navigate. It used to be my favorite time of year, the ramp up to all the fall and winter holidays, and our wedding anniversary. Now it's a daily job keeping myself in check, and managing my moods.
That's why our vacations on Cape Cod continue to be so important to me. It's the one constant that connects our past with our present. Sadly, there was one casualty during our vacation this year—my basil. Most everything else in the garden managed to survive our two week vacation. I'm not sure if it wasn't watered enough, or some pest did it in, but I came back to two thirds of it dead. The other third was hanging on by a thread, and now seems to be done for the season.
Thankfully, I did manage to gather enough to make one last batch of pesto to tide me over for the next couple of months. In the past, I've used walnuts and pistachios in place of pine nuts. My nut of choice lately has been cashews since that's what I always have on hand to make fresh cashew milk.
I love the flavor cashews add to pesto. They're a close tie with pistachios in my book, and I never even both with pine nuts anymore.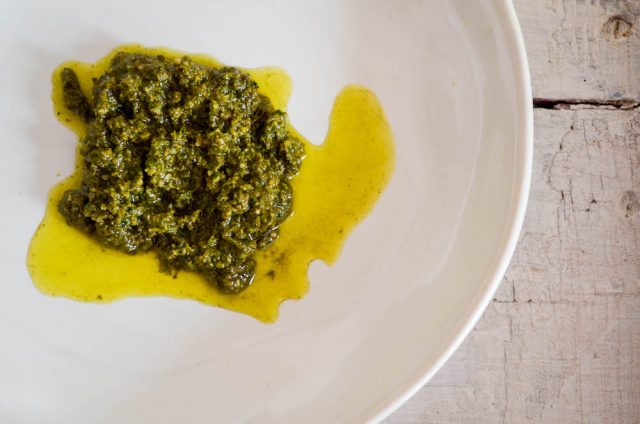 While most people think of pesto as a sauce for pasta, it's really versatile. A little dollop brightens up soups, goes well with grilled meats and a sturdy fish like salmon. If you add a knob of butter to your pesto, as I sometimes do (but didn't in the recipe below), then the pesto can do double duty for an herby garlic bread—just spread some on a baguette and toast it.
My basil plants may be gone for now, but they're certainly not forgotten. I'll be enjoying this Basil & Cashew Pesto for months to come.
Seven Years Ago: Sweet & Savory Tomato Jam
Six Years Ago: Concord Grape Muffins
Five Years Ago: A Master Plan
Four Years Ago: Thoughts on a Clear Blue Day
Three Years Ago: Prosciutto & Fried Egg Tartine
Two Years Ago: Black & White Cookies
One Year Ago: Wilted Kale Salad & Warm Shallot Vinaigrette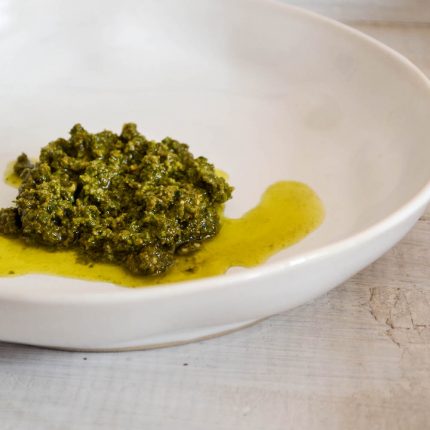 Cashew Basil Pesto
Ingredients
1

medium bunch basil

rinsed, patted dry & packed

1/4

cup

25 grams cashews, toasted

2

garlic cloves

1/4

cup

25 grams grated Pecorino Romano cheese

1/4

cup

80 ml extra virgin olive oil, plus more as needed

1/4

teaspoon

sea salt

or more, to taste
Instructions
Add the basil, cashews, and garlic to a mini-chopper. Pulse until the whole mixture is finely chopped. Remove the blade, and scrape the mixture into a glass jar.

Using a fork (I like that it acts as a rake pulling the ingredients together), stir in the cheese and olive oil. Season with salt, to your liking, and stir again until well mixed. The pesto is ready to use immediately.

For longer term storage in the fridge, add enough oil to completely cover the pesto. You can also divide the pesto into ice cube trays and freeze it for single serve portions.