Fig, Arugula & Pecorino Salad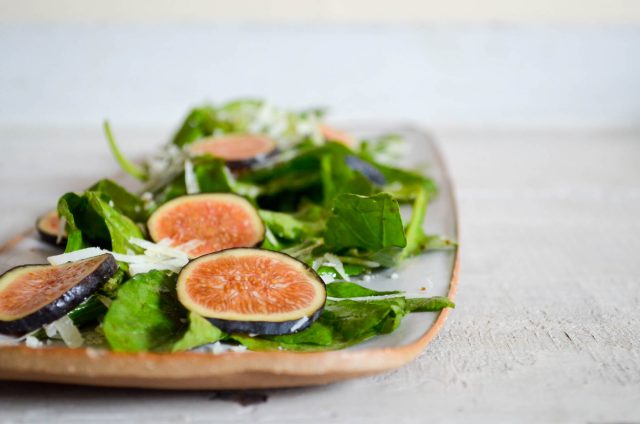 Slowing down, and savoring the moment is key to feeling balanced (though we know the slowing down part is often easier said than done). It's also the secret to enjoying this salad. As my client Sophia says, it's a unicorn salad, of sorts, since the window for enjoying fresh figs seems to close as quick as it opens.
Back when my uncle was alive, figs were a treat he'd share from the tree in his backyard in Bensonhurst. I meant to check the tree when I was at my mom's a few days ago but totally forgot. I blame it on the crazy, quick trip to California to see the pistachio harvest, thanks to an invitation from The Wonderful Company.
We flew into L.A., were whisked into a taxi to Santa Monica for what felt like a fairytale 16 hours at Shutter on the Beach.  If you've been to Shutters, then you know all about the delight this haven on the beach has to offer. My stay there was ridiculously short—only a few hours between arriving and a business dinner. There were no dips in the pool, no leisurely walks along Santa Monica Pier. I immediately jumped onto the laptop to catch up on work because the wi-fi wasn't working on the plane.
I glanced at the time—enough was enough. Work would always be there, but the moment to feel my feet in the sand would not.
I hurriedly put on my sandals, and went across to the beach. Yes, the beach was right in front of the hotel, the ocean waves within view from my room. It was the best 20 minutes of my day. I laid on the beach, no towel, no swimsuit, just curled up in my sweater, feet dug into the powdery, soft sand, and looked up at the sky, imagining Mikey was next to me.
And then, it was time to go shower, and get ready for dinner. The moment may have been a short one, but it was a beautiful, and necessary, one nonetheless. This salad is a lot like that leap to step away from work, and take a beach break.
You have to seize the moment when figs are in season. They will not wait until you're ready; you have to work on their schedule.
On the surface, this is a ridiculously simple salad. I asked Sophia if we could offer an alternative to the fresh figs. That's when she said it's a unicorn salad, only to be enjoyed when you can get your hands on fresh figs, which in my case is exceedingly rare these days. Luckily, the farm stand in Stone Ridge had some before I left for L.A.
There's no fuss to this salad—just a Basic Vinaigrette paired with peppery baby arugula, fresh figs, and tendrils of shaved Pecorino cheese (Parmigiano works beautifully, too). It offers a lovely way to end the meal, but also works well as a side salad, served with grilled fish.
Fig, Arugula & Pecorino Salad
Ingredients
2

cups

baby arugula

1

tablespoon

Vinaigrette Dressing recipe is here

Shaved Pecorino or Parmigiano cheese

2 to 3

fresh figs

sliced or cut into quarters
Instructions
Arrange the arugula on a dish. Drizzle the

Vinaigrette

over the top. Scatter the cheese over the arugula. Top with the figs. Serve immediately.
SaveSave