Shredded Cabbage, Apple & Toasted Sesame Seed Salad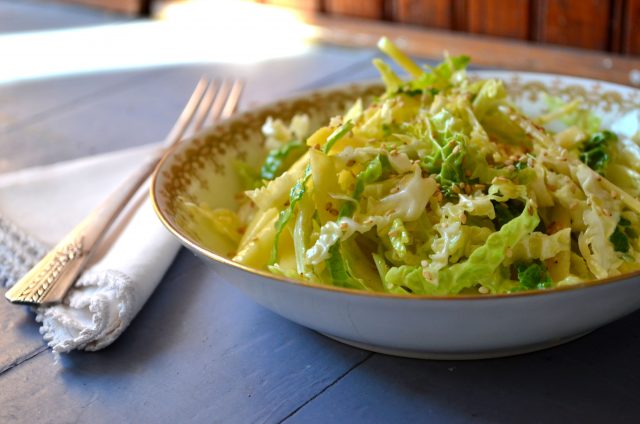 I check the farm stand every few days for signs of spring really being here. Back in the city, broccoli rabe is an indicator (more on that, plus a recipe, hopefully next week). In a few weeks, peas may even start showing up, and soon after that, it'll be time for strawberries. See, the farmers' markets in NYC aren't reflective of the city itself. They're representative of what's happening in the ground up in the Hudson Valley, New Jersey, Connecticut, and Pennsylvania. It's even possible to get tomatoes year-round thanks to a hydroponic farmer there on Wednesdays and Saturdays.
Living upstate is a different story. Availability is linked to what's currently growing, and after a long, harsh winter, the pickings are slim right now. So, we're still knee deep in root vegetables and cabbage, likely harvested last November, and placed in cold storage.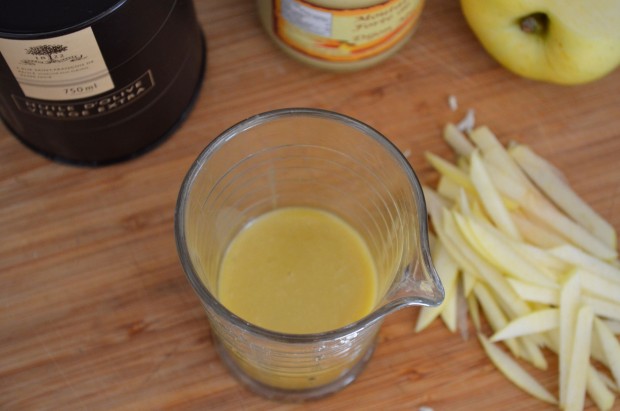 Thankfully this salad from the Fall Issue of Simple Scratch Cooking has stayed a favorite, so I thought I'd share it with you. The Spring Issue will be out in a few weeks (there's still time to order your annual print subscription). I've got lots of great recipes lined up. Dare I say, it's like a spring wedding, filled with something old, something new, something borrowed, and wait—something blue will have to wait until blueberry season begins.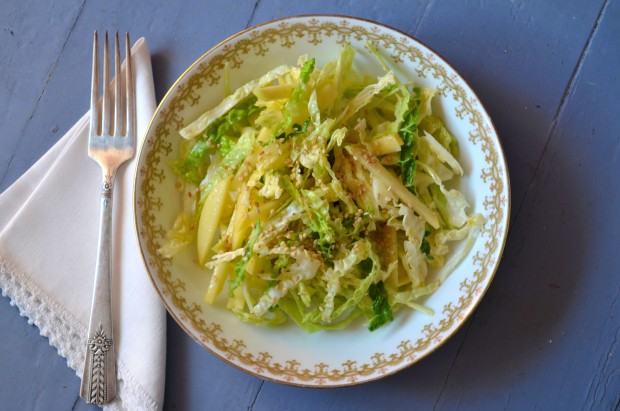 Shredded Cabbage, Apple & Toasted Sesame Seed Salad
Serves 4 to 6
2 tablespoons (30 ml) apple cider vinegar
Pinch of sea salt
1/4 cup (60 ml) extra virgin olive oil
1 tablespoon (21 grams) honey
2 teaspoons (12 grams) Dijon mustard
Splash of soy sauce
Freshly ground black pepper, optional
Small head of Napa cabbage, cored and thinly sliced into ribbons
1 apple, cored and cut into matchsticks
2 to 3 teaspoons sesame seeds, lightly toasted
1. Add the vinegar and salt to a deep bowl. Give it a few swirls until you see the salt has dissolved.
2. Add the oil, honey, mustard, soy sauce, and pepper, if using. Whisk vigorously until it becomes thick, and slightly creamy-looking.
3. Add the cabbage and apple sticks, and toss well to coat. Arrange on a platter or in a deep serving bowl. Sprinkle the sesame seeds on top, and serve within 30 minutes of dressing the salad.
Some more salad inspiration to get you through these last chilly days of spring from everyone sharing recipes as part of Food Network's Sensational Sides.
Creative Culinary: Mixed Greens with Smoked Mozzarella and a Warm Roasted Garlic Dressing
The Cultural Dish: Three Quick and Easy Salad Recipes
Napa Farmhouse 1885: Salad Greens with Sun Dried Tomato Vinaigrette
Red or Green: Salad Greens with Basic Balsamic Vinaigrette
The Heritage Cook: Chopped Steakhouse-Style Salad (Gluten-Free)
Weelicious: Southwestern Salad
Taste with the Eyes: Teacher Appreciation Farmers Market Salad
Swing Eats: Kale Salad with Lemon, Pecorino Romano, and Toasted Walnuts
Virtually Homemade: Spinach and Bacon Salad
Domesticate Me: 8 Gorgeous Green Salads for Spring
Elephants and the Coconut Trees: Arugula and Grapefruit Salad
Dishin & Dishes: Tangle Thai Rainbow Salad
Homemade Delish: Grilled Pineapple Spinach Salad
FN Dish: Why Side Salads Are the Best Salads