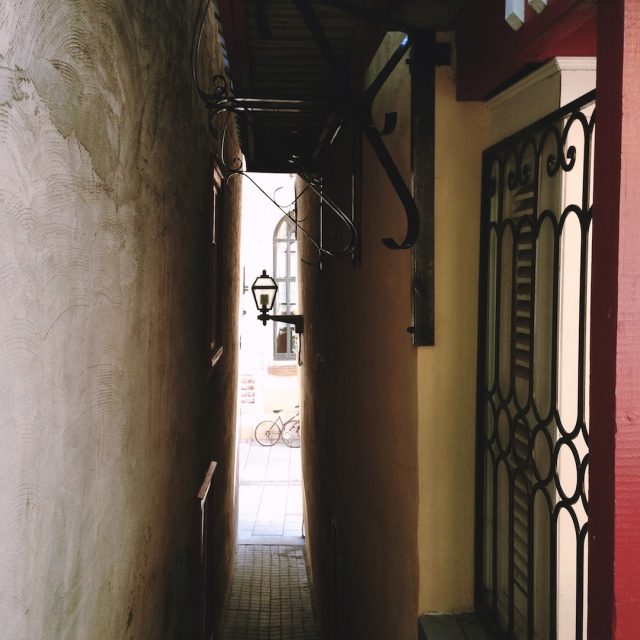 Moving forward is not as easy as one might suspect.
Moving forward means leaving something behind.
I found out something last week that I'd been trying to uncover for years. Michael and I were never sure the exact date of our first date. We both knew it was in May. I vaguely remember because it was close to the birthday of a college friend of mine at the time.
And I remember it was before Memorial Day. I have a vivid memory of searching for a payphone near Battery Park City to call him while having a picnic with the family for which I used to be a nanny. The only clue I had as to the day was that it was the same as my best friend's graduation from F.I.T. Over the years I've asked her if she remembered the date, but it was lost on her, too.
It's been nagging at me rather strongly the last couple of months. This May is no ordinary one. Next month would've been our 20th anniversary. Twenty years. I was so young back then. Life seemed full of potential. Time moved, sometimes slow, but more often too fast. I packed my bags many a times, ready to put it all behind me. Ours was a love hard won, and not always fought fair.
When he died, I found myself 37, and a single mother of two. I remember sitting at my old dining table with a few friends, just days after it happened. Amy told me "you're not a single mother, you're a widow, there's a difference," she said. The title struck me harshly, not in a mean-spirited way. More like a bucket of icy water had just fallen on me.
Widow.
Never did I imagine five letters could make one feel so lonely. I didn't realize it's a title one grows into. Time passes, and you realize it doesn't have to be title of sorrow. Widow still carries a sense of belonging. By definition it means "a woman who has lost her husband by death, and usually has not remarried".
I had to fill out some paperwork today, and the only options for marital status were single, married, or divorced. I stared at the box, not feeling comfortable with my options. Of course, divorced was easy to rule out, but single? That didn't feel right either.
We wrote our own wedding vows, but exchanged the formalities before placing our rings on each other's fingers. Who thought to include the words 'til death do we part? Did they mean it to be literal from a physical perspective? Had they never experienced love, to understand that the warmth of it never leaves your heart, even when a swift breeze of reality decides it's time to go?
I checked single, even though I didn't believe it to be true. He will always be with me, a part of me. I grew from a girl into a woman. It wasn't always an easy love, but it was an honest one that grew from trust.
I've been trying to figure out who I am now. My story is changing, and I struggle to understand what that means, or perhaps accept what it means. How much do I have to let go to give this new love room to grow? I worry my down days will scare him off. He's quite a patient soul, and so kind and loving, but everyone has their limits.
I wrote this poem in the wee hours of the morning three years ago. I'd often wake up in the middle of the night, unable to sleep, and write poetry. So, here I am. Not quite daybreak, but still awake when I should be asleep. I'll surely drag my tired feet tomorrow as payback. But the promise of another new day gives me hope that I'll get one step closer to shedding the protective shield of widowhood, and fully opening my mind to the possibilities that lie ahead.
It was May 11th. Our first date back in 1995.
Eight years later, our first daughter would be born on that same date, in 2003.
And five years after that, our second daughter would come into the world, just before dawn on May 11th, 2008.
Music Pairing: The Eye by Brandi Carlile
—
Daybreak
Sometimes you have to get lost to find yourself.
Travel a road you never expected.
As the sun rises and sets—
you wonder…
Will I ever find my way?
One day you wake,
and the sun's glare doesn't seem so blinding.
Starting anew seems a reality.
Setbacks steer you off course.
Lonely nights,
filled with memories of what could've been,
should've been.
But you keep going,
you continue to open your eyes as day breaks,
signaling there is still life left to be lived.
j.perillo
April 8, 2012