everything's coming up pumpkin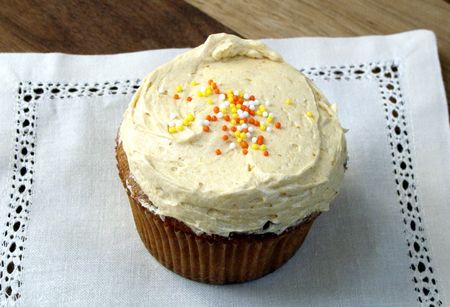 I suspect pumpkin fatigue may be setting in right about now. That's what happens when the internets are flooded with all things pumpkin before the sun has even set on summer. I'm here to say don't give up. Once you expand beyond pumpkin spice lattes (guilty as charged), there's plenty of recipes that'll keep you enjoying this fall favorite. Here's an oldie but goodie recipe for Pumpkin Buttercream Frosting, plus links to four more of my favorite pumpkin-inspired treats.
Homemade Pumpkin Syrup 
Brown Butter Pumpkin Seed Cookies
Ricotta Pumpkin Fritters
Pumpkin Buttercream Frosting
Makes about 3 cups
The amount of sugar you use depends on your sweetness preference for the frosting. Keep in mind that confectioner's sugar adds volume to the icing, so the less you use, the lesser your yield will be. Giving the frosting a good mixing on high speed after the sugar is all blended in adds air to the batter, making it light and fluffy.
2 sticks (224 grams) butter, softened
1/2 cup (115 grams) pumpkin puree
1 teaspoon pure vanilla extract
1 to 2 cups (130/260 grams) Confectioner's sugar
Add the butter to a deep bowl. Using a hand or stand mixer, beat until airy and creamy, 3 to 5 minutes.
Add the pumpkin and vanilla extract; beat until well combined.
With the mixer on low speed, slowly sprinkle in one third of the sugar. Beat until well combined. Stop the mixer, and scrape down the sides. Repeat with the remaining sugar. Once all of the sugar has been added, beat the frosting on high speed for 2 minutes.
The frosting is ready to use immediately, otherwise store it in an air-tight container in a very cool, dry place for up to two days.