brown butter pumpkin seed cookies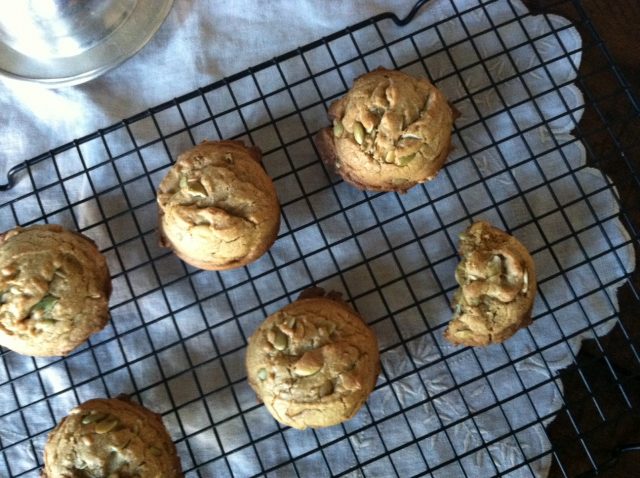 As a kid, I was partial to chewy cookies. I remember the warm oatmeal raisin ones my parents used to buy at a bakery somewhere near Little Italy. One of these days I'll also remember to ask my mother where that bakery was exactly, though I imagine it is long shuttered by now.
My current cookie obsession has been baking thin crispy ones, the kind that benefit from a dunk in tea or coffee. I set out recently to create a new cookie of this—well, let's call it genre. Everything was going well, at first. I used this recipe as a base for my proportions. Except I made some tweaks, because I can't leave well enough alone. This is the best attribute a recipe developer can have—reckless abandon in the kitchen. Okay, so maybe deciding to brown the butter instead of simply melt it wasn't a revolutionary or reckless idea (except for my waistline), but you get what I'm talking about. Setting out to create a new recipe comes with the understanding that failure is a distinct possibility.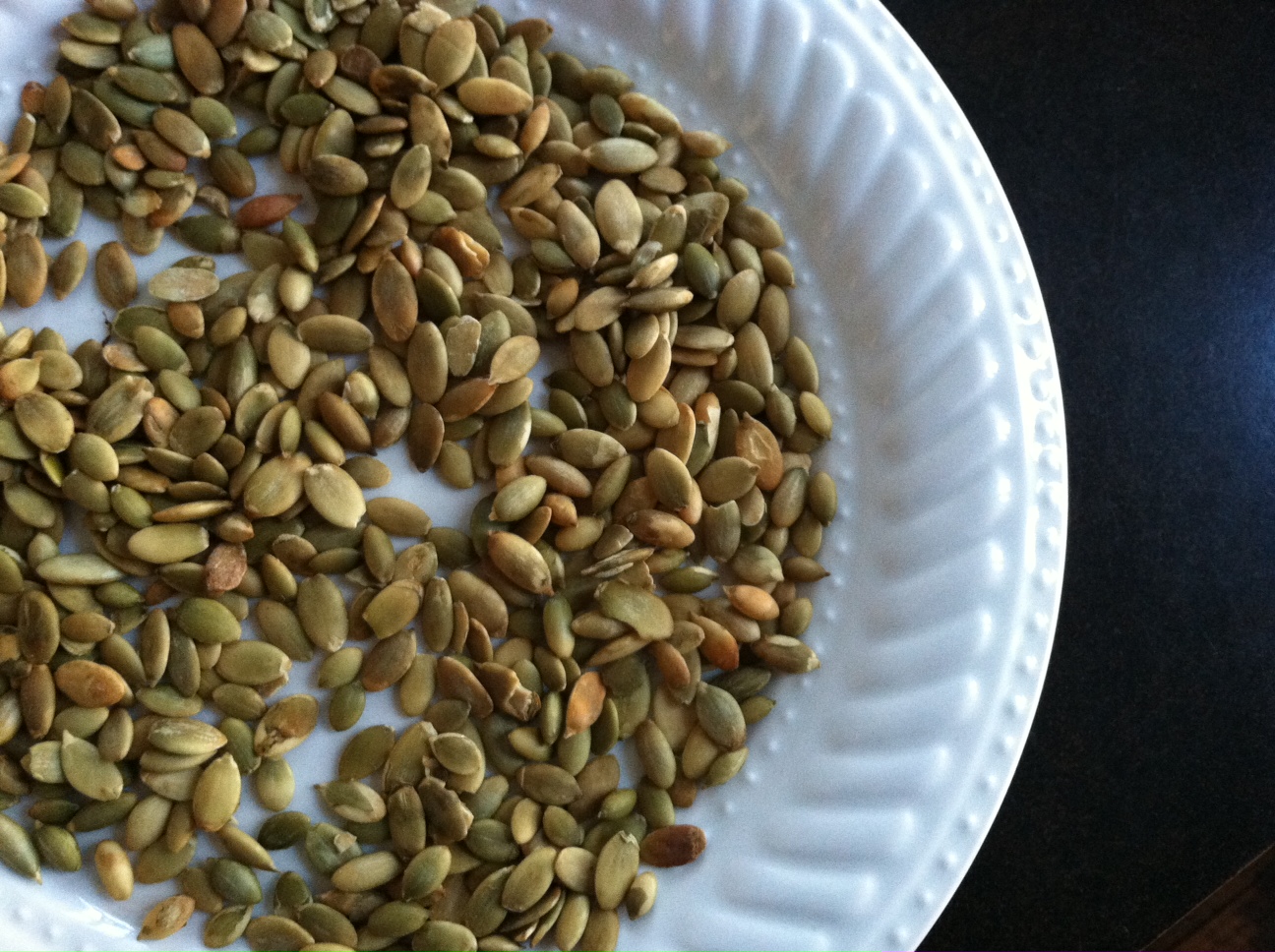 Or maybe not.
See, developing recipes is a good primer for handling life's little (and sometimes not so little) curveballs. Sometimes you start off on one road, and find you've jumped a rail, and are suddenly on a path you didn't intend. Sometimes that path is a good one, so long as you're open to seeing life in a new light.
I know, this is so philosophical for a little cookie. Cookies are obviously serious business around here!
That cookie you see below, well I was ready to write it off. Dump the batch and head back to the drawing board, and that was just from a peek in the oven halfway through the baking time. My goal was a thin, crisp brown butter pumpkin seed cookie. Those puffy domes you see are not what I wanted, they were not part of my plan as I set about measuring and mixing.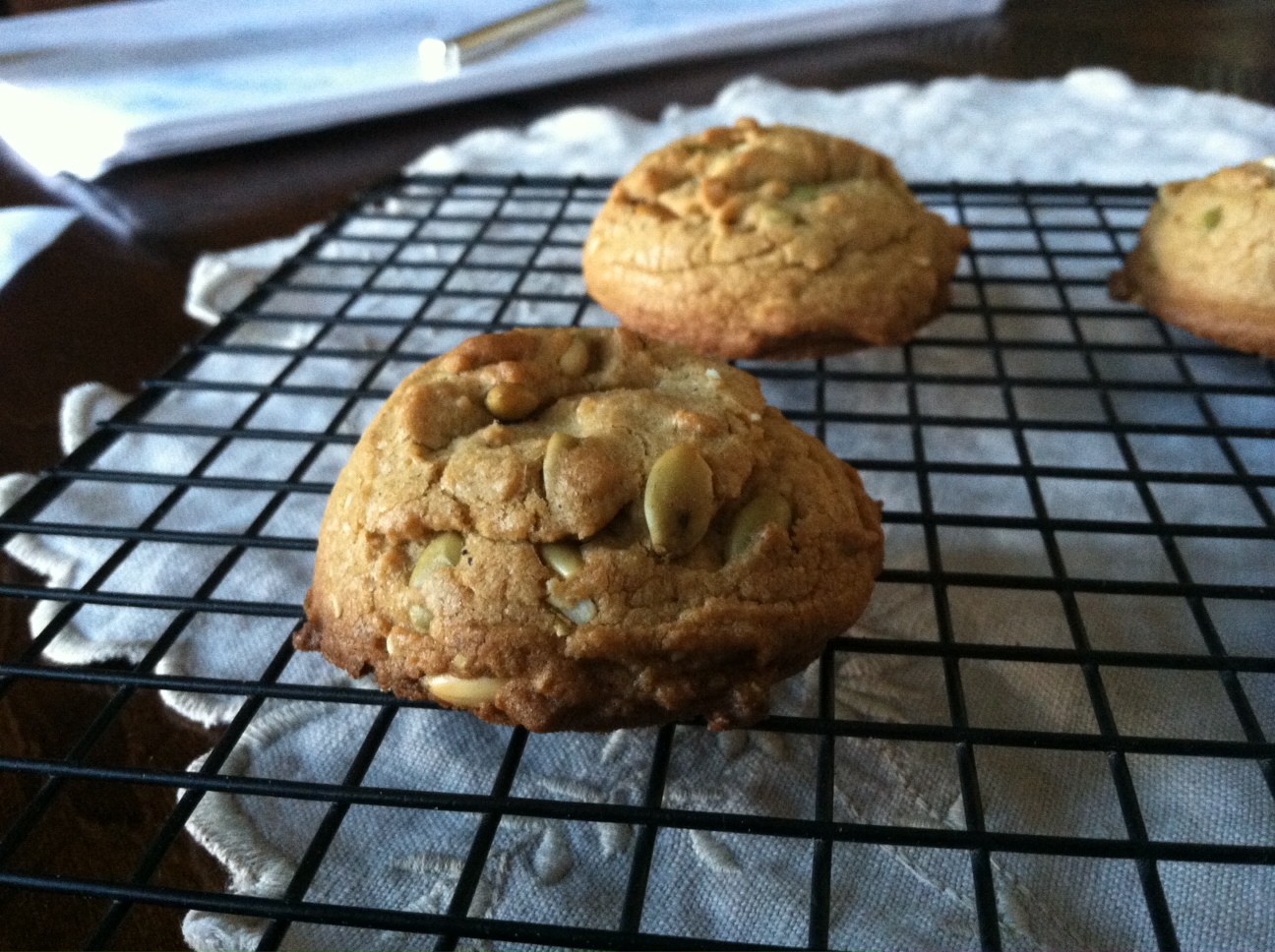 As with every recipe, though, I took a taste test. I wanted to see if I was on track with the flavor combination, at least. What happened next truly surprised me. This little cookie, while it may not have looked at all as I intended, tasted better than I could've ever imagined.
So, sometimes when the path you're on doesn't seem right it's worth taking a few more steps, maybe even leaps. You may end up finding what you're looking for when you least expect it.
brown butter pumpkin seed cookies
makes 12
I brought a little bag of these to school pick up, and doled them out to a few mom friends. One commented that it was so nice to eat a "grown up" cookie, and I understood exactly what she meant. After making one too many batches of chocolate chip cookies lately, I was craving something with an adult twist. This cookie really strikes a balance, though, because my little taste testers loved it just as much too.
If you're wondering what I think could turn these into the thin, crispy cookie I originally intended, my first hunch is to cut back some of the flour. Not much, but rest assured that even though I love the way these taste, I'll probably continue to tinker with them in the future. After all, you can never have too many cookie recipes.
Music Pairing: 'Deed I Do by Diana Krall
1 stick (4 ounces/112 grams) butter, browned & cooled
3/4 cup (115 grams) packed light brown sugar
1 large egg
1 cup plus 1 tablespoon (161 grams) whole wheat pastry flour
1/4 teaspoon (1 gram) baking soda
1/4 teaspoon (2 grams) fine sea salt
1/8 teaspoon ground cloves
1/2 cup (74 grams) pumpkin seeds, lightly toasted
Preheat the oven to 375ºF. Line two baking sheets with parchment paper; set aside.
Add the butter to a small pot over medium heat. Cook until the butter is melted, a deep golden color, and little browned bits begin to appear. Pour the butter into a heat-safe bowl and let it cool until barely warm, about 30 minutes. You can alternately leave it in the pot too, but it will take longer to cool down.
Meanwhile, add the flour, baking soda, salt and cloves to a small bowl. Whisk to combine.
Add the cooled butter and sugar to a deep mixing bowl. Beat until well combined, about 1 minute. Add the egg, and beat on high speed until light and fluffy, 2 to 3 minutes.
Add the flour mixture to the bowl. On low speed, mix until the flour is completely mixed in, about 1 minute. Add the pumpkin seeds and beat on medium high speed 30 seconds to 1 minute, until well mixed.
Drop heaping rounds of dough (2 tablespoons worth), three inches apart on the prepared baking sheets (you should be able to fit six on each sheet). Bake for 12 to 13 minutes, until the edges are golden and the bottoms are lightly browned. Remove sheet from the oven and let the cookies cool on the pan for 2 minutes. Using a spatula, transfer the cookies to a wire rack to finish cooling completely.